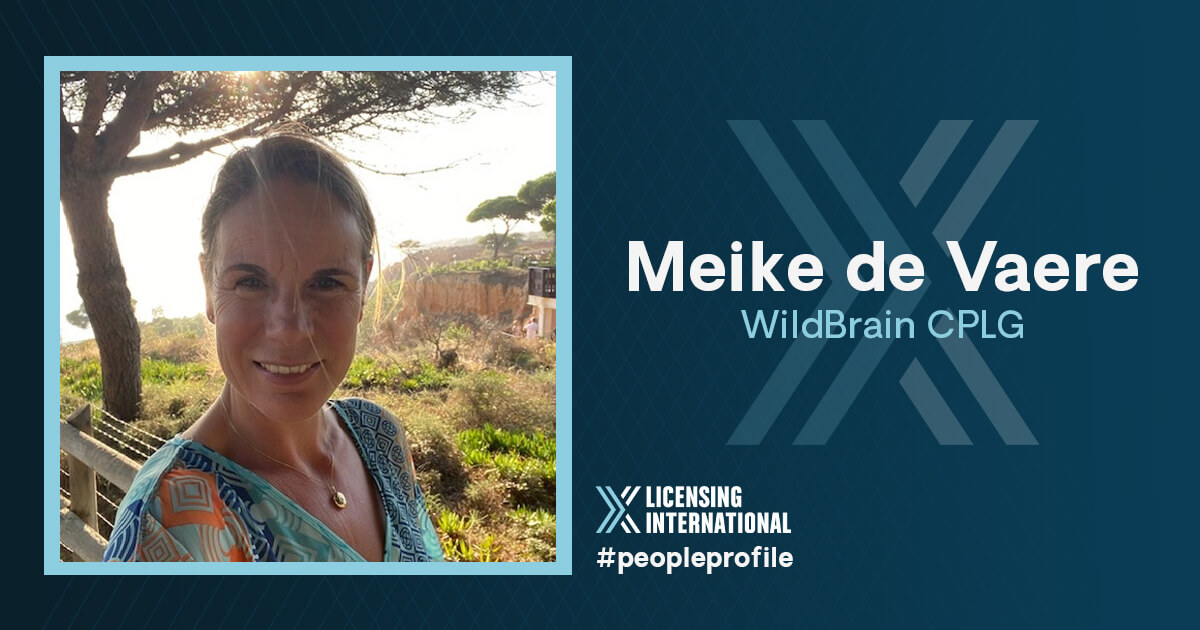 People Profile: Meike de Vaere, VP of Partnerships and Business Development at WildBrain CPLG
The global licensing community is powered by an incredible group of professionals whose diverse backgrounds and creative energy drive innovation and excellence. Each week we're profiling one of these professionals in this ongoing series.
How did you get into licensing (or how did licensing find YOU)?
I worked for almost eight years at Mattel in different consumer and trade marketing positions. Within these roles, I was a 'Brand Champion' for Disney, Nickelodeon, and Sesame Street IPs. This resulted in me working closely with WildBrain CPLG's local team in the Netherlands, and I was offered a role at WildBrain CPLG in 2008. A few years later, my family moved abroad and I worked at different companies in the beauty and supermarket retail space. When we moved back to the Netherlands three years ago, I re-joined WildBrain CPLG as Retail Director of Benelux and have recently become VP of the new Partnerships & Business Development team.
What's a "typical" day in your current position?
A typical day brings a variety of partner meetings, internal team conversations, strategic planning, and looking at business development plans. I'm usually working from either our London headquarters or our local Amsterdam office. A lot of my time is spent on video calls, but I'm slowly getting more time for face-to-face meetings again, which brings me a lot of energy and motivation.
What's your biggest personal or professional accomplishment?
The fact that my family has moved across countries and was fortunate to spend time in beautiful locations, such as Vienna, New York, and the Bahamas, with our three kids. Working in different countries has given me a great deal of respect for local cultures, traditions, and ways of life. I hope our kids will treasure these values for the rest of their lives.
What keeps you up at night? What's your biggest challenge these days?
Thankfully, I'm a good sleeper. However, the biggest challenge for me is to schedule enough time together with our individual team members—not just for business conversations, but also for a coffee catch-up or dinner. Video calls require more mental processing than face-to-face interactions—we have to work harder to process non-verbal cues, such as facial expressions, the tone and pitch of the voice, and body language. It's been challenging with more of us working from home but thankfully we can travel again and have in-person meetings, which are very much needed.
In your opinion, what is the top skill every licensing executive should have in order to succeed?
An entrepreneurial mindset and creative thinking. Open-ended questions and active listening also give us more info than we think—it's important to ask questions such as "What could we do better in your opinion and how?"
What's the best piece of advice you've ever received, or what's your favorite quote?
Treat others how you want to be treated and focus on the positive.
What is your favorite licensing deal of all time? (It doesn't have to be one that was signed by you.)
SMEG and Peanuts! This deal brought together two amazing brands with high-end aesthetics and resulted in a memorable limited-edition fridge to commemorate Peanuts' 70th anniversary milestone.
If you weren't in licensing, what would you be doing now?
As a child, I really liked to perform and my dream was to find a role in musicals or theatre. Unfortunately, I don't quite have the skills to make it onto a stage, but I'd be interested in working behind the scenes so I can still experience the magic of live performances.