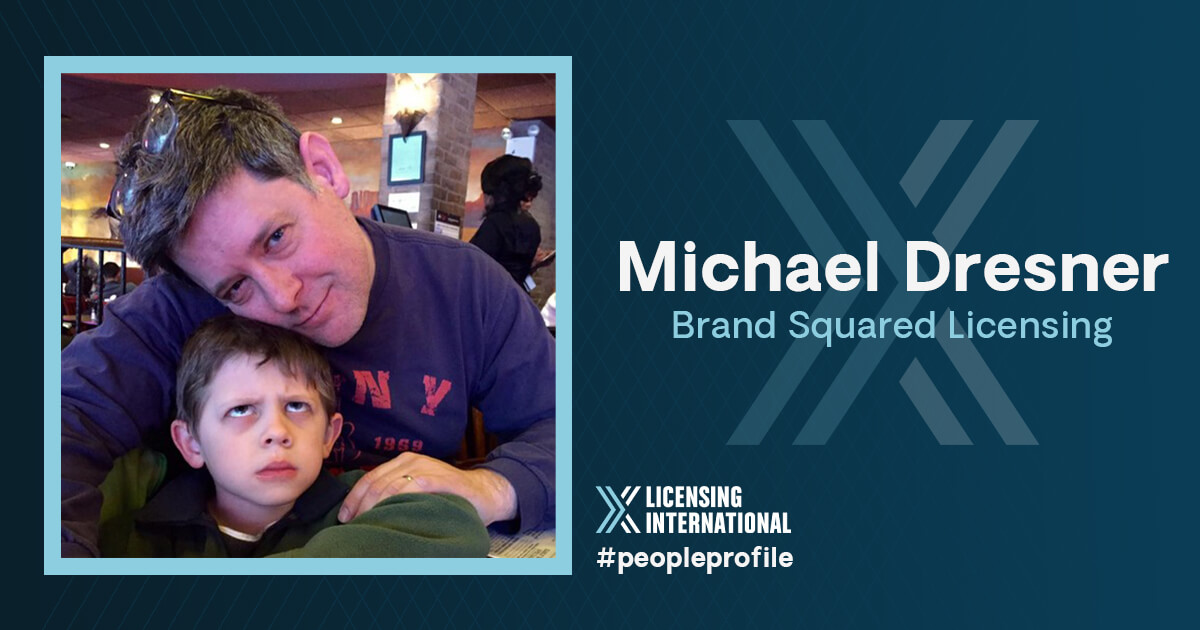 People Profile: Michael Dresner, Partner, Brand Squared Licensing
The global licensing community is powered by an incredible group of professionals whose diverse backgrounds and creative energy drive innovation and excellence. Each week we're profiling one of these professionals in this ongoing series.
How did you get into licensing (or how did licensing find YOU😊)?
I was as product director at Johnson & Johnson.  There was no managerial focus on their licensed personal care at the time.  I was asked to "call Disney about Winnie the Pooh adhesive bandages."  The business grew quickly across properties, and ultimately across licensors.  Our company president was devouring the Harry Potter books and asked my team to figure something out.  We did.  After a couple of years I had an informational interview at The Beanstalk Group.  The industry took me from there.
What's a "typical" day in your current position?
Ha. :).  The adage "there is no typical day" is terribly outdated.  The reality is my partner, Heather Rosenthal, and I spend our days running a business.  We are setting goals, generating ideas, pitching new clients, pitching partnerships on behalf of current clients, managing the ups and downs of diverse license agreements.  And we are addressing all other functions of any business – finance, staffing, recruiting, agency marketing.  As an agency we do not carry the risk of products in warehouses, but we are enveloped by how we manage our time, energy, creativity and patience.  That is our inventory.  And it's not infinite for us or anyone in our industry.
What's your biggest personal and professional accomplishment?
My family.  Nothing else measures up.  But, licensing is a really fun area in which to work.  We cross so many functional areas in a day, and our team is really passionate about it.  That's important.  Brand Squared Licensing was incidentally founded as a division of a larger company; my experience with Heather divesting it into independence, and watching our output subsequently improve so much, has been really cool.  That reinforces a macro trend of entrepreneurship and innovative mindsets driving our economy.
What are the most significant trends or changes that you've seen in the business in recent years?
Mergers and acquisitions to the extent that the top 4-5 licensors represent a dramatic percentage of licensed product sold.  For passionate industry professionals, and medium sized business owners, that's not always good news.  It creates the same fear that takes hold when retailers consolidate.  Key decisions are placed in the hands of very few.  And those decisions – what grants get offered, what agencies get retained, what lines get merchandised – can be idiosyncratic.  That said, the pendulum shifts back and forth.  Consolidation leaves need gaps.  Studio acquisitions rendered home entertainment a forgotten bystander; Netflix and Amazon are two of our largest studios today.  Nobody could have predicted that a decade ago.
Another fascinating trend is that consumers are always willing to try newly convenient ways to purchase merchandise.  So any media vehicle – real, digital, virtual, social – can now become a merchandise channel.
Conclusively, the costs of starting up a new business have decreased at an incredible pace.  New licensors, agencies, licensees, retailers and categories can appear instantaneously.  Watch out for them.  Or better yet, become one of them.
What keeps you up at night? What's your biggest challenge these days?
I am kept up at night by the long-term effects COVID will have on our industry and every other industry influencing ours.  The health crises and emotional tolls will carry a ripple effect lasting years.  From a transactional standpoint, licensees with overseas sourcing can be handcuffed in part by tariffs, transportation costs, and severe delays that can decimate the profitability or even the existence of a licensing program.  Other pandemic consequences abound.
I am also kept up at night by slow decision making or indecision.  This infects so many stakeholders in licensing, can be so unpredictable, and places high quality labor in a holding pattern.  That said, our agency's philosophy is to have backup options for any, and every, opportunity languishing in delays.  No idea has to be locked up.  There are always other, more assertive businesses, clients and partners with whom to work.
In your opinion, what is the top skill every licensing executive should have in order to succeed?
Boundless creativity.  In partnerships, in prospective clients, in business models, in problem solving.  That is the most valuable asset a service provider has right now.
What is the best piece of advice you ever received? OR What is your favorite quote?
Michael Stone at The Beanstalk Group would always tell me, and our team, that "you never know when today is the day."  The phone call, the idea, the partner, the proposal, the job offer, could come at you at any time.  Be ready for it.  Look for it.  And if you're not in the right place, or you are not under the right manager, be proactive and go find colleagues deserving of you.
What is your favorite licensing deal of all time? (doesn't have to be one that was signed by you)
My favorite license agreements are those in which both parties leveraged their strengths and created a new entity that took on a life of its own.
Examples include:
Starbucks and PepsiCo
Moe's Southwest Grill & BJ's Wholesale Club
Warner Media and JK Rowling
Arnold Palmer and AriZona
John Madden and Electronic Arts
TGI Friday's and Jack Daniel's
Tom Clancy and all content and interactive entertainment developed long after his passing
Nike and Haddad
Susan Komen and every merchandise partner driving awareness and funds toward cancer research
If you weren't in licensing, what would you be doing now?
Trial lawyer.  Venture capital.  Film reviewing.  Teaching.  In recent years…home schooling.