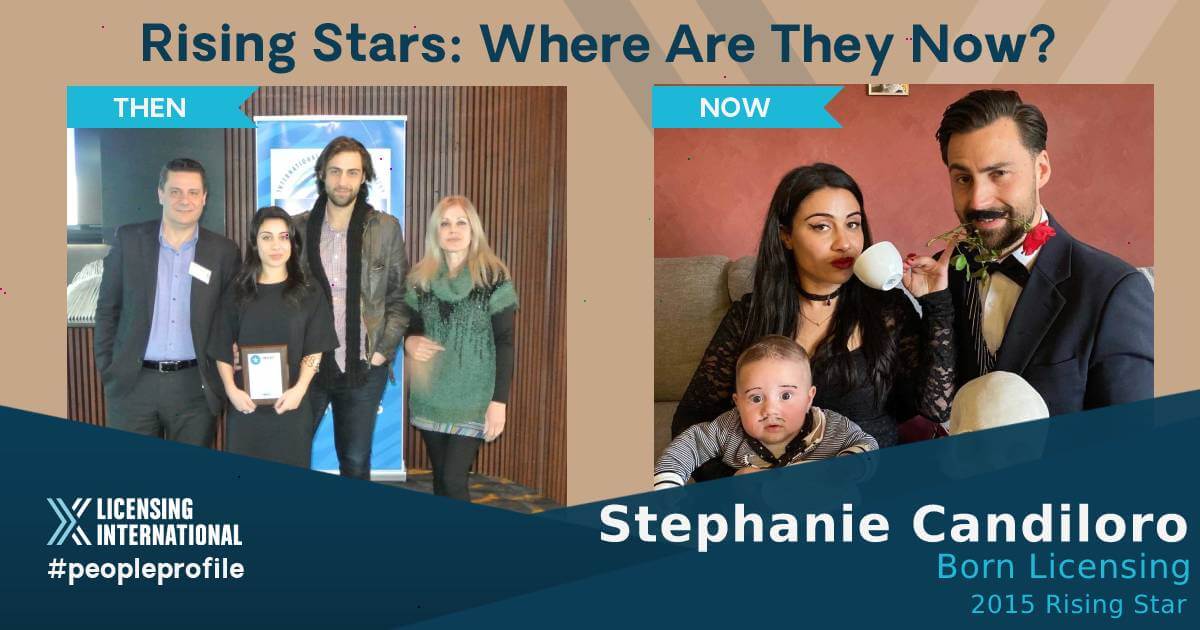 People Profile — Rising Star Edition: Stephanie Candiloro, Director of Business Development for Born Licensing AsiaPac
The global licensing community is powered by an incredible group of professionals whose diverse backgrounds and creative energy drive innovation and excellence. We profile one of these professionals each week, and in this special edition of the People Profile series we are revisiting a former Rising Star Award recipient to shine a spotlight on their subsequent success.  
How did you get into licensing (or how did licensing find you)?
I had coffee with my friend Adam De Cata, who was working in marketing at Warner Bros. Consumer Products, and he let me know of a creative internship role in their office. I had just finished an advertising degree but the idea of working for my favorite childhood characters was a dream come true, so I ditched the idea of joining an ad agency and took a chance with licensing.
When were you named a Rising Star? Where were you working at the time and what was your title?
It was 2015 and I was 28 years old. Apparently, I was the first Australian to be named Rising Star (which is very cool) and I was at Warner Bros. Consumer Products as licensing account manager at the time.
What was the best piece of advice you received early on in your career?
I don't think I could narrow it down to one piece of advice, I instead would like to thank the people I worked with for the constant advice, daily motivation, and mentorship. A lot of gratitude to Preston Kevin Lewis, my first boss at Warner Bros., for his energy and integrity. I have also had the privilege of working with and for the following mentors and leaders that were patient with me and all a part of my growth—Tim Everett and Andrew Bromell (Warner Bros.), Andros Georgiades and Alan Schauder (Merchantwise), Andrew Carley and Amy Dieckman (eOne), and now David Born at Born Licensing.
What's your biggest personal or professional accomplishment since being named a Rising Star?
My biggest personal accomplishment is becoming a mum to my beautiful son Ari.
What's a "typical" day in your current position?
Every day is different. Some days I get to receive really exciting scripts or briefs from advertising agencies that are looking to include a fictional character. Most days I am talking to advertising agencies across AsiaPac. More recently, I've been presenting the Born Licensing character IP workshops that David Born and Amber Cheung presented to the U.K. and U.S. creatives and producers to the AsiaPac audience. It has been nice to start presenting and meeting everyone face-to-face again! If we can just normalize doing the face-to-face part in tracksuit pants, then I think we can have a very comfortable typical day.
What keeps you up at night? What's your biggest challenge these days?
If my two-year-old isn't keeping me up because he wants oats at 3am then I'm usually sleeping sound, BUT there is definitely more urgent worry around what world he and many young people will grow up in. For many years I worked in consumer products and wonder what my participation in landfill has been. And, as we start to learn more about unfair labor practices in overseas factories, I'm sure many of us worry about this too. It is really promising to see toy companies moving in a direction of positive change.
In your opinion, what is the top skill every licensing executive should have in order to succeed?
For the entertainment and character sector of licensing, I would say maintaining curiosity and a child-like enthusiasm. Ultimately, this is how we're going to stay connected to our end consumer, who is usually a child or a nostalgic adult.
What is your favorite licensing deal of all time? (It doesn't have to be one that was signed by you.)
It may sound biased because I now work for Born Licensing but I wasn't working for them in 2017, when they launched the Masters of the Universe (Mattel) x Dirty Dancing (Lionsgate) advertisement for MoneySupermarket with the agency Mother in the U.K. I loved everything about the ad. If I'm allowed to sneak one more in, it would be anything that the fashion brand Lazy Oaf does with licenses—in particular their 2013 Looney Tunes release. It's still fashionable nine years later.
The last licensed product I bought was…
Some really cool retro-looking Sesame Street jumpers (or "sweaters," if you're American) from the Aussie brand Goldie & Ace for my son Ari.
What words of wisdom would you give to the 2022 Rising Stars?
Enjoy the award and your recognition, and don't feel the pressure to have to 'rise' anywhere in particular afterwards.
The Rising Star Awards recognizes the next generation of leaders around the world for their commitment, passion, and contributions to their company and the licensing industry. For the first time, the Rising Stars will be recognized and celebrated at the Hall of Fame Gala Luncheon in New York City on December 7th, 2022.