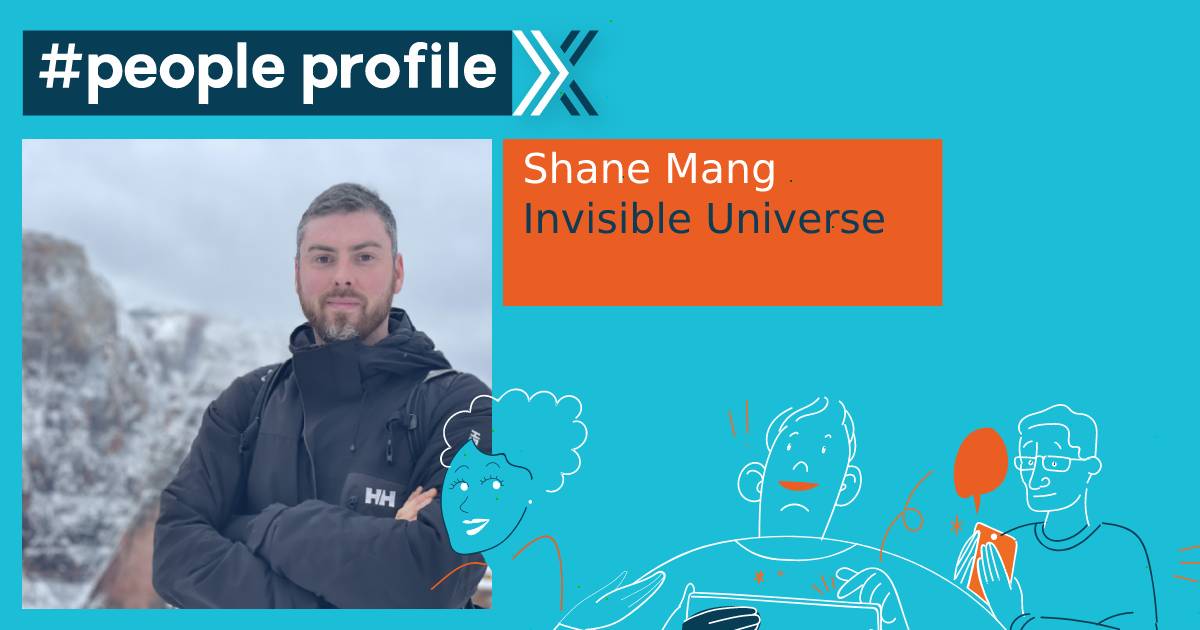 People Profile: Shane Mang, Head of Licensing at Invisible Universe
The global licensing community is powered by an incredible group of professionals whose diverse backgrounds and creative energy drive innovation and excellence. Each week we're profiling one of these professionals in this ongoing series.
How did you get into licensing (or how did licensing find you)?
My journey into the licensing industry began with my passion for content creation. I started my career in production at Electronic Arts, where I had the opportunity to work on global gaming franchises such as NHL and FIFA. During my time at EA, I gained valuable experience in content creation and learned how to develop engaging stories that resonated with audiences.
As I continued to develop my skills, I became interested in content distribution and licensing. I joined Nerd Corps, the leading production studio for kids content in Canada at the time, where I oversaw licensing and distribution and gained a deeper understanding of how licensing can impact the content we view and the products we interact with.
From there, I continued to grow my career in the licensing industry, leveraging my expertise in content creation and innovative strategies to help brands develop effective licensing programs that engage audiences and drive revenue growth. I feel privileged to be part of an industry that has such a significant impact on people's lives, and I'm excited to see where this rapidly evolving industry takes us.
What's a "typical" day in your current position?
Invisible Universe is a cutting-edge, internet-first AI creative studio that is rewriting the playbook on how IP has traditionally been developed.  As the Head of Consumer Products and Licensing, my daily responsibilities encompass long-term strategic planning, content and technology, and immediate business development.
My role at Invisible Universe entails much more than conventional licensing. We are constantly developing  innovative ways to promote licensee products, adapting our brands to maximize consumer product potential, leveraging AI and state-of-the-art technology to gather audience insights, and managing product-focused campaigns.
As we navigate the rapidly-evolving content landscape, we are continuously expanding our knowledge of the pivotal role that social media plays in shaping our world. Given that our brands are live and constantly engaging with our audiences, we strive to strike a balance between long-term strategies and responding to current trends.
What are the most significant trends or changes that you've seen in the business in recent years?
I have observed two significant trends that are dramatically changing the ways we must approach modern licensing. The first is the rapid shift towards short-form social media content that is completely redefining consumer behavior. With access to a vast array of media, audiences are consuming an increasingly diverse range of content at a much quicker rate.
This trend is evident across all age groups. According to Qustodio's annual data report, kids spent up to 1 hour and 47 minutes a day on TikTok and more than an hour a day on YouTube. Other media reports highlight that a quarter of all Americans listen to an hour of podcasts daily. The emergence of these platforms, which barely existed a decade ago, is significantly impacting the way that brands interact with audiences, thereby opening the door to new opportunities for licensed brands and products.
The second trend is the phenomenal advancements in content creation, which is transforming every aspect of our industry. The technological innovations of recent years have significantly enhanced creators' abilities to develop and distribute content across a wide range of platforms, affecting everything from writing to production. Leveraging new technology and the rise of AI-powered software, our studio creates high-quality 2D and 3D content on a daily basis. Technological developments like these have led to a proliferation of content across social media platforms, which is changing the way that entertainment content is consumed and distributed. We are on the leading edge of content creation in this new landscape, which is giving rise to new audiences seeking a myriad of products for brands in this space.
As an industry, we are fortunate to be in a constant state of change and evolution. While this is undoubtedly exciting, it also presents significant challenges for businesses. Brands, content, and marketing strategies that were successful a decade ago may be irrelevant today. Looking ahead, the possibilities for innovation are immense, and businesses must be proactive in adapting to these changes to remain competitive.
In your opinion, what is the top skill every licensing executive should have in order to succeed?
The most critical skill that every licensing executive should have to succeed is active listening. The ability to ask questions and respond to the needs of employees, customers, and partners is essential in the highly competitive and complex landscape of licensing. In today's business world, we are all competing for a slice of the pie, so it's crucial to be adaptive to the challenges and needs of our stakeholders, including customers, partners, retailers, and fans, and also to new technologies and a rapidly evolving media landscape.
As licensing executives overseeing our brands, it's vital to help our licensees solve their challenges by understanding their needs and concerns. By actively listening, we can gain insights into their goals and aspirations, which will enable us to develop customized solutions that meet their unique requirements.
Therefore, in my opinion, listening is the top skill that every licensing executive must possess to succeed in this industry. By cultivating this skill, executives can build strong relationships with stakeholders, better understand their needs, adapt to evolving technologies affecting our industry, and lead their organizations through this period of massive change to success in the years to come.