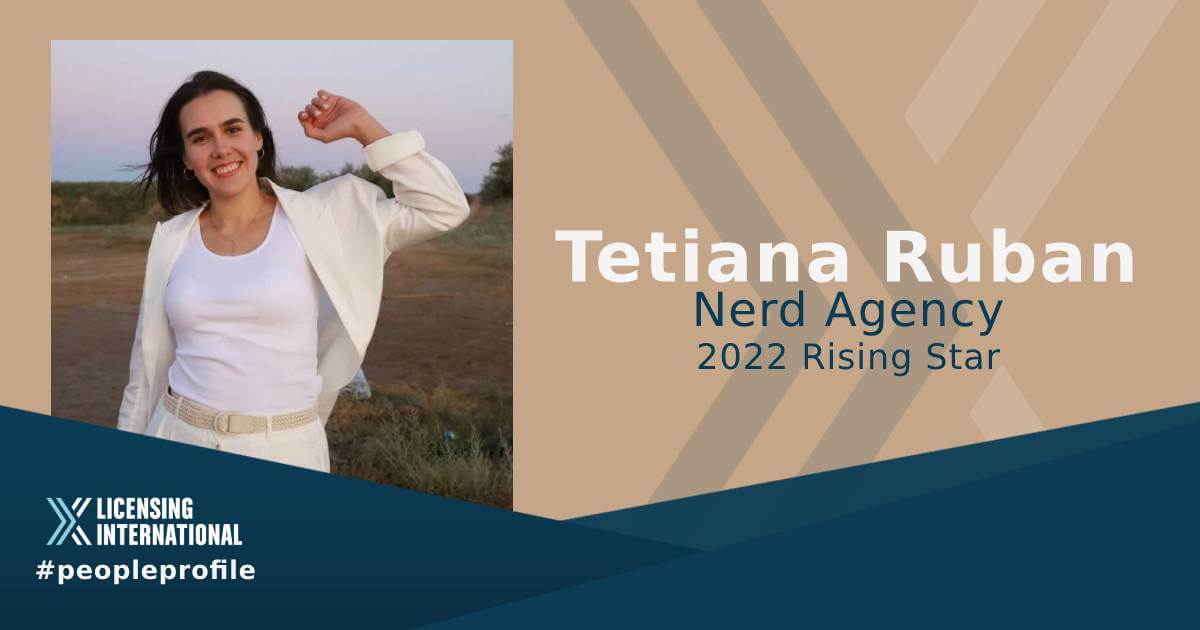 People Profile: Tetiana Ruban, CEO of Nerd Agency
The global licensing community is powered by an incredible group of professionals whose diverse backgrounds and creative energy drive innovation and excellence. We profile one of these professionals each week, and in this special edition of the People Profile series we are introducing one of the 2022 Rising Stars Award recipients to shine a spotlight on their success.
How did you get into licensing (or how did licensing find you)?
I started in marketing and have experience in product development, which is essential for licensing. It's a complicated process that includes research, idea generation, tests at manufacturing facilities, packaging development, promotion, and more. As a result, when I became a CMO at a licensing agency, I understood our clients very well. After this, I founded my own marketing agency, Marketing GYM, which specialized in marketing strategies. I had clients from different industries, including food and beverages, IT, finance, and charity. In the summer of 2020, FILM.UA Group got in touch with me and convinced me to lead the Nerd Agency.
What's a "typical" day in your current position?
The first thing I do is check my calendar and emails. Next, I prepare a task list (it's flexible), and have a daily meeting with my team. The rest of the day depends. I meet with clients, licensors, and other partners; write emails, make calls, prepare commercial terms, approve contracts, and develop strategies. Sometimes I write articles or participate in events. I work a lot of overtime, but I like the feeling of having something done. After work, I take Muay Thai classes in the evening several times a week. It refreshes my mind and helps me keep fit.
What's your biggest personal and professional accomplishment?
I've got my Ph.D. in world economy and international relations. It took me over five years of research and I was combining it with my full-time work. During that time, I spent evenings, weekends, and vacations working on my thesis, articles, and preparing for exams. It was challenging.
What are the most significant trends or changes that you've seen in the business in recent years?
Most meetings are now online, so you can have more meetings in a day, and the time to market continues to shorten, which means licensees are always in a rush. As a result, we need to be very fast and flexible to support our clients. For example, our quickest approval took about two hours from the client's inquiry to our reply (approved by our licensor).
What keeps you up at night? What's your biggest challenge these days?
My biggest challenge is to make the Nerd Agency go international. Because of the war in Ukraine, our home market size decreased. So, we made a strategic decision to extend to other markets. We focus on CEE as it's close to Ukraine, and the market specificity is quite similar. But we also have some deals in Western Europe. For example, we recently made a deal in Italy. It's challenging because we need to not only make the licensing deals, but to make a strong brand portfolio with rights to the whole CEE region.
In your opinion, what is the top skill every licensing executive should have in order to succeed?
It's essential to keep the big picture in mind.
What's the best piece of advice you've ever received, or what's your favorite quote?
Ask 'what for?' It's important because not every action leads us to our goals. This question helps to keep on track. 
What is your favorite licensing deal of all time? (It doesn't have to be one that was signed by you.)
From our partnerships, I would like to highlight our recent Robocar Poli vitamin lollipops launch. We signed the contract during the war. Our partner, Farmak, is the top pharmaceutical producer in Ukraine and this is their first experience with brand licensing. The product is fantastic —each lollipop has the design of a different Robocar Poli character. It's a long-term contract, and we are happy to have such collaborations during this challenging period.
If you weren't in licensing, what would you be doing now?
I would be in marketing. In my mind, brand licensing is a marketing tool as well.
The last licensed product I bought was…
A dress inspired by Mavka: The Forest Song, from our licensee Anabel Arto. I often buy products from our licensees, as well as from brands that we represent. For example, I gifted my nephew Robocar Poli toys. I am loyal to the products from our partners because I know the team, their approach, and their quality, and I want to support their business.
The Rising Stars Award recognizes the next generation of leaders around the world for their commitment, passion, and contributions to their company and the licensing industry. For the first time, the Rising Stars will be recognized and celebrated at the Hall of Fame Gala Luncheon in New York City on December 7th, 2022