Planner Supplier Blue Sky Readies Plum Pretty Sugar Products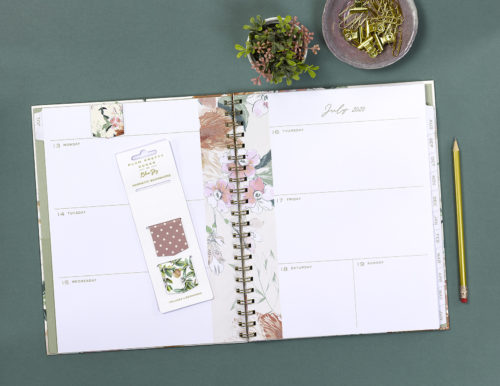 Save the date: the planner collection of your dreams is coming March 30. Blue Sky, the #1 Dated Products brand*, and beloved bridal sleepwear label Plum Pretty Sugar are smitten to announce their new collection of planners, calendars, and planning accessories, debuting for the 2020-2021 academic year. Retailing exclusively at Staples stores across the country and on staples.com, this lively collection marries Plum Pretty Sugar's distinctly feminine style with Blue Sky's thoughtful approach to the design and manufacturing of dated goods, bringing to life an effortlessly beautiful approach to daily planning. Crafted with eco-friendly 50% post-consumer waste (PCW) paper and soy-based ink, this line is carefully constructed with values important to both brands. It's safe to call this a match made in planner heaven.
The 32-piece Plum Pretty Sugar for Blue Sky collection of planners, calendars, and planning accessories will be available in a range of sweet florals and timeless solids. Plum Pretty Sugar devotees are sure to fall for prints like "Boheme" and "Kiss Mix", which coordinate with robes and sleepwear in the line. Each planner will balance fashion and functionality, offering a planning experience unlike any other—the covers are only the beginning. The thoughtfully designed interiors will feature pretty prints on each page (making every day feel like a special occasion) and plenty of space to write, plan, and dream. Calendar formats will include desk pads, wall calendars, and standing desk calendars with 12 different monthly prints. The planning accessories—pencil pouch, magnetic bookmark set, padfolios, washi tape, and retro pen set—are the icing on the cake. All products are dated from July 2020-June 2021.
The Plum Pretty Sugar for Blue Sky collection will be available at Staples stores nationwide on March 30. Pricing for the collection will range from $7.99-$34.99. The partnership was brokered by Plum Pretty Sugar's licensing agent, Jewel Branding & Licensing.