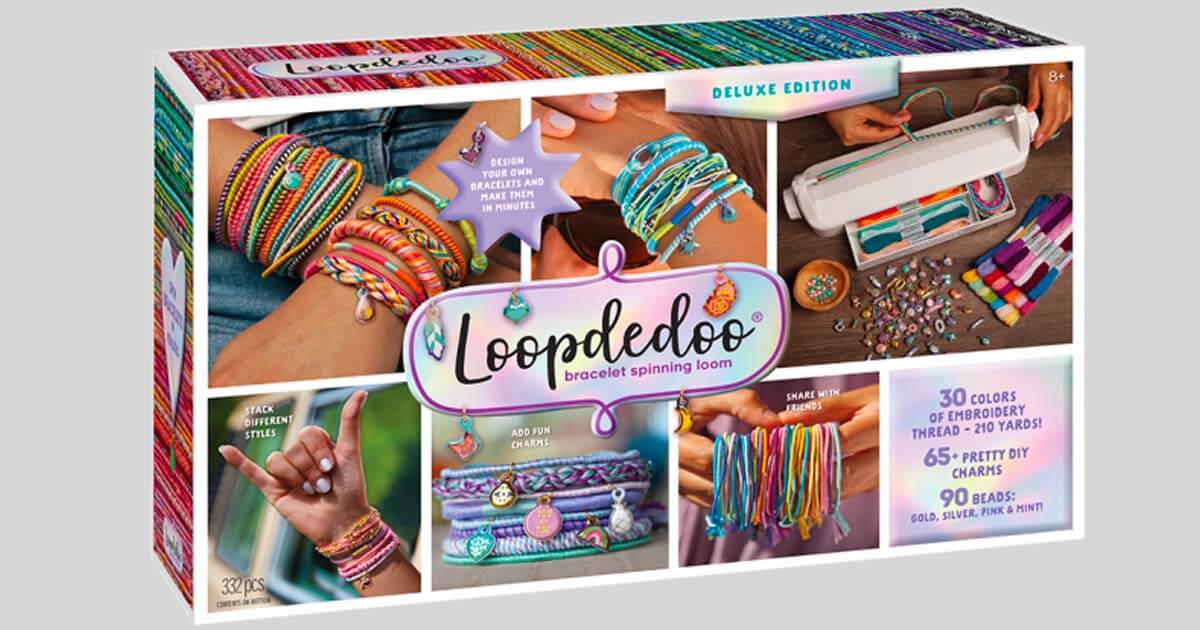 Playmonster's Ann Williams Brands Earn Industry-Wide Accolades and Recognition
Creator of Innovative Craft and Activity Kits Claims 15 awards and a TOTY nomination
Beloit, WI — PlayMonster's acquisition of the Michigan-born Ann Williams Group is less than a year old, and already the newly minted craft and activity portfolio is earning more industry accolades and recognition. In 2021, Ann Williams brands have secured 15 awards to date, and a 2022 TOTY nomination in the specialty category.
Awards highlights include:
2021 Autism Live Award Winners Craft-tastic Surprise Balls; Craft-tastic Artist Box; Craft-tastic Scratch and Sticker Journal; Craft-tastic Craft Crush Paper Bowls
2021 Creative Child Magazine Kids Product of the Year Winner Loopdedoo Deluxe
2021 Happy Kid Award Winner Create Your Own Magical Unicorn Friend
2021 Oppenheim Toy Portfolio Platinum Award Winners Craft Crush Bracelet Box Kit; Craft-tastic All About Me Empower Flower; Craft-tastic Glow in the Dark Bracelets
2021 Oppenheim Toy Portfolio Gold Seal Award Winners Craft-tastic Puffy Stick-on Earrings; Craft-tastic String Art – Butterfly; Craft-tastic Make a Mouse Friend; Craft-tastic Sticker it Up! Good Vibes
2021 Toy Insider Winners Craft-tastic Empower Flower; Let's Learn to Sew
The Loopdedoo Deluxe was recently honored in the Toy Foundation's Toy of the Year (TOTY) Awards, with a nomination in the specialty Category. Loopdedoo Deluxe combines 2 patented methods of making jewelry, and was created by Ann Williams Group Founder Sheila Wright to make it easier for kids to make really unique and custom expressions of themselves.
Category finalists were selected by industry influencers, academia, media and more to recognize the hottest toys of the holiday season. On Monday, November 8, 2021, the finalists were revealed, and voting began. Consumers and members of the toy world can now cast their vote here for Ann Williams Loopdedoo Deluxe until January 4, 2022.
"Every product under the Ann Williams brand offers a unique way for fans of all ages to explore new creative possibilities, learn new skills and express themselves in new and magical ways. True to its award-winning history, we're pleased to see Ann William's beautiful products continue to grow and maintain their reputation as best-in-class products in the crafts and activity category," says Wendy Hartling, Activities Brand Manager at PlayMonster. "We're excited to grow the magic and possibilities of this brand in the years to come under the PlayMonster banner."
With wide distribution across key mass retailers, including Target, Nordstrom, Michaels, plus specialty and independent retail channels, Ann Williams has sold millions of kits to generations of inspired makers worldwide.
For more information on either PlayMonster or Ann Williams brands, please visit playmonster.com