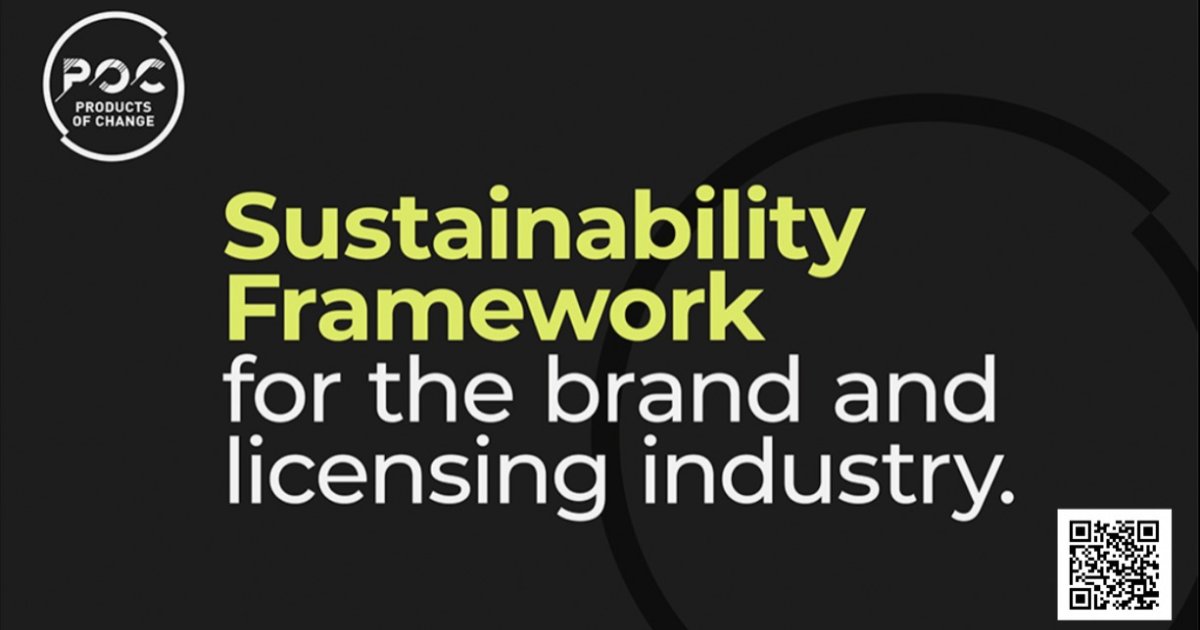 POC Launches 'Game Changing' Industry Sustainability Resource
Products of Change has launched a major new industry resource to help brand owners, manufacturers, licensing partners, and agents create a clear-cut pathway towards sustainable development.
The POC Industry Framework is the result of a two-year cross-industry project to develop a framework to transition the $290bn global brand and licensing industry to a more sustainable way of business.
Created by the industry for the industry, the Framework has been a collaborative effort utilising insight from licensors, licensees, manufacturers, retailers, and sustainability experts specialising in materials, packaging, circularity, and other areas.
Devised to help businesses and individuals wherever they are on their journey with sustainability, the framework features a step-by-step process and suggested timeline of incremental and impactful change to implement across operations.
Products of Change has now launched the Framework in association with the Global Licensing Group. It has been developed with help and insight from the Natural History Museum, the LEGO Group, BBC Worldwide, Hasbro, Paramount, Art + Science, Golden Bear, George@Asda, and the POC Advisors team.
"We are honoured to collaborate with Products of Change to help licensing make more positive impact on our planet. Our events bring the industry together in one place, and we aim to highlight the critical topic of sustainability through in-person connection. New frameworks will be a substantial resource to aid businesses to take actionable, measurable steps towards Net Zero, with the goal for real change in our market," said Ella Haynes, event director at Global Licensing Group.
"It is our greatest pleasure and pride to support the vision of Helena's initiatives at Products of Change. Sustainability is a key pillar for the Global Licensing Group at Informa, which is tangible at all our events. We are grateful for the incredible partnership with Products of Change to help bring this mission to life."
The Industry Framework – expertly produced by the team at PowerStation Studios – is split into Parts One, Two, and Three offering businesses a step-by-step guide into first implementing the basic groundwork and initial processes to prepare themselves for a period of transition in Part One.
Part Two helps set goals and ambitions to hit across critical areas of business within a timeframe, from Waste Reduction, Packaging Design, and Product Design; to Material Selection, Supply Chain and Purchasing, and Facility Management.
Finally, Part Three offers suggested contractual language for brand owners and agents to start collecting and nudging sustainable behaviour across their partnership base.
"The Industry Framework, created by the wonderful Products of Change group, is a complete game-changer for the industry," said Jade Snart, senior sustainability manager at George Clothing. "It provides a one-stop guide on how to make more sustainable choices from end-to-end within the supply chain and beyond."
"The guide has been broken down into bitesize chunks and split into short, mid, and long-term opportunities which really gives clear, tangible options for both small and larger organisations to play their part in making a more sustainable future for our planet."
The Industry Framework is a complimentary resource now available to the entire brand and licensing industry via the Products of Change platform.
"This partner framework defines a great starting point for our collective sustainability journey in the licensing industry and brings together everything we should consider to get moving," said Jakob Max Hamann, licensing sustainability governance lead, the LEGO Group. "It has been important to work across the licensing industry to create this framework, we are seeing many other industries coming together to create change for the planet and we feel industry collaborations are the only way this can be done."
Helena Mansell-Stopher, CEO and founder of Products of Change, said: "Products of Change was created three years ago to support the sustainable transformation of the brand and licensing industry. Not only do we want to educate to inform change and share best practice but deliver the tools to enable change.
"The POC Industry Framework is the first resource of its kind for the industry, with many more in the pipeline to launch over the coming months and we are extremely proud to partner with both the License Global team and Licensing International to lead this industry transformation." Anne Hitch, Business and Project Development Lead at plastics resource efficiency and recycling charity, RECOUP, said: "We are proud to support the Products for Change (POC), Partnership Framework and as a member share the same commitments around sustainability and improved environmental performance."
"Every step we can make to increase end of life solutions and pack and product recyclability in the UK, whilst achieving behaviour changes through consistent and simple messages, will help to reduce confusion and make a difference.  The POC Partnership Framework is another fantastic initiative that RECOUP has the pleasure of being part of and is looking forward to seeing how the journey evolves."