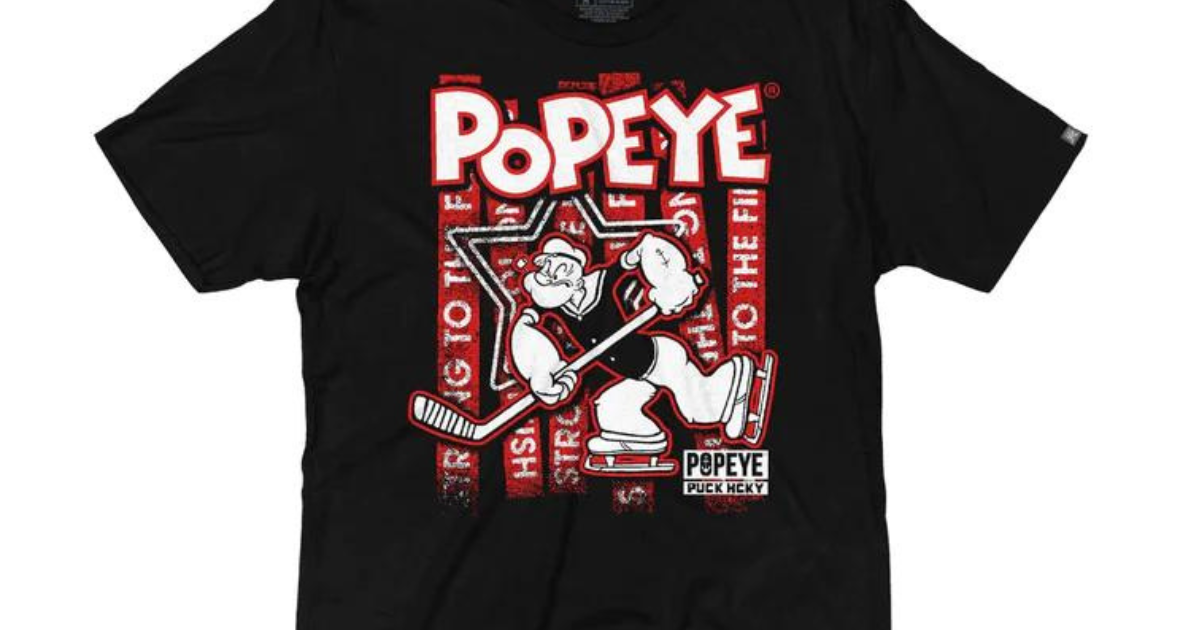 Popeye and Puck HCKY Release Hockey-Themed Streetwear Collection
New Line Includes Exclusive Streetwear Featuring the Iconic Sailor Man    
New York, NY – King Features Syndicate announced that Popeye the Sailor Man and PUCK HCKY, the streetwear fashion brand, are teaming up for an all-new hockey-themed collection. The deal was negotiated by Segal Licensing, King's licensing agent in Canada.  
Popeye joins PUCK HCKY's roster of partnerships with icons who are known to be tough, such as Black Sabbath, Alice in Chains, Godzilla, Metallica, and more, for a line featuring pro-quality jerseys, hockey pucks, flannel, raglan, tees and more. 
"As a tough underdog who never backs down from a fight, Popeye is a hero that hockey fans can relate to both on and off the rink," said Jarred Goro, vp, North American licensing, King Features. "We are so excited about the way PUCK HCKY brings together sport and art through their designs and we can't wait to see fans interact with these new streetwear pieces." 
Matt Marini, CEO, PUCK HCKY, added, "Popeye is one of the most recognized characters around the world! Who isn't a fan of the Sailor Man? Combining such an iconic feature with hockey and streetwear style is our way of putting a fresh new spin on such a classic. We at PUCK HCKY are big fans and are so excited to get this collection to all the fans!" 

About PUCK HCKY 
A small Detroit-Based team creating for the streets and for the rinks. It's fashion for the innovators, the athletes, and the masses. All are welcome at PUCK HCKY. Collaborating with the best, integrating hockey with art, and proudly making every order by hand. That is PUCK HCKY.  
About Popeye 
Sailor. Tough guy. Hero. Legend. That's Popeye. An underdog with bulging forearms, a mean uppercut and a love of canned spinach. Unassuming, unsophisticated and undeterred by a challenge, from the minute he walked into the comic strip, The Thimble Theatre, and muttered his famous "Ja think I'm a cowboy?" line, Popeye the Sailor Man captured the hearts of millions of fans around the globe. As the star of his own comic strips and animated content on the big screen and small, Popeye became quickly ingrained in American culture, and today remains one of the most recognizable pop culture icons in the world. Find more at Popeye.com  
About King Features 
King Features is a premier producer and distributor of the world's most iconic intellectual properties and a leader in classic character licensing and franchise development. With one of the longest-running consumer products programs in the industry, King Features' portfolio includes world renowned pop culture brands such as Popeye®, Cuphead, Flash Gordon™, The Phantom™, Hägar the Horrible, Moomin, Prince Valiant® and Mandrake the Magician. King Features produced the Emmy-nominated The Cuphead Show! with Netflix Animation, which debuted in 2022. As content syndication specialists, the company distributes beloved comics such as Blondie, Beetle Bailey®, Mutts™ and dozens of others as well as columns, editorial cartoons and puzzles across multiple platforms and content providers around the globe. King Features is part of Hearst Newspapers, which publishes 24 dailies and 52 weeklies, including the Houston Chronicle, San Francisco Chronicle and Times Union (Albany, New York), and operates local digital marketing services and directories