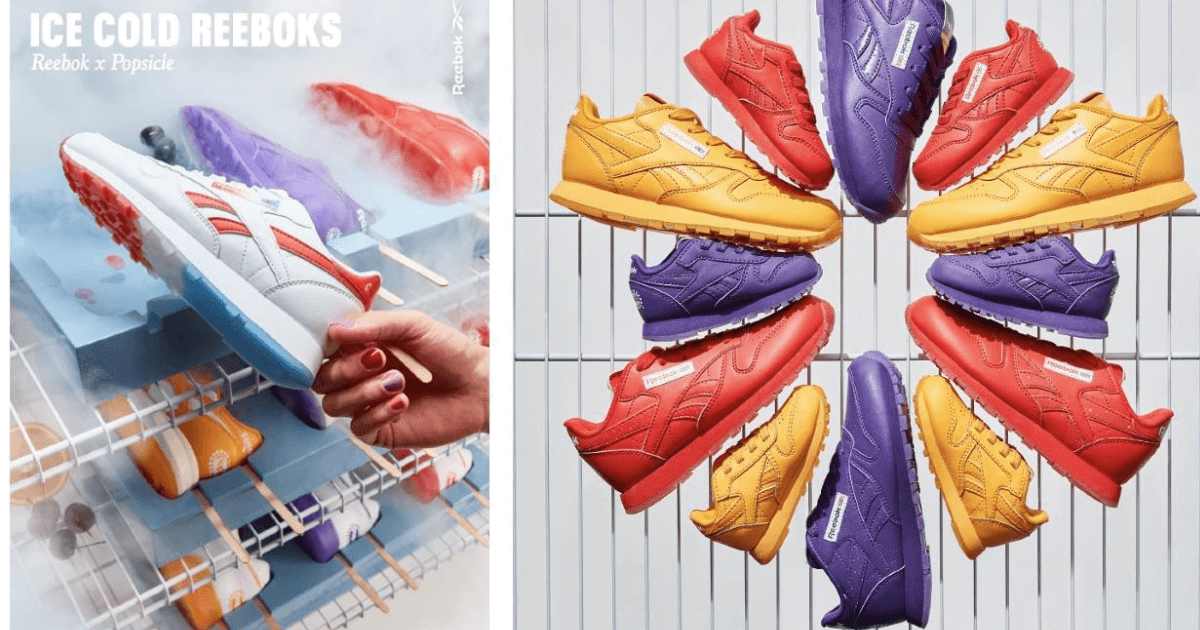 Popsicle x Reebok Cool Off Summer With Classic Sneaker Collaboration
Historic frozen treat brand Popsicle and Reebok have officially announced their collaborative summer footwear collection, available in August 2022. Taking a trip down memory lane, the collection taps Reebok's Classic Leather, women's Classic Leather SP, and Workout Plus sneakers to remember iconic Popsicle themes and flavors like Firecracker, Grape, Cherry, and Orange, while drumming up retro ice cream truck nostalgia.
Seltzer Licensing Group is the licensing agency for Unilever's Popsicle brand and is responsible for identifying and securing this fun licensing collaboration.
The Popsicle x Reebok summer 2022 footwear collection is available in full-family sizing ($45 – $90) beginning August 4 from Reebok.com and select retailers
Classic Leather Pricing & SKU: (Infant: $45 – HR0665, HR0664, HR1998) (Preschool: $55 – HR0663, HR0662, HR1997) (Grade School $65 – HR0661, HR0660, HR1993) (Adult: $90 – GY2436, GY2435, GY2431, GY2430)
Classic Leather SP Pricing & SKU: (Grade School: $65 – HR1981) (Adult: $90 – GY2438, GY2437, GY2432) Workout Plus Pricing & SKU: (Adult: $90 – GY2442, GY2440, GY2433)
About Popsicle
As a brand invented by an 11-year-old, Popsicle has always created opportunities for kids to play more often and use their imagination, from the vibrant colors and flavors of Popsicle products to the upcycled, back-of-pack craft activities with Popsicle sticks. In the spirit of continued fun, Popsicle just introduced new Fruit Twisters that are made with real fruit and real milk. These frozen treats make real fruit fun with three delicious flavors: Mango, Strawberry & Vanilla Swirl, Peach, Raspberry & Vanilla Swirl and Strawberry, Blueberry & Vanilla Swirl. For more information on Popsicle, visit www.popsicle.com, or follow @Popsicle on Facebook, Twitter, and Instagram. For product locator, please visit www.popsicle.com/storelocator.
About Seltzer Licensing Group
Seltzer Licensing Group is a full-service global brand licensing agency founded in 1998 and based in New York City, NY and El Segunda, CA. The Seltzer teams focused on helping companies grow utilizing a licensing and partnership strategy. Seltzer Licensing Group currently represents many global brands including many NBC TV shows, The Scotts Miracle-Gro Company, American Red Cross, and Unilever and many others. For more information visit: www.SeltzerLicensing.com