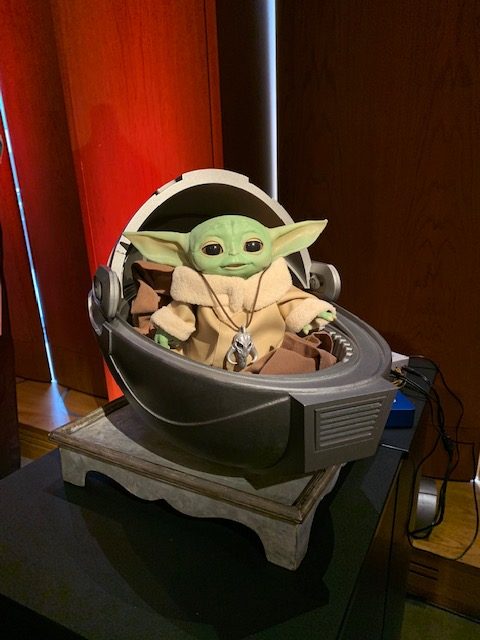 Print-on-Demand to be a 'Cornerstone' of Disney Plus
Print-on-Demand (POD) will be a "cornerstone" of Disney's licensing strategy for its Disney Plus streaming service as the entertainment company moves to increase the speed at which products are brought to market, Paul Southern, Senior Vice President of Licensing at Lucasfilm, told us at a Disney showcase of Mandalorian- and Clone Wars-related products.
Southern expects the 18-month product development cycles typical for theatrical releases to be reduced to 12 months for streamed series, adding that Disney is streamlining its approval process to aid that effort.
"We have been challenging our partners to move faster to take time out, work in different ways and be more entrepreneurial," says Southern. "And we are having to do that ourselves in being more reactive and taking time out of the traditional lead times as our subscription shows become more important."
Bringing up Baby (Yoda)
And then there are the things that require hyperspeed. In the wake of the release of "The Mandalorian" on Disney Plus in November, some product approvals involving "The Child" (referred to more widely as Baby Yoda) were made within a matter of hours, allowing licensees to launch a three-week pre-sale promotion, says Southern.
Indeed, Mattel was able to get approvals for its plush products within a day and sold out pre-orders by mid-December, says Marketing Manager Gordon Hallman. And Hasbro chopped its product development process for some Manadalorian products to five months, Hasbro Chief Consumer Officer Eric Nyman told analysts during an investor presentation today. Some Baby Yoda-related POD apparel and other products were available through Amazon and Fifth Sun within a matter of days of the series' release.
The first big wave Baby Yoda-licensed products is expected to start arriving at retail in April including action figures (Hasbro), plush (Mattel), sleepwear (Hanna Andersson), hats (Love Your Melon), vinyl figures and apparel (Funko), jewelry (Love Rock) and backpacks, wallets and apparel (Loungefly), costumes (Rubie's) and bicycles (Huffy).
A seventh and final season of the animated series "Star Wars Clone Wars" launched on Disney Plus today, accompanied by licensed product from Lego (building sets), Hasbro (action figures) and Fifth Sun (apparel).
Southern says the streamed series business holds the promise of a longer tail than the more familiar short, intense sales window built around a theatrical opening.