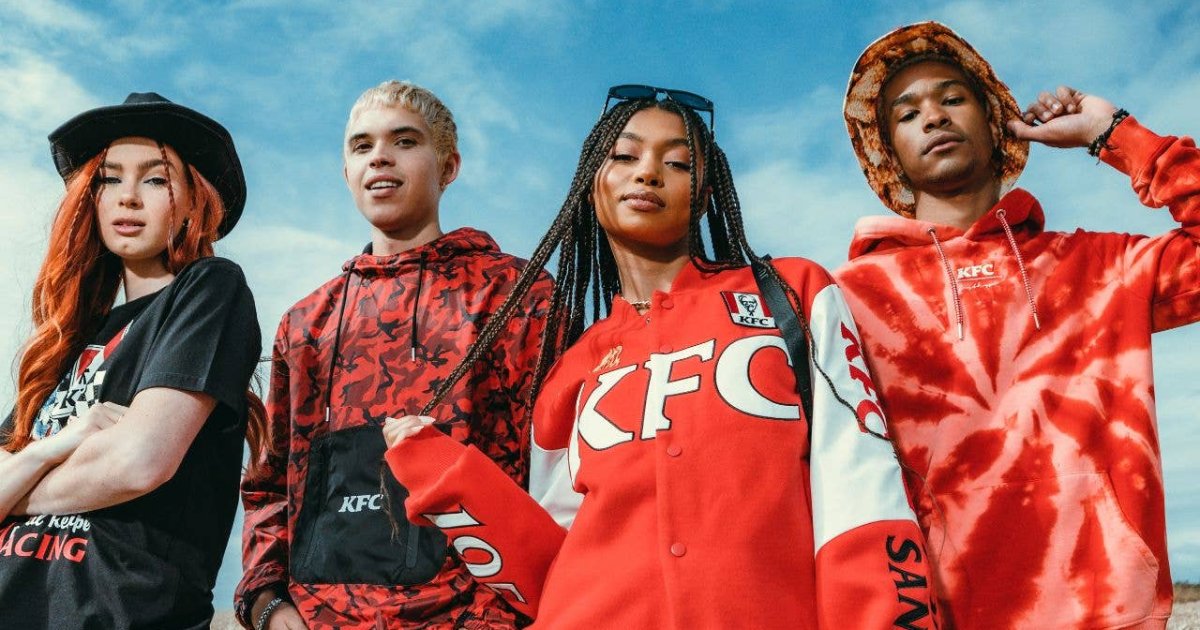 Restaurant Chains Are Hungry For Brand Extensions
Quick-serve food chains have a new recipe for merchandising.
Rather than expanding their menus or adding new items to the grocery aisle, chains are showing an appetite for limited-time product offerings. These items often rely on cleverness as a key ingredient and use social media buzz as an extension of marketing and advertising at little cost.
Many of these promotions rely on internally sourced products in limited quantities to increase demand. But licensing will likely come more into play moving forward as those limited time offers turn into a long-term brand building strategies.
Kentucky Fried Chicken (KFC), for example, launched a new merchandise site earlier this month as part of a National Fried Chicken Day. The shop, which is operated by MPC Promotions, features apparel as well as sliders, tumblers, bucket hats, and sunglasses from licensee Shady Rays. The collection was put together with Ink Branded and will be updated frequently.
Similarly, Chick-fil-A, Taco Bell, McDonald's, Sweetgreen Market, and Velvet Taco have all launched products that expand far beyond their menus. Chipotle launched Chipotle Goods across 12 product categories, an effort that comes as the chain unveils plans for entering U.S. markets with populations under 40,000 for the first time and the Middle East.
Meanwhile, Red Robin is moving to refresh its licensing program with agency Valen Group amid the restaurant chain's hiring a new CEO and Chief Marketing Officer. Red Robin currently has licensees for sauces and seasonings (Vita Foods) as well as steak fries and onion rings (Lamb Weston), and is seeking to add another for hamburger patties, said Jeff Dotson, VP of Strategic Brand Licensing and Partnerships at Valen Group.
"This enhanced commitment is dollars being allocated in a different way through the marketing department and restaurants realize this hybrid of licensing and promotion can be done," Dotson said. "It is smart, because licensing was always seen as a revenue generating source and marketing and advertising was always seen as an expense. The two didn't cross over much because the models didn't match. But now companies can use licensing as a means for underwriting the marketing and advertising costs if it is done correctly."
Red Robin carries t-shirts, hoodies, and other apparel in many of its 570 locations, as do Taco Bell and Cracker Barrel (which has long had a director of licensing). And the more unique the merchandise—KFC's yule log is a holiday fixture in the U.S. and Taco Bell had a hotel takeover in Palm Springs, CA—the more likely they will be promoted on social media.
The increase in new merchandise offerings across categories also overcomes what has traditionally been a stumbling block for fast food brands. Restaurant franchisees have previously opposed brand licensing for fear that consumers buying branded food at retail would be less likely to also visit brick-and-mortar restaurant locations.
That opposition to brand licensing is largely gone because there have been so many case studies that prove these products don't cut into restaurant revenue, said Global Icons CEO Jeff Lotman, whose firm represents Fatburger, Fazoli, Johnny Rockets, and other regional chains. "It actually drives more customer visits to the restaurants and, if they buy something at grocery, it creates a brand awareness that will stay with them. But for regional chains to succeed they must create a budget and have a willingness to take a risk and spend money to create products."