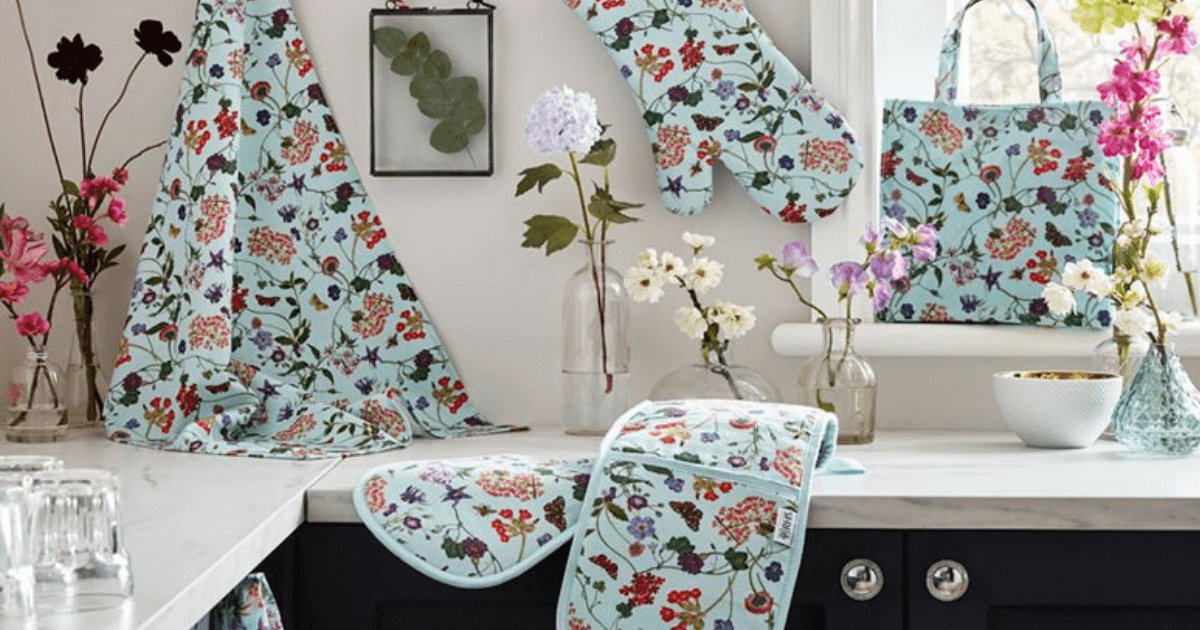 RHS and Ulster Weavers Announce New Kitchen Textiles Range
The Royal Horticultural Society (RHS) has announced the launch by Ulster Weavers, an award-winning home textiles company, of a new RHS range of kitchen textiles.
Called the Spring Floral collection, it offers a wide range of textiles and accessories, including a luxury cotton apron; printed tea towels; quilted oven gloves and mitts; a beautifully crafted tea cosy with accompanying mug; and a selection of durable and reusable shoppers and PVC bags as well as a packable roll-up bag. The RHS branding, highlighting the RHS tree and shield, is clearly visible on the tags and packaging
The range, which launched in mid-February, is available at a wide range of garden centres and garden shops, department stores and gift shops. It is also available online via the Ulster Weavers website and independent gift websites. The collection is expected to appeal to a wide demographic that includes discerning consumers, garden lovers and the design-aware of all ages
The new range, which uses imagery from the RHS Lindley Collections – the world's finest collection of botanical art – incorporates nature-inspired designs featuring bold colour palettes complemented with classic prints and muted floral fabrics.
The design is inspired in particular by the walks enjoyed by the collection's designer Mona Sweeney during lockdown. She says, "What really captured my attention was the beauty and vibrancy of the wildflowers I noticed while I was out walking. Here was a moment worth sharing and recreating, I thought – one that reflected the simple pleasures and slower pace of life we were adjusting to. The fields, the great blue sky above, the wonderful diversity of the fauna and flora; these formed the basis for the entire collection.
Ulster Weavers is based in Northern Ireland. The company can trace its history back to the nineteenth century and prides itself on the production of high-quality linen and textile products — sold, not only in the UK and Ireland, but throughout the world.
This is the latest collection to come from a partnership between RHS and Ulster Weavers, which has produced many popular collections combining quality, durability, functionality and timeless designs for the modern home.
Annie David, Head of Innovation, Ulster Weavers, says: "Using the treasure trove that is the RHS Lindley Collections we have illustrated this collection with an array of delicate flowers and colourful butterflies in a way that, we feel, captures the beauty of the everyday in the world around us. Our partnership with the RHS has once again inspired some wonderful kitchen textiles."
Cathy Snow, Licensing Manager, RHS, says: "This meadow design is a beautiful reminder of the joys of slowing down and contemplating nature, with fresh, light modern colours taking us back to memories of swaying wildflowers in the sun. It's an appealing and elegant collection that is also sturdy and practical. It will, I'm sure, be another big success for the RHS/Ulster Weavers partnership at retail."
Notes to editors
About the RHS
The Royal Horticultural Society, the world's leading gardening charity, was founded in 1804 by Sir Joseph Banks and John Wedgwood. Our vision is to enrich everyone's life through plants and make the UK a greener and more beautiful place. This aspiration underpins all that we do, from inspirational gardens and shows, through our scientific research, to our education and community programmes such as the Campaign for School Gardening and Britain in Bloom. We produce key publications, hold a world-class collection of horticultural books and botanical art, and sell the very best plants and gardening gifts.
The RHS is fundraising £40m to transform our gardens, outreach and education facilities, which includes redeveloping our flagship RHS Garden Wisley and opening a new garden, RHS Garden Bridgewater, in 2021. We are solely funded by our members, visitors and supporters. For more information visit www.rhs.org.uk.
RHS Registered Charity No. 222879/SC038262
About the RHS Licensing programme
Working with the right partners to produce high-quality, beautifully designed products is at the heart of everything we do. We select our partners carefully and offer each one a tailored support package overseen by our experienced Licensing team. Within the RHS Lindley Collections, we hold the world's finest collection of botanical art containing more than 25,000 superb images. RHS Enterprises Limited uses this artwork collection and RHS gardening expertise to create and endorse inspirational products. In 2017 the RHS won the award for Best Licensed Heritage or Institution Brand at The Brand & Lifestyle Licensing Awards. In 2018, again at The Brand & Lifestyle Licensing Awards, the RHS Flora Apparel collection by COAST won the award for Best Brand Licensed Adult Apparel Product or Range.
About Ulster Weavers
Established in 1880, Ulster Weavers is a home textiles company based in Northern Ireland producing an extensive range of giftware, homeware, and textiles for international markets. It works with a range of prestigious clients across the world, designing and manufacturing a range of customised private label and Ulster Weavers' branded products.