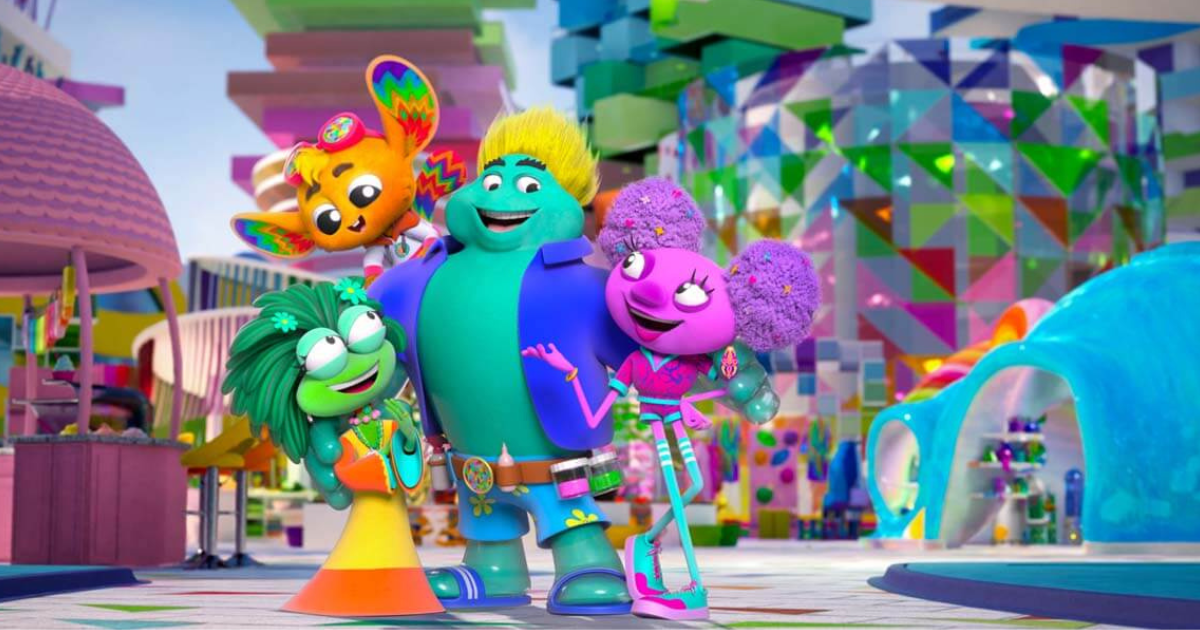 Roku Strikes Deal with Pocket.Watch to Bring Five Exclusive Titles to The Roku Channel Kids & Family
Deal Extends Relationship Between Leading Kids AVOD Service and Kids & Family Entertainment Leader to Bring the Highly Anticipated "Toys & Colors Kaleidoscope City" and Other Programming to The Roku Channel Kids & Family 
Los Angeles, CA — Pocket.watch signed a new deal with The Roku Channel Kids & Family, a leading kids ad-supported video on demand (AVOD) streaming service that makes it easy for  parents and their children to discover and enjoy great family-friendly content. In Q4 2022, The Roku Channel Kids & Family was streamed by more households than any standalone kids and family AVOD app on the Roku platform.
The deal, which brings four new pocket.watch content specials and one new series to The Roku Channel, kicked off with The Roku Channel's launch of Ryan's World Titan Universe Holiday Adventures on Thanksgiving Day 2022. Starring Ryan Kaji of Ryan's World, one of the top kids creators with over 76 billion views on YouTube, the special was promoted during NBC's broadcast of the Macy's Thanksgiving Day Parade in tandem with the appearance of Ryan's Red Titan namesake giant balloon. The additional titles will debut later in 2023.
Upcoming titles to exclusively stream on The Roku Channel include:
Toys & Colors Kaleidoscope City Special – This animated and live-action hybrid special transports kids to Kaleidoscope City, a technicolor world uniquely built in Unreal Engine that teaches kids how to see the world from a new perspective. Starring Toys and Colors, YouTube's #1 kids ensemble, who have amassed 65 billion video views.
Elemon Special – An action-packed and STEM-rich kids anime special from the creators of Ryan's World and renowned animation studio Toei Animation, filled with dramatic kid-friendly battles, comedy, and learning.
Love, Diana Special – An animated and live-action hybrid special based on Kids Diana Show, the most-viewed kid in the world on YouTube with over 279 million subscribers across all her social channels and 160 billion video views. Diana and her brother Roma jump into the Land of Play in this very special rescue adventure.
Jason Vlogs and the Do Crew (series) – An original series (20, 11-minute episodes) starring Jason Vlogs, who has amassed over 10 billion views on YouTube. Together with his brother Alex and CG-animated pals Donnie and Didi, Jason Vlogs and the Do Crew teach kids real-life problem-solving skills in a fun and kid-friendly way.
Pocket.watch was an inaugural launch partner for Kids & Family on The Roku Channel when it first debuted  in 2019. Since then, pocket.watch and The Roku Channel have continued to work together to bring pocket.watch's standout children's entertainment to families to stream for free.
"We're delighted to work with pocket.watch to bring our viewers access to content starring some of today's most beloved kids stars and creators. Pocket.watch content is hugely popular with our audience, and we're thrilled to be able to exclusively bring our users this type of in-demand programming," said Jennifer Vaux, Head of Content Acquisition for The Roku Channel. "We look forward to continuing to work with pocket.watch to surprise and delight the families that stream Kids & Family on The Roku Channel."
The exciting additions from this deal join the already massive volume of pocket.watch content on the platform, including 2,900 licensed videos, equating to 460 hours.
"The Roku Channel is the rare ad-supported streaming service that has truly gone big with kids and families," said David B. Williams, pocket.watch SVP/GM Channels. "We're so proud to level up this partnership and demonstrate unmistakably the power of pocket.watch's unique kid-creator content. Streamers are in for a treat!"
All of pocket.watch's creator partners began their journeys on digital platforms such as YouTube and TikTok, each building a core audience before partnering with pocket.watch to take their personas to the next level. Packaging and syndicating their content to The Roku Channel Kids & Family is an important step in building their brands as they look to build awareness and connections with streaming audiences.
Launched in 2017, The Roku Channel is the home of free and premium entertainment on the Roku platform. In Q4 2021, The Roku Channel reached U.S. households with an estimated 80 million people. The Roku Channel was a top five channel on the Roku platform in the U.S. by active account reach and streaming hour engagement in Q3 2022. Today, The Roku Channel features a diverse lineup of more than 80,000 free movies and programs and more than 350 free live linear television channels in the U.S. It licenses and distributes content from more than 250 partners.
For more information about the pocket.watch roster of franchises and creators and its premium slate of content, visit pocket.watch, or check out @pocketwatchHQ on Instagram, /PocketwatchHQ on Facebook, @pocketwatchhq on TikTok  @pocketwatchhq, and pocketwatch-studios on LinkedIn.
About Roku, Inc.
Roku pioneered streaming to the TV. We connect users to the streaming content they love, enable content publishers to build and monetize large audiences, and provide advertisers with unique capabilities to engage consumers. Roku streaming players and TV-related audio devices are available in the U.S. and in select countries through direct retail sales and licensing arrangements with service operators. Roku TV™ models are available in the U.S. and in select countries through licensing arrangements with TV OEM brands. Roku Smart Home products, including cameras, video doorbells, lighting, plugs, and more are available in the U.S. Roku is headquartered in San Jose, Calif. U.S.A.
About pocket.watch
Pocket.watch is the leading studio building kids and family entertainment franchises with the most popular digital creators in the world. Pocket.watch harnesses the power of audiences built on YouTube and expands them across all types of diverse kids and family platforms and experiences. The company brings kids more of what they love from these creators by producing original video and audio content, mobile games, metaverse worlds, live events and robust consumer products lines ranging from toys to toothbrushes. Key pocket.watch franchises include Ryan's World, Love, Diana, Onyx Monster Mysteries and Toys and Colors: Kaleidoscope City.
The company's content library, consisting of tens of thousands of kids and family videos, is distributed globally on over 40 platforms, generating hundreds of millions of hours of viewership every month. The content library comprises many seasons of the company's breakthrough MishMash™ format alongside pocket.watch originals including the Emmy-nominated Ryan's Mystery Playdate and the animated series Onyx Monster Mysteries and Love, Diana Adventures.
Pocket.watch's gaming division, p.w. Games, boasts multiple mobile game successes including Love, Diana Fashion Fabulous and Tag with Ryan, which together boast over 40 million downloads.
The company generates massive value for advertisers and digital creators through their in-house creative and media agency, clock.work, which creates best in class media and branded entertainment campaigns with the world's largest advertisers, marrying the massive reach of the pocket.watch network audience with custom integrations and scaled media programs across YouTube, YouTube Kids, mobile gaming, OTT channels and the metaverse.
Founded in 2017 by Chris M. Williams (CEO), the company's headquarters and filming studios are located in Culver City, Calif. The executive team includes studio veterans and visionaries from a mix of traditional and digital entertainment backgrounds, including Albie Hecht, David Williams and  Jon Moonves.