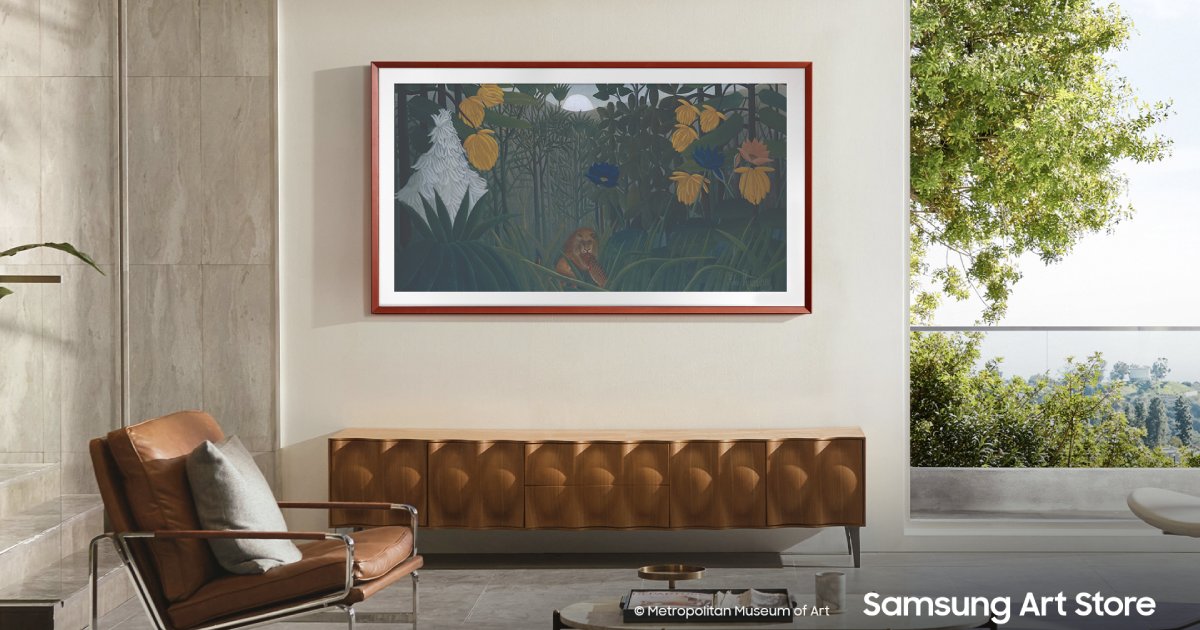 Samsung, Metropolitan Museum of Art Launch Art Store Collection
The Metropolitan Museum of Art (The Met) is collaborating with Samsung Electronics to bring some of the Museum's most treasured works of art to millions of Samsung Smart TV screens as digital art. The Samsung Art Store—which enables users of The Frame to continuously transform any space by displaying more than 2,300 pieces of digital art, including works from the most renowned artists, museums, and industry tastemakers—is today unveiling a selection of iconic artworks in collaboration with The Met.
Samsung Art Store users can choose from 38 pieces across a wide range of The Met's storied curatorial departments, including the American Wing, Asian Art, Egyptian Art, European Paintings, Islamic Art, and more. The selected works were chosen by Samsung Art Store Curator Daria Greene. The offering features high resolution digital reproductions of renowned artworks across a variety of cultures and time periods. Select works are currently on view at The Met in New York City.
Samsung Art Store users can display beloved works of art in their homes, including: Edgar Degas' The Rehearsal of the Ballet Onstage (ca. 1874); Vincent Van Gogh's Sunflowers (1887); Paul Cézanne's Still Life with Apples and Pot of Primroses (ca. 1890); and Georges Seurat's Circus Sideshow (Parade du Cirque) (1887–88). The Frame owners can also display ancient artifacts such as an Egyptian wedjat eye amulet (ca. 1070–664 B.C.), and medieval treasures including The Unicorn Rests in a Garden (1495–1505), the famed French and South Netherlandish textile from the Unicorn Tapestries. Celebrated Japanese artworks such as Katsushika Hokusai's Under the Mannen Bridge at Fukagawa (ca. 1830–32) as well as Utagawa Kuniyoshi's Concise Illustrated Biography of Monk Nichiren: Calming the Stormy Sea at Tsunoda in Exile to Sado Island (1835–36) can also be displayed on The Frame. The collection also features several historically significant American artworks like Emanuel Leutze's Washington Crossing the Delaware (1851).
"Since its founding in 1870, The Met has been dedicated to bringing art and culture to the daily lives of visitors and art enthusiasts around the world," said Josh Romm, Head of Global Licensing and Partnerships at The Met. "Our collaboration with Samsung activates this mission in a new and modern way, allowing consumers to enjoy iconic works from The Met collection at home. As users explore the selection and choose works to display, this program will create a new dialogue about art, creativity, and technology."
The Met's objective to reveal new ideas and unexpected connections across time and cultures through its collections is a fitting collaboration with the Samsung Art Store, one of the largest digital platforms of its kind. Showcasing art from museums and galleries around the world to The Frame users across 42 countries, the Samsung Art Store explores centuries of art, from old masters including Botticelli, Leonardo, Goya, and Van Gogh to contemporary artists such as Shinique Smith and many more through diverse monthly programming.
"The Samsung Art Store is honored to partner with The Metropolitan Museum of Art to bring world renowned artworks into millions of homes worldwide," said Sang Kim, EVP and General Manager of the North America Service Business, Samsung Electronics. "At Samsung, we're constantly working to redefine the entertainment experience through technological innovation, and we're delighted to partner with such an iconic institution to enable users for the first time to enjoy The Met's culturally significant works of art via a modern digital canvas from the comfort of their homes."
The Samsung Art Store is available exclusively on "The Frame" by Samsung—a 4K Smart TV with a billion shades of color and a picture frame bezel that delivers vivid, lifelike TV when it's on and art when it's off. Its Matte Display drastically reduces light reflections for a canvas-like finish—perfect for showcasing digital collections from the Samsung Art Store along with personal photography and artwork. Users can choose from a collection of picture frame-like TV bezels to customize their space and can upgrade the included slim-fit wall mount to the new auto-rotating wall mount to display content vertically or horizontally, so all stunning artworks can be viewed exactly as the artist intended.
ABOUT THE MET
The Metropolitan Museum of Art was founded in 1870 by a group of American citizens—businessmen and financiers as well as leading artists and thinkers of the day—who wanted to create a museum to bring art and art education to the American people. Today, The Met displays tens of thousands of objects covering 5,000 years of art from around the world for everyone to experience and enjoy. The Museum lives in two iconic sites in New York City—The Met Fifth Avenue and The Met Cloisters. Millions of people also take part in The Met experience online. Since its founding, The Met has always aspired to be more than a treasury of rare and beautiful objects. Every day, art comes alive in the Museum's galleries and through its exhibitions and events, revealing both new ideas and unexpected connections across time and across cultures.
ABOUT SAMSUNG ART STORE
The Samsung Art Store, the world's largest art platform for TVs, enables users of The Frame TV by Samsung to continuously transform any space with over 2,300 pieces of digital art from more than 800 artists in partnership with world-renowned museums, galleries, and leading art ecommerce platforms. The Samsung Art Store thoughtfully curates digital art collections to appeal to every taste, from holiday-inspired works to images by old masters such as Botticelli and Leonardo, iconic artists including Dalí and Van Gogh, and contemporary creators such as Cody Cobb, Saya Woolfalk, and Shinique Smith.