Scoopy I x Chupa Chups: a Lollipop On Wheels!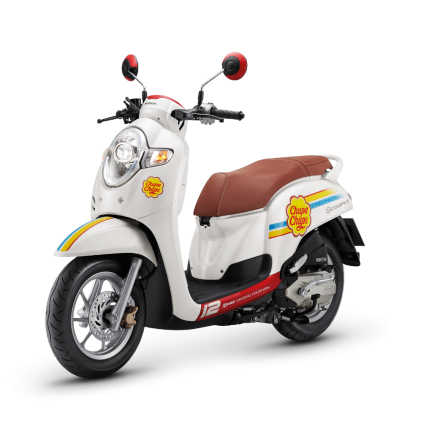 Honda joins forces with Perfetti Van Melle in Thailand on a collaboration between the popular Scoopy I motorcycle and the Chupa Chups lollipop brand.
In Thailand, Honda launches a limited edition Scoopy I Chupa Chups model with a matching helmet that combines the spirit of fun and colour of the lollipop brand with the movement and expression of the Scoopy on a scooter and helmet in a retro style with a modern twist.
The set is available as of this September in Honda's dealer network across Thailand, where the fans can check it out while enjoying their favorite lollipop flavour.
The launch is supported by a strong campaign in social media with Thailand's most popular influencers of the fashion, trend setting and entertainment scene, enjoying Scoopy I lollipop figurines and sharing the excitement of this scooter set that allows young people to move around having fun and expressing their style. The spirit of this collection is captured perfectly in the bold and vibrant patterns of the online You tube campaign. View it here: https://youtu.be/WK0WBL-L9CA
Christine Cool, Licensing manager at Perfetti Van Melle says: "Chupa Chups has created a close link with the motorcycle world through many years of sponsoring famous motorsport champions. The brand is always putting a touch of fun and colour on the way people move around. Honda has managed to capture that playful spirit fully on this Scoopy I  Chupa Chups limited edition and its brilliant campaign. It is no doubt the most exciting brand collaboration of the year".
ABOUT PERFETTI VAN MELLE GROUP:
The global confectionery group Perfetti Van Melle is a privately-owned company producing and distributing candies and chewing gum in more than 150 countries worldwide. It owns many much loved brands such as Mentos®, Alpenliebe® and Chupa Chups®. Perfetti Van Melle is always striving to create innovative treats and a better future for its consumers.
Perfetti Van Melle also unlocks the power of several of its most popular brands through a successful licensing program: Mentos®, Chupa Chups®, Airheads®, Frisk®, Brooklyn®, Smint®, Fruittella® Alpenliebe®and Big Babol® all have sweet or fresh lifestyle oriented programs in key markets across the globe. By merging art, fashion, pop culture and candy, the brands' style guides offer original creativity to develop an ever-expanding universe of exciting lifestyle products, brand and retail experiences.
Moreover the Chupa Chups® and Airheads® brands offer the opportunity to take their characteristic and unique flavour profiles to selected categories in the food and beverage aisles with leading FMCG partners.
Chupa Chups® has been conquering the heart and taste of kids and teens since 1958. The brand has become world famous for its round lollipops in many flavours and the flower shaped logo which was designed by the famous artist Salvador Dalí in the late sixties. Today the brand launches novelties in more than 130 countries in a sustainable manner.
Based on the brand's strong personality and identity, a vibrant pop style has been developed for licensing that is always on trend. The forever fun style guides offer endless possibilities to create colourful lifestyle products and a one of a kind brand experience all over the world.
Chupa Chups®' characteristic flavour profile is also ideal to bring credibility and to inspire innovative food and beverage products that never fail to stand out on retail shelves.
ABOUT HONDA:
Honda is a Japanese brand primarily known as on one of the leaders in global automotive industry. Honda has been the world's largest motorcycle manufacturer since 1959.
In Thailand, AP Honda Co Ltd is the official distributor of Honda motorcycle. The firm has been the leader of Thailand's motorcycle industry for over 3 decades