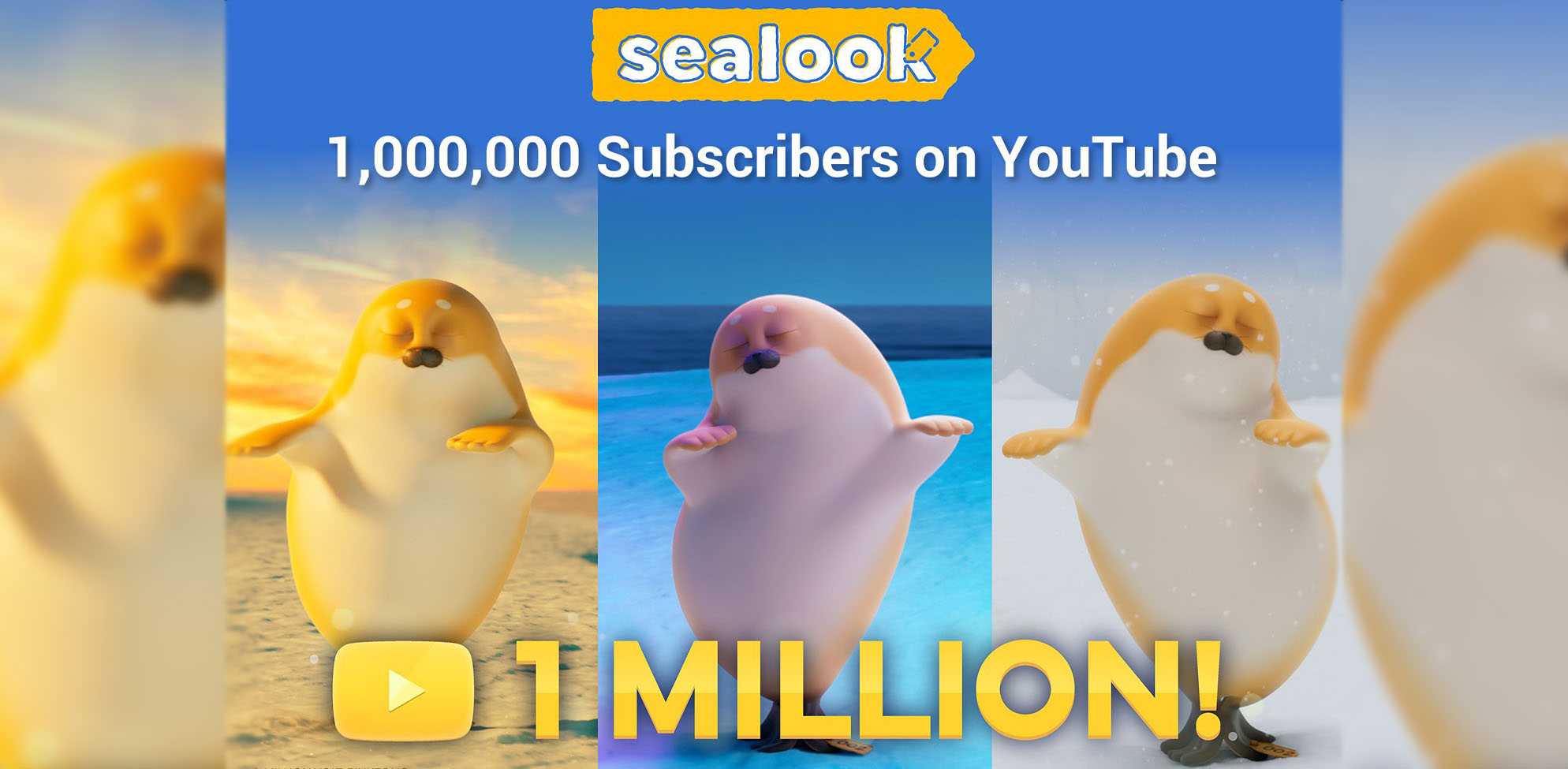 SEALOOK Surpasses 1 Million Subscribers on YouTube
SEALOOK, Baby Shark creator's newest hit 3D animated short-film series achieved meaningful milestones on global streaming platforms. Highlights include:
● SEALOOK, The Pinkfong Company's latest hit 3D animated series about the fun and silly adventures of lovable seals, reaches one million YouTube subscribers, making Pinkfong's first YouTube channel ever to hit the milestone within 40 days of its 100K subscribers milestone.
● Produced in partnership with Million Volt, this non-dialogue series has instantly become a fan favorite on YouTube with an average monthly growth rate of 630% in views and 620% in subscribers. In addition to reaching one million subscribers, SEALOOK's YouTube channel achieved 1 billion total views.
● Particularly, SEALOOK marked strong growth in its Gen Z and Millennials viewership on YouTube as the age group of 25 to 34 years old accounted for 40% of the total audience, and 18 to 24 years old group accounted for 22%. In geographies, the United States, the United Kingdom, South Korea, Brazil, Indonesia, Vietnam, and India are the top countries where the show has been most-watched on the same platform.
● Following its success on YouTube, SEALOOK has connected with fans across social media platforms, surpassing over 700,000 followers and 38 million views from #sealook hashtags on TikTok as of March 21st, 2023.
● Fully animated in 3D, SEALOOK follows a group of lovable seals with different looks and personalities on comedic adventures full of laughter and music. Centering on the tagged seals observed in a wildlife sanctuary, each episode spotlights different seals navigating life's strange and silly challenges in heartwarming ways.
● New episodes of SEALOOK will be available every Thursday and Saturday on YouTube.
About SEALOOK
'SEALOOK' is a series of 3D animated short films about the comedic adventures of fun-loving seals, co-produced by The Pinkfong Company and Million Volt. Premiered on YouTube in December 2022, the dialogue-free series has invited audiences to SEALOOK's world full of laughter, joy, playfulness, and slapstick humor. Centering on the tagged seals observed in a wildlife sanctuary, each episode spotlights different seals navigating life's silly challenges through fun and heartwarming ways.
Follow SEALOOK:
YouTube: youtube.com/@sealookofficial
TikTok: tiktok.com/@sealook_official
Instagram: @sealook.official
About The Pinkfong Company
The Pinkfong Company is a global entertainment company that delivers content and entertaining experiences around the world. Driven by award-winning brands and IPs, the company has created and distributed a range of content across genres and formats including original animated series, world live tours, interactive games, and more. Believing in the power of entertaining and engaging content, The Pinkfong Company is committed to connecting people around the world and bringing joy and inspiration to worldwide audiences of all ages. For more information, please visit the website or follow the company on LinkedIn.
About Million Volt
Founded in 2018, Million Volt is an animation studio that creates global IPs based on creativity and originality. Led by Ju-gong Maeng, the director of the world-renowned non-verbal animated series "Larva", the company delivers high-quality, premium content around the world under its slogan, "One Million Thrilling Ideas, One Million Stories".