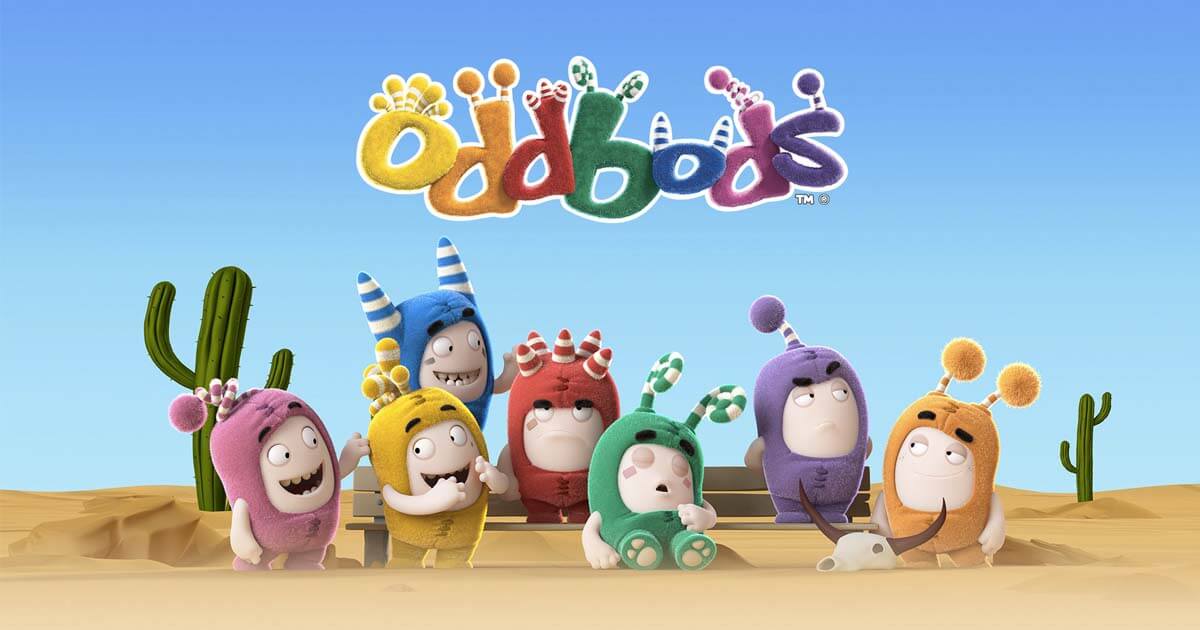 Signature Publishing Teams With One Animation's Oddbods for 'ADVENTURES WITH' Monthly Magazine Issue
Signature Publishing and One Animation have inked a deal to launch a dedicated Oddbods-themed issue of Signature's successful changing-theme magazine for pre-school children, 'ADVENTURES WITH'. Under the partnership, the 'ADVENTURES WITH Oddbods' issue will go on sale in the UK from 10th February.
One Animation's Oddbods is a global phenomenon, airing in 180 countries across 90 broadcasters worldwide. The brand has also generated 25 billion digital views and averages 14 million views on YouTube per day.
The magazine will follow the quirky but charming Oddbods on their adventures and will feature branded stories, puzzles, colouring and more. The magazine will also include a premium pizza set toy, which ties in with the magazine content and provides imaginative play value.
"We are so excited to be publishing 'ADVENTURES WITH Oddbods' magazine," says Amanda Clifford, Signature Publishing's Editorial Director. "The brand is so bright and colourful, celebrating individuality and friendships, and creating an Oddbods magazine has been an absolute joy. We're sure it's going to be a great success and bring laughter, learning and fun to every child who reads it."
Sashim Parmanand, CEO at One Animation, added: "We're always looking for creative ways to bring the Oddbods characters to life for fans, and this partnership with Signature Publishing provides a perfect opportunity to achieve just that. Signature Publishing has effectively captured the Oddbods' spirit and created a really fun and engaging magazine, which we know is going to be a huge hit with our fans."
The three-time Emmy Award-nominated slap-stick comedy series follows the charming adventures of seven adorable, highly unique friends. Together, despite their differences, they survive the perils of everyday life, unintentionally turning ordinary situations into unexpected, extraordinary, and always humorous events. Oddbods celebrates individuality in a funny, warm and unexpected way. After all, there's a little odd in everyone!
'ADVENTURES WITH Oddbods' magazine is available to buy in the UK at supermarkets, newsagents and magazine stockists and is priced at £4.99. 
About Signature Publishing Ltd:
ADVENTURES WITH is published by award winning Signature Publishing Ltd. Other magazines in Signature's growing portfolio include; GO JETTERS and SWASHBUCKLE published under license from BBC Studios. SPIRIT RIDING FREE published under license from NBC Universal. TRANSFORMERS, RESCUE BOTS ACADEMY, published under license from Hasbro. POLLY POCKET, published under license from Mattel and GIGANTOSAURUS, under license from Cyber Group Studios. Plus PETS2COLLECT, WE LOVE, DINOSAUR ACTION, DINO FUN!, FANTASTIC FUNWORLD!, SO MAGICAL!, and COLOUR IT!. ADVENTURES WITH is distributed by MARKETFORCE UK LTD, 161 Marsh Wall, London, E14 9AP and will be available at all good supermarkets, newsagents and magazine stockists nationwide. For more information please visit: www.signaturepl.co.uk.
About One Animation:
Singapore-based One Animation is an award-winning 3D animation studio, world-class content producer, digital influencer and distribution company with content that is broadcast in over 180 countries worldwide.  Broadcast partners include industry leaders, such as: Netflix, Hulu, Amazon, Cartoon Network, and Disney amongst others.
One Animation is officially recognised by YouTube as a digital influencer with its Oddbods series alone having a staggering 25 billion views across digital platforms, and 30 million subscribers on YouTube. The company is also home to the creator and serves as the production studio behind the hit Netflix series Sharkdog.
In the last five years, One Animation has been nominated for more than 25 international awards, including three Emmy nominations for Best Kids' Animation. The company also has an extensive footprint across retail, and gaming and theme parks that include strategic partnerships with Amazon, Walmart, Target, Argos & Sainsbury's, and SEGA.