Socks Are Stars – Frida Kahlo Gruppo Calzedonia Collaboration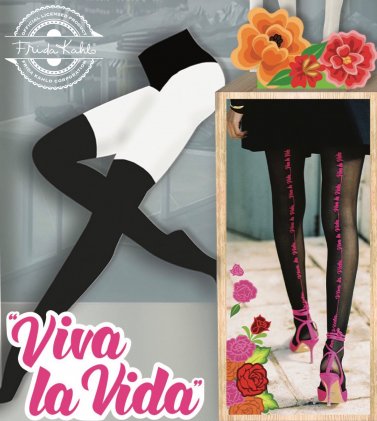 The Frida Kahlo licensing program continues to grow substantially, despite these challenging times, and is pleased to announce its latest Frida Kahlo collaboration with worldwide legwear and beachwear retailer, Calzedonia.
Gruppo Calzedonia are a main player in this sector on a European level and one of the main ones worldwide.
Calzedonia has a well-established online sales channel which will give Frida fans the possibility to purchase products, once launched in March 2021, despite any pandemic restrictions.
The officially licensed range, depicting iconic lifestyle brand Frida Kahlo, will have 7 pairs of socks catering for various consumer targets and styles, including casual, elegant and sport, and 4 pairs of embellished tights/panties. The launch will be accompanied by Calzedonia's marketing communications as well as store fronts across the world.
"We are extremely proud and honoured to be partnering with the amazing team at Calzedonia for this licensed product collection. Can't wait for the launch!" – Maria Strid, Owner Art Ask Agency.
"Kahlo's signature style, from long circle skirts to embroidered blouses and intricate floral compositions in her hair, is rich with aesthetic imagery and has allowed the artist to resonate with audiences even in the 21st century, becoming the focus of international fashion and inspiring the collections of haute couturiers and the fashion world in general, from runways to streetwear trends. Socks, entirely on-trend today and stars of countless cool outfits in recent months (loungewear and otherwise), come alive with fun, bright prints in true 'Rebel' style." – Calzedonia Press Team.
About Calzedonia
Calzedonia was established in Verona in 1986 and for over 30 years, the Calzedonia Group has matured steadily with solid growth, creating successful brands and products establishing itself internationally in fashion retail. Today, their collections are offered exclusively in over 4.800 single-brand stores under the names Calzedonia, Intimissimi, Tezenis, Falconeri, Insimissimi Uomo and Atelier Emé, in over 50 countries, Europe, Far East and North America. The group also invest heavily in the continuous development of e-commerce and an omnichannel business model.
Gruppo Calzedonia states a 2.4 billion euro turnover in 2019 and more than 50% of that from foreign markets. They have a strong focus on the female world with 91% of their resources being female and 60% of employees under 30.
About Art Ask Agency
An internationally established licensing agency based in Barcelona, Spain. Offering a complete service to licensees and brand owners around the world.
Their experience with Lifestyle brands, Culture brands, Designers, Illustrators, Character lines and world-class Photographers goes well beyond any borders. Art Ask Agency creates unique concepts together with established or emerging properties. Working with worldwide rights, offering complete service, fast turnaround, approvals, feedback, newsletters and advertising. As an agency, they pride themselves in maintaining direct personal relationships with all parties.
About the Frida Kahlo Corporation
The Frida Kahlo Corporation, a Panamanian Corporation with offices in the United States, is the global provider of FRIDA KAHLO brand goods and services, whose mission is to educate, share and preserve Frida Kahlo's art, image, and legacy. Frida Kahlo died on July 13, 1954 in Mexico, at which time all of her intellectual property rights were inherited by her heirs according to Mexico's intellectual property laws.
In 2005, the Frida Kahlo Corporation was created and Frida Kahlo's heirs transferred all of her rights and entire interest in the intellectual property to the Frida Kahlo Corporation for the purpose of marketing the trademarks, brands, images, photography, signature and other intellectual property of Frida Kahlo.
Also, the Frida Kahlo Corporation contributes a portion of the monies received to worthy community-based charitable organisations that are committed daily to improving the life of women and children. Learn more about the Frida Kahlo Corporation by visiting: http://www.fridakahlocorporation.com.