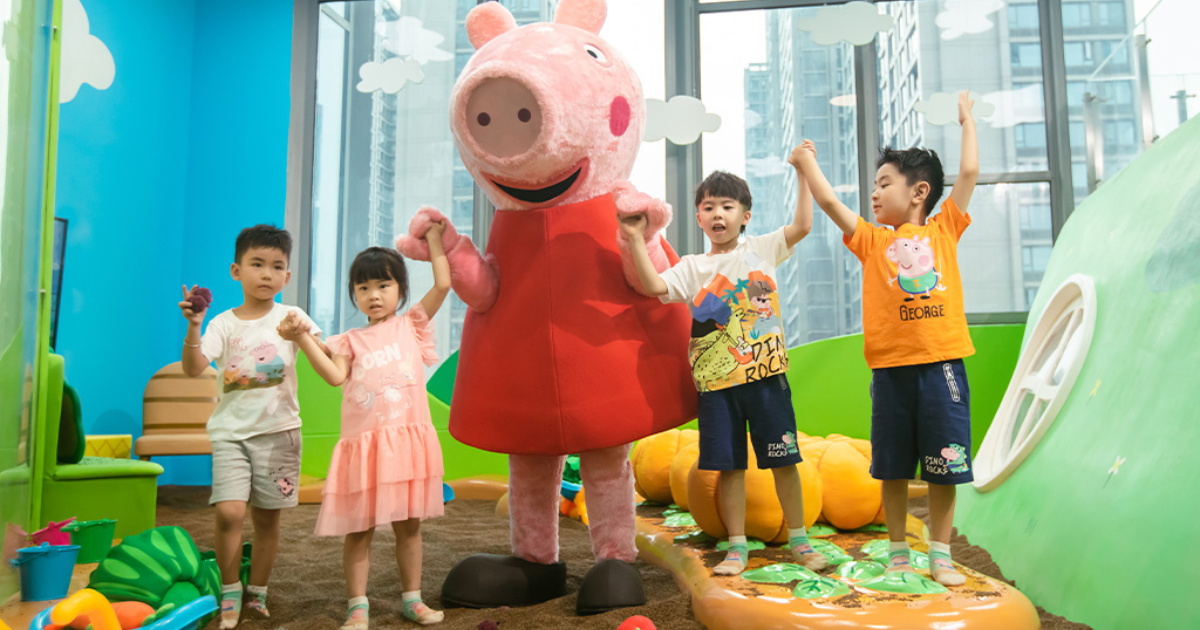 Southwest China's First Peppa Pig Play Café Opens in Chengdu Yintai In99 Shopping Center
Hasbro, Inc., has authorized China Leisure Development Co. (CLDC) to open the first Peppa Pig themed play café, "Peppa Pig Play Café," in Southwest China on the 3rd floor of Yintai In99 Shopping Center. The cafe opened on July 1.
Peppa Pig Play Café consists of 1,300 square meters with multiple immersive Peppa Pig settings that integrate themed dining and over a dozen play attractions, targeting kids ages 2-5 and their families. The Play Café is themed to the beloved preschool IP brand, Peppa Pig, and is composed of several iconic locations from Peppa Pig's world: Potato City, Peppa Pig's family house, the duck pond, train, Rebecca Rabbit's burrow, Grandpa Pig's garden, The forest and the market. With fun dining experiences, the Play Café allows guests to take a break from play and indulge in delicious food to refuel, while feeling like they're in the world of Peppa.
Inside the play café, guests can meet & take photos with Peppa and George, as well as live chat with Peppa on the screen at their dining booth.
The Play Café also enables guests to experience some of Peppa Pig's favourite things to do:  jumping in muddy puddles, dressing up in the wardrobe at the Clubhouse, playing interactive cooking games, digging and growing vegetables in Grandpa Pig's garden, climbing in the forest area, and best of all, celebrating a birthday in Peppa Pig's family house!
Guests can enjoy delicious meals in the train area while watching animated scenery outside the window or go on a family picnic with Mummy Pig on the hill of Rebecca Rabbit's burrow. There are many themed dining areas to choose from, including a tent dining area, Potato City, and a vegetable-themed carousel.
"We are excited to be teaming up with Hasbro to bring the beloved Peppa Pig brand to this region of the China market in a Play Café format. With recent opening policy of the epidemic situation, we see a shift in consumer spending towards kids entertainment while shopping malls are looking for replacements for anchors vacated by large education institutions. The Play Café format, where kids can play while their family members can relax and enjoy a meal, has been growing in popularity and we see tremendous opportunity in this space," explains Linda Dong, President of China Leisure.
"As the queen of preschool and many viewers' first best friend, Peppa Pig instills confidence in children to treat every first step as a new adventure. This powerful theme has given us endless opportunities to significantly expand the brand, allowing Peppa to jump off screens and into brand-new types of adventures like immersive fan and family experiences with the Peppa Pig Play Café," said Matt Proulx, Vice President of Location Based Entertainment at Hasbro. "The first café in Hangzhou has been widely visited by kids and parents, and we're excited to open a second location in Chengdu to deliver the joy this attraction brings to even more audiences. With the brand's 20th anniversary in 2024, the café is just one of the many ways we're opening fan experiences and celebrating the phenomenon that is Peppa Pig."
About Hasbro
Hasbro is a toy and game company whose mission is to entertain and connect generations of fans through the wonder of storytelling and exhilaration of play. Hasbro delivers engaging brand experiences for global audiences through toys, consumer products, gaming and entertainment, with a portfolio of iconic brands including MAGIC: THE GATHERING, DUNGEONS & DRAGONS, Hasbro Gaming, NERF, TRANSFORMERS, PLAY-DOH and PEPPA PIG, as well as premier partner brands.