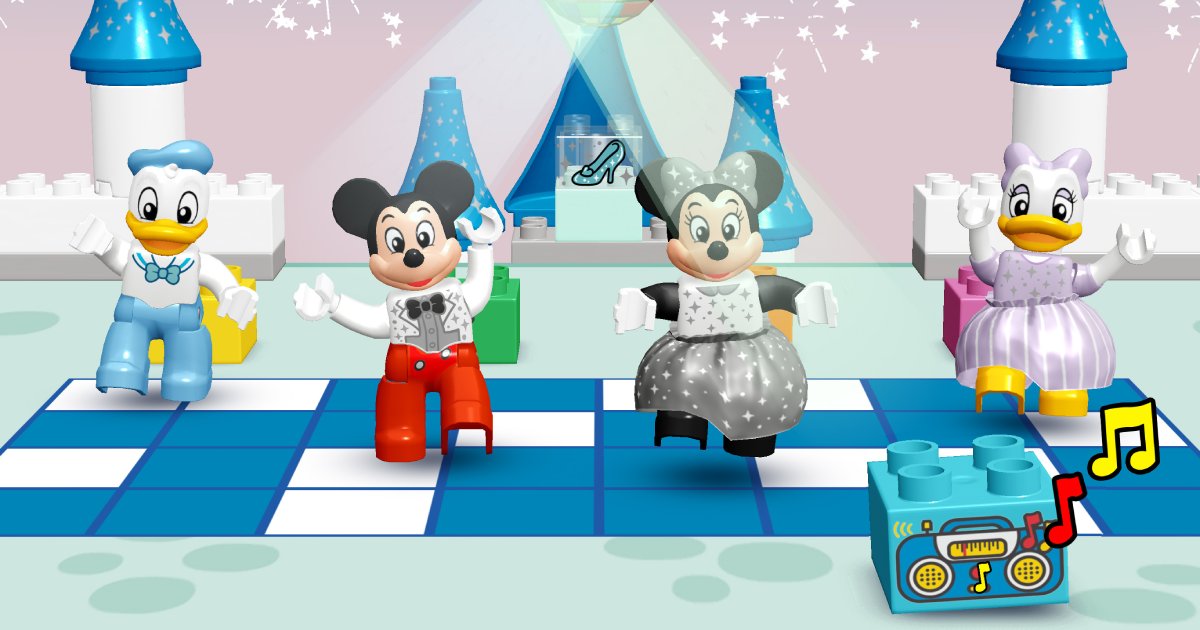 StoryToys Announces LEGO DUPLO | Disney Mickey & Friends
Dublin, Ireland  — StoryToys, The LEGO Group, and Disney launched a new game for preschoolers featuring the beloved cast of Mickey & Friends that supports learning and development through open-ended play. LEGO® DUPLO® DISNEY | MICKEY & FRIENDS is a game designed to encourage creative play and learning for young children and is the perfect way for families to celebrate the magic of Disney. The game is now available to download on the App Store, Google Play, and Amazon. Coming soon to Samsung Galaxy.
"We're thrilled to bring the magic of Disney and LEGO DUPLO together to help preschoolers explore and play with beloved Mickey & Friends characters," said Emmet O'Neill, CEO of StoryToys. "The game offers a perfect introductory way for preschoolers to experience the joy of building with LEGO DUPLO bricks while expanding on the success of our previous collaborations."
LEGO DUPLO | DISNEY MICKEY & FRIENDS allows kids to explore, build, and play with iconic Disney characters such as Mickey Mouse, Minnie Mouse, Donald Duck, Daisy Duck, and Pluto. Each play pack provides fun problem-solving challenges to help support preschoolers' learning and development. It's also designed to help children develop their creativity using 3D LEGO DUPLO bricks and spark their imagination with open-ended activities creating endless pretend play opportunities.
"LEGO DUPLO | DISNEY MICKEY & FRIENDS is an exciting new opportunity to connect with budding Disney fans through an experience that offers exploration and open-ended play where children can use their imagination and creativity," said Luigi Priore, VP, Disney, Pixar and 20th Century Games.
"For many kids DUPLO is the first step into the wonderful universe of LEGO play, so we're excited to see it come to life in LEGO DUPLO | DISNEY MICKEY & FRIENDS. The game supports our long-term aspiration of providing playful learning experiences and 21st century life skills to inspire and develop the builders of tomorrow," said Kate Bryant, Head of Product, LEGO Games.
LEGO DUPLO | DISNEY MICKEY & FRIENDS is a fun way for parents to help their preschoolers practice early childhood skills such as:
IMAGINATION through pretend play with Mickey & Friends
SELF-CONFIDENCE with positive play experiences
CURIOSITY with child-centered 'explore and discover' play patterns
CREATIVITY and SELF-EXPRESSION by building with virtual LEGO DUPLO bricks
REASONING AND PROBLEM-SOLVING skills with fun and challenging puzzles
LEGO DUPLO | DISNEY MICKEY & FRIENDS is now available on the App Store, Google Play, and Amazon (coming soon to Samsung Galaxy) worldwide, except for Russia, and Belarus, and will launch at a later date in Greater China.
About StoryToys
StoryToys, a wholly owned subsidiary of Team17 Group plc, creates apps to give parents the peace of mind that their kids are having fun with their favorite characters while also engaging in activities that help them learn and grow.
The company has produced apps with many leading children's brands, including The LEGO Group, The Walt Disney Company, Pixar, Marvel Entertainment, Penguin Random House, Warner Bros, Sesame Workshop, Dick Bruna, Hasbro, and Nickelodeon. Key titles include LEGO® DUPLO® WORLD, Disney Coloring World, and Hungry Caterpillar Play School.
With over 150M app downloads, StoryToys has enjoyed global success on all major app distribution platforms.
StoryToys has been the recipient of numerous awards for the quality of its products, including Kidscreen Award Winner 2021, Licensing International Excellence Awards Winner 2020, KAPi Awards Winner 2020, numerous Children's Technology Review Editor's Choice Awards, and multiple Bologna Ragazzi Digital Awards.
The products focus on engaging kids in well-rounded activities and developing healthy digital habits at a young age. For more information: http://storytoys.com.
About The LEGO Group
The LEGO Group's mission is to inspire and develop the builders of tomorrow through the power of play. The LEGO System in Play, with its foundation in LEGO bricks, allows children and fans to build and rebuild anything they can imagine. The LEGO Group was founded in Billund, Denmark in 1932 by Ole Kirk Kristiansen, its name derived from the two Danish words Leg Godt, which mean "Play Well". Today, the LEGO Group remains a family-owned company headquartered in Billund. Its products are now sold in more than 130 countries worldwide. For more information: www.LEGO.com
Contact:
Christine Morton
christine.morton@storytoys.com