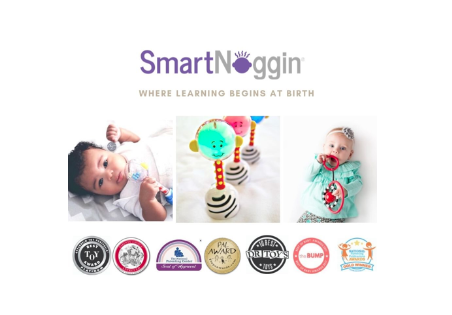 Surge Licensing Signs Award-Winning Infant Toy NogginStik® and Parent Co. SmartNoggin® Toys for global growth and licensing.
Surge Licensing, Inc. announced today that it has signed on to represent infant/toddler toy maker SmartNoggin® globally for licensing and strategic partnerships. Best known for its #1 sales rank in major baby products registry's; the multiple award winning NogginStik® Developmental light-up Rattle is a new parent's go-to toy for their newborn baby.
"This uniquely developed toy is also an incredibly powerful early childhood developmental tool. The NogginStik® is no ordinary product and SmartNoggin® is no ordinary company," stated Mark Freedman Surge's President.
SmartNoggin's line includes the NogginStik®, NogginRings® and the NogginSeek™ which have received multiple Industry awards including "Platinum Best Toy" by Oppenheim for all of its current products (a rare achievement); "Best of Baby Awards" by The Bump; "Gold Winner" by National Parenting Awards; "Seal of Approval" by The National Parenting Center; "10 Best Toys" by Dr. Toy and "Seriously STEM Award" by Childs Play to name a few.
SmartNoggin® Toys was founded by Marcia Haut, a graduate of Purdue University, First Steps Developmental Therapist, and special education teacher.  Through years of creating her own teaching aids and toys, Ms. Haut recognized that there weren't any toys on the market that uniquely encouraged a baby's critical early milestone development, which lead to her first toy – the NogginStik®.  Through years of experience, observation, and implementing research-based instruction, SmartNoggin has thoughtfully designed its products to encourage important developmental milestones for infants ages birth to two. SmartNoggin Toys' Milestone Makers™ line was created to fit this very special purpose.
"All children are born learners. They just need a little encouragement," said Marcia Haut, founder and chief executive officer, SmartNoggin. "Parents and grandparents are a child's first teachers and toys are tools for learning.  Introducing simple toys and books has a tremendous impact on parent interaction and encouraging critical developmental milestones through play. SmartNoggin's Milestone Makers line of developmental toys aren't just cute baby toys, they have a powerful agenda – helping  children of all abilities reach their full potential."
With SmartNoggin® Toys being sold in over 1,500 independent retail locations in the U.S., including buybuyBABY, Barnes & Noble and Learning Express, Surge plans to grow the SmartNoggin® brand initially through a core master infant/toddler products partnership and additionally through strategic categories that include, infant products such as feeding, personal care, health care, accessories, strollers, publishing and more.
For more information please contact:
Mark Freedman: mark@surging.com or Elan Freedman: elan@surging.com