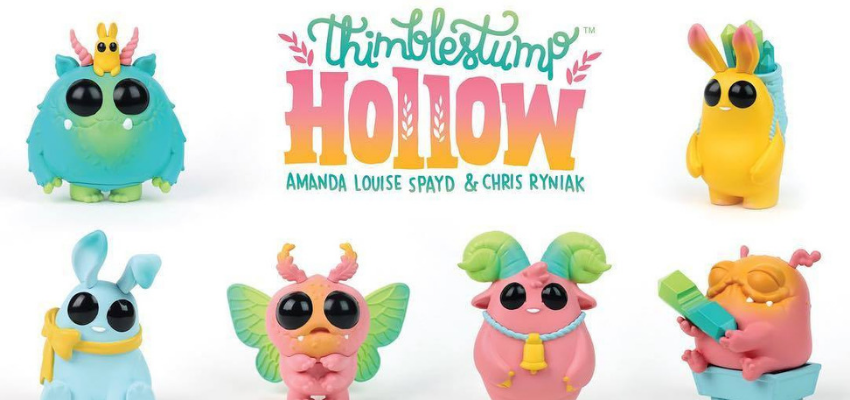 Surge Licensing signs Good Smile Company for Thimblestump Hollow™ for Collectible Toy Figures, Apparel & Accessories aimed at specialty retail and Comic-Con Experiences!
Surge Licensing, on behalf of Bindlewood, LLC, has signed Good Smile Company, as its strategic licensed partner for the hit vinyl collector toy brand, Thimblestump Hollow™. A Joint Venture between The Good Smile Company ("GSC") and For Fans By Fans (formerly WeLoveFine.com) will now create and all new line of premium collectable figures and toys, unique apparel, and accessories all backed with a multi-event touring Thimblestump Hollow Fan Experience at major conventions throughout the U.S. Beginning in July 2019, fans will be able to enter the world of Thimblestump Hollow at over 20 conventions (including San Diego Comic Con) and art shows, starting at Anime Expo in early July 2019. GSC will also be acting as the U.S. Master Toy and Apparel partner, already launching "Thimblestump" product at WonderCon in Anaheim this weekend!
"We are excited to bring the world of Thimblestump Hollow to a larger fanbase," Said Guy Brand of Good Smile Connect.  "By being Thimblestump Hollow's lead merchandiser and retail hub, we can create unique shopping experiences for all new customers."
GSC throughout the year will be releasing new waves of blind box toys, plushies, squishies, apparel and accessories, at fan cons and later this year, at specialty retail.
"Good Smile Connect is one of the most exciting and unique partners in the industry," says Surge's VP, Elan Freedman. "They are truly a remarkable 'scaling' partner, bringing Thimblestump Hollow directly to fans in the most engaging way possible. Good Smile is best known for its stunning work sculpting Japanese Anime characters such as Nendroid and Figma product lines. In short, nobody knows how to build brilliant fan communities around brands the way Good Smile Connect does!"