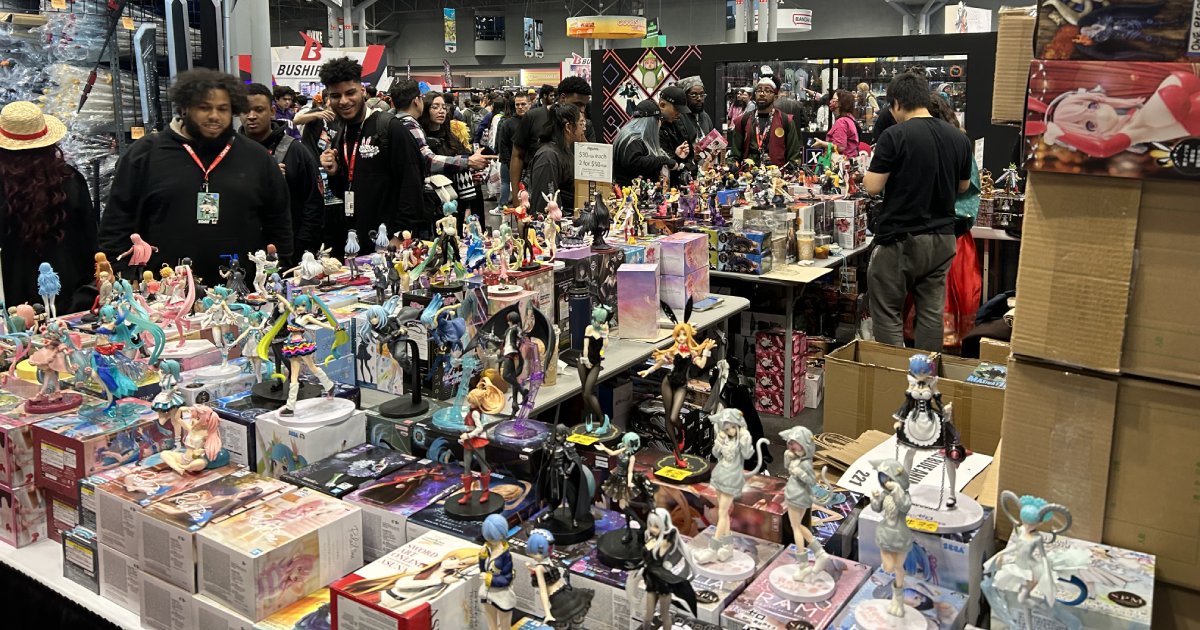 The Anime Expansion
After several years of explosive growth, sales of licensed manga and anime products in the U.S. have leveled off. Moving forward, many companies are turning their attention to expanding into new categories and growing their sales in international markets, executives said at the recent 2023 Anime NYC event.
And while growth has slowed compared to the major gains seen in recent years, manga and anime remain a force in the U.S. with sales ahead of pre-pandemic levels. Manga, which is a major source for anime content, accounted for 54% of the graphic novel business in 2022 and sales hit 16.9 million units, up 6.8% from the year before but down compared to the 68.5% increase seen from 2020-2021.  
AMC Networks' anime streaming service HiDive is shutting down in several countries to focus on its major markets, including the U.S., Canada, the U.K., Ireland, Australia, and New Zealand. This change comes as HiDive faces increased competition from streaming platforms like Crunchyroll, Hulu, Netflix, and Disney+.
Much of the slowdown is being felt in anime-related products and in select categories. Boston America, which has launched products for My Hero Academia (energy drinks, sours), Dragon Ball Z (gummies), Jujutsu Kaisen (gummies, energy drinks), and Naruto (gummies, ramen), has seen sales slow due to licenses lacking new content, President Matthew Kavet said.
"A lot of it is predicated on new content and the licenses we have haven't had a lot it available recently," Kavet said. "Some of the retailers we sell anime [products] to are specialty chains that are very trend-driven, and their customers get antsy and want new product, which has an ephemeral shelf life."
To spur further growth in the U.S., many anime product suppliers are expanding into new categories. Viz Media, for example, had a three-day pop-up store in New York's Greenwich Village filled with premium priced apparel (including $40 t-shirts). That pop-up also marked Viz's growing focus on experiential events. Cruchyroll, which has 12 million subscribers and is available in 10 countries outside the U.S., took over a 45,000-square-foot section of the River Pavilion at the Javits Center during Anime NYC. The company highlighted its anime properties at the event, including new seasons of Black Butler and Tower of God that will launch in 2024.
"Anime has had accelerated growth in recent years in the U.S., but we are seeing a leveling off in certain categories," said an executive at a major manga publisher. "Now it is more about making sure we deliver best-in-class products and engage fans, whether that's through experiences, products, or new content."
The delivery of new products and expansion into new markets is taking a variety of forms.
Streetwear brand Valeza launched a range of t-shirts, hoodies, reflective vests, and jackets featuring original anime-inspired designs. Otafuku Sauce Co. announced Naruto-licensed okonomi, a sweet sauce made with 12 different vegetables and fruits. Caffeinated and hydration drink supplier Gamma Labs' G-fuel, which entered the anime category with a Naruto-licensed version in 2021, is readying Gundam Wing and My Hero Academia-licensed products, which are expected to appeal to its consumer base of videogames enthusiasts.
"We have been marketed as a gaming [brand] forever because there is a lot of cross over with gamers and we realized there was a lot of synergy with videogames," said John Donadio, Partnership Manager at G-Fuel. "We were nervous at first to step out from the gaming industry, but it has opened so many doors in terms of distribution, [including entry into Walmart and Target]."
This expansion is becoming increasingly important as anime and manga suppliers seek to grow beyond their bases in the U.S., Japan, and France. The latter is the second-largest manga market after Japan, with sales of 47 million units and $417 million in 2022, up from $49.9 million in 2019. Crunchyroll, for example, is partnering with Comic Con India for shows in Bengaluru, Delhi, Hyderabad, Chennai, and Mumbai.
"Manga has grown from a niche category to one of the top categories in the entire company," said Kat Sarfas, Category Manager for Manga at Barnes & Noble. "The popularity is not just a passing trend. Now that the initial frenzy has calmed down, we are continuing our focus on curating the best assortment for our customers."