The Dogs are Rolling into Town with Dynacraft's 6V Plush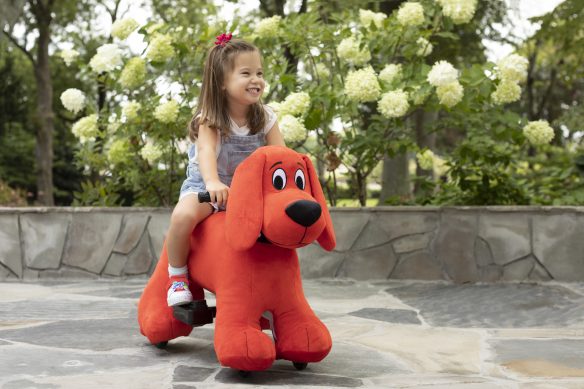 Port Wentworth GA October 15th, 2020 Universal Branding & Media has brought two of the most famous dogs to the Dynacraft wheeled goods line up for Holiday 2020.
Clifford The Big Red Dog® is a childhood favorite for over 55 years and Dynacraft is proud to showcase him within their successful plush ride on format. Dynacraft is proud to team up with Scholastic to bring Clifford into the homes of canine fans everywhere.
Beloved beagle Snoopy, who along with the rest of the Peanuts gang is celebrating the brand's 70th anniversary this year and will take center stage this holiday with his very own 6V Plush Ride On and 12" bike. Dynacraft has teamed up with Peanuts Worldwide for the wheeled goods category, which also includes non-electric ride-ons, bikes and scooters.
"Clifford and Snoopy resonate with adults and children of all ages therefore they make a heart-warming  addition to the already popular plush category that Dynacraft has successfully partnered with Walmart on in store and on www.walmart.com."says Heidi Schwartz from Universal Branding & Media
Dynacraft BSC Inc., is the largest privately held distributor of bicycles, scooters and battery-powered ride-ons in the United States, available at major national and regional mass market retailers throughout the United States, Canada and Puerto Rico. Founded in 1984, our company was originally based in Ashland, Massachusetts selling our first bikes in 1985. Over 30 years and 77+ million units later, Dynacraft is the preeminent player in the wheeled goods industry, and the North American leader in the design and distribution of bikes, scooters and battery-powered ride-on toys.
Universal Branding & Media is a leader in licensing acquisition and consultation, with unparalleled experience and expertise connecting quality manufacturers with world-class brands. They are a strategic partner in their clients' evolution, creating successful partnerships between licensors and licensees that drive increased reach, revenue, and results.
About Peanuts
Charles M. Schulz first introduced the world to the Peanuts characters in 1950, when the Peanuts comic strip debuted in seven newspapers. Since then, Charlie Brown, Snoopy and the rest of the Peanuts gang have made an indelible mark on popular culture. The new series Snoopy in Space launched on Apple TV+ on November 1, 2019. Peanuts animated specials and series air on major networks and streaming services, including ABC, CartoonNetwork.com and Boomerang in the U.S., Family Channel in Canada, and the WildBrain Spark network on YouTube. Fans also enjoy Peanuts through thousands of consumer products around the world, amusement parks attractions, cultural events, social media, and a daily comic strip available in all formats from traditional to digital. In 2018, Peanuts partnered with NASA on a multi-year Space Act Agreement designed to inspire a passion for space exploration and STEM among the next generation of students. The Peanuts characters and related intellectual property are 41% owned by WildBrain Ltd., 39% owned by Sony Music Entertainment (Japan) Inc., and 20% owned by family of Charles M. Schulz.
Scholastic Corporation (NASDAQ: SCHL) is the world's largest publisher and distributor of children's books, a leading provider of core literacy curriculum and professional services, and a producer of educational and entertaining children's media. Scholastic Entertainment, the media division of Scholastic, brings quality, family-oriented content across multiple platforms to audiences across the globe. Among its award-winning productions are the animated series Clifford The Big Red Dog®, The Magic School Bus® and The Magic School Bus®: Rides Again as well as the Goosebumps® film franchise and live-action series. With several feature films and both live-action and animated series in development, Scholastic Entertainment continues to build celebrated children's brands worldwide.