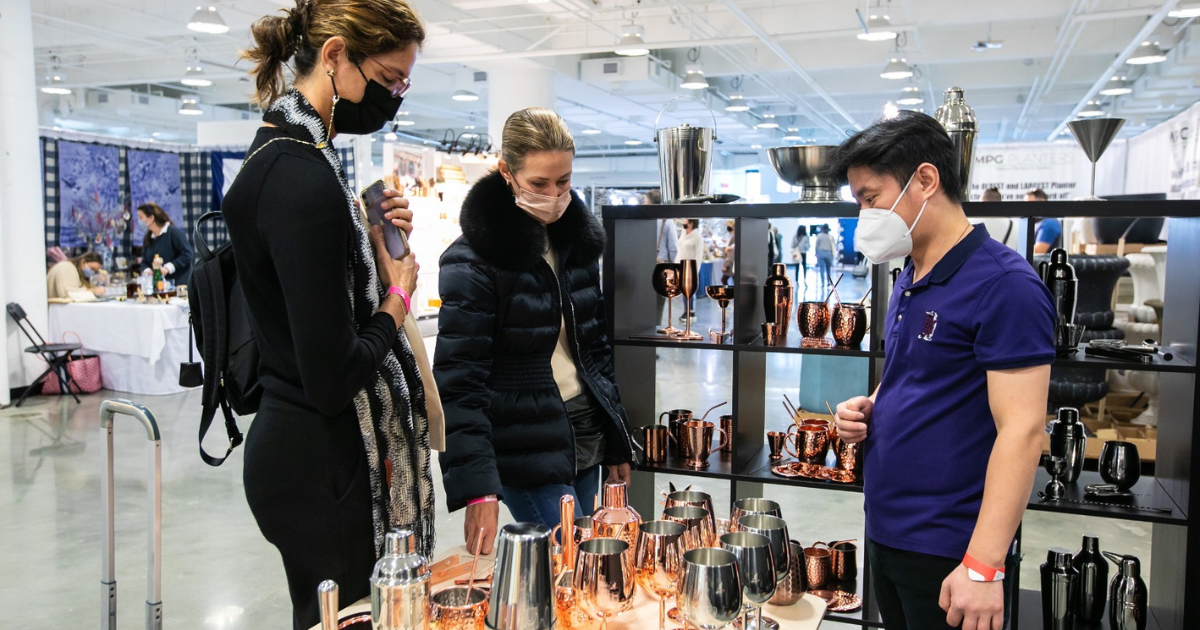 The Gift of Licensing
The retail buying season for giftware is well underway around the world—including trade shows in Atlanta, Frankfurt (Ambiente Worldwide), and Paris (Maison & Objet)—and the breadth of this previously niche category is expanding.
Today, giftware is a category where artists can find new canvasses for their work, and where DIY brands can find new or expanded homes.
"The ideas for giftware are really coming from all directions now, but they are increasingly aimed at a younger audience who are the consumers of the present and the future," a licensing executive said.
For example, rug supplier Loloi is revamping its Magnolia Home collection after taking space at the Atlanta Market, where new styles in floor ware could be seen next to traditional giftware like mugs, storage trays, water bottles, and cooling wine bags. Enesco unveiled a new collection of licensed water bottles, aprons, pouches, and photo stands featuring the designs of artist Jessi Raulet and her EttaVee brand. Artist Kendra Dandy's Bouffants & Broken Hearts brand is also launching a "Fit and Fresh" lunch tote featuring her design online at Target, while Jewel Branding & Licensing's Rachael Hale brand landed an agreement with Fashion UK for backpacks that will launch at retailer Brando in Finland in August.
Some of these new offerings play to the emergence of "grandmillennial" style, a trend that's proved popular with consumers ranging from their mid-20s to late 30s that have an affinity for classic designs and patterns. And while that aesthetic isn't new, its massive increase in popularity is.
"These aesthetic movements—largely driven by social media—are opening up traditional styles to a new, younger audience, taking them out of their original context and pushing the trends to evolve," said Meredith Counts, VP of Creative at Jewel Branding. "The latest twist to grandmillennial style feels both curated and eclectic with classic patterns in youthful colorways, contrasted pattern pairings, and unexpected product applications."
In playing to that younger audience, some suppliers are adding corporate and entertainment IPs to their programs. Puckator is readying lip balm tins inspired by Pusheen, Moomin, and artist Natasha Faulkner along with Volkswagen-licensed "The Waves are Coming" water bottles, travel mugs, and cooler bags.
And as much impact as these younger consumers and their social media trends may have on upcoming giftware offerings, consolidation is another significant factor for the business (albeit in a smaller scale than experiences in other categories).
Ad Populum Holdings recently acquired Enesco from Balmore Capital (Ad Populum's portfolio also includes Rubie's Costumes, Kidrobot, and NECA) in an agreement that will bring the collectibles company deeply into the giftware business. That purchase encompasses artist Jim Shore's 20-year partnership with Enesco, which has yielded Disney-, Grinch-, and Peanuts-licensed products along with plans for Willie Wonka and Animal Planet brands. Yet many executives within the giftware business cautioned against the deal, seeing Enesco's sale as a precursor to further consolidation.
And while there have been other sales in the past year—Lenox purchased Cambridge Silversmiths, for example, bringing with it flatware and kitchen products including a licensed collection with celebrity chef Robert Irvine—David Zrike, President of giftware supplier Zrike Brands, doesn't believe there are any differentiating factors in the giftware market that could lead to anything but the same types of acquisitions the licensing industry is seeing across all categories.