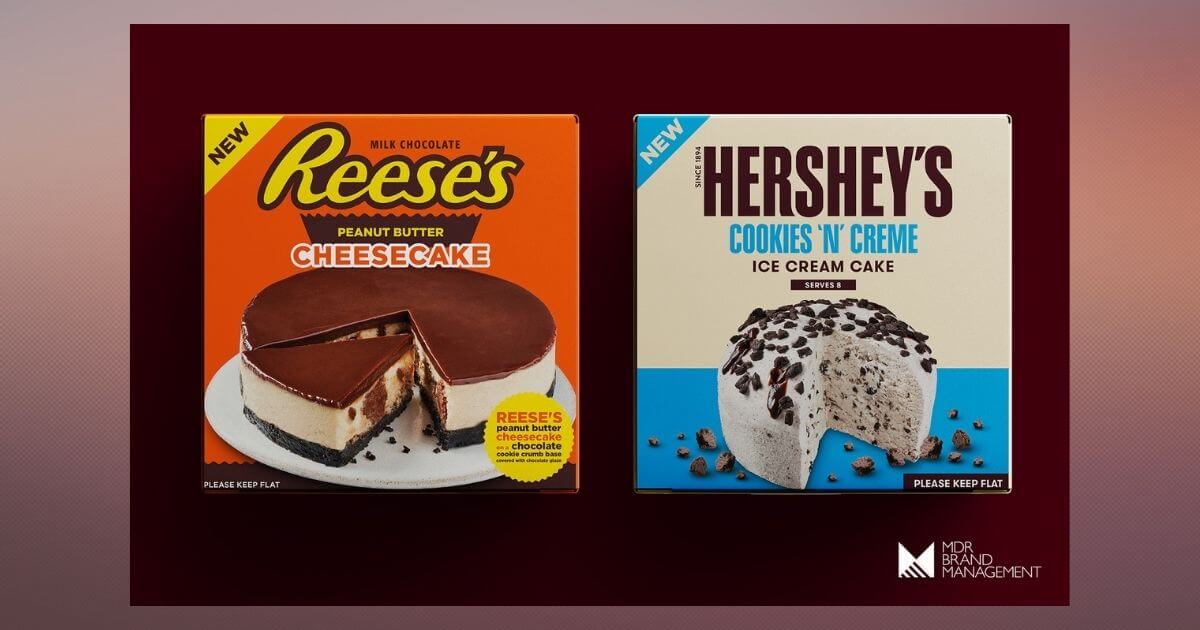 The Hershey Company and Iceland Foods Partner to Launch a New Frozen Desert Range to Celebrate the Holiday Season
MDR Brand Management, long standing global brand extension partner to The Hershey Company continues its strategic efforts to expand the brands' propositions with new UK exclusive products.
Just in time for the holiday season, The Hershey Company has partnered with Iceland Foods to launch an exclusive range of indulgent frozen dessert across all of Iceland's doors in the UK, Iceland online and The Food Warehouse. The range will be available in over 1,000 stores nationwide. This marks the first time Iceland will partner with a US confectionery company as part of its exclusive brands. This partnership sees the UK's #1 destination for frozen brands meeting one of the UK's fastest growing confectionery brands.
The Hershey Company was built on the principle of 'bringing people together through the power of chocolate'. The first products launching imminently truly speak to this, and include Hershey's Cookies 'n' Creme Ice Cream Cake, Hershey's Cookies 'n' Creme Cupcakes, with Reese's Cheesecake and Hershey's Cookies 'n' Crème Cheesecake. Further product innovation, for both Hershey's Cookies 'n' Creme and Reese's will be developed throughout 2022 and beyond.
Andy Paladino, Senior Manager Global Licensing said: "Partnering with Iceland Foods for this portfolio of products is an exciting step for Hershey's global licensing program in the UK.  Frozen desserts are a core product format for licensing and we're thrilled to work with Iceland Foods to present our consumers in the UK with even more opportunities to enjoy Reese's and Hershey's Cookies 'n' Creme. We are delighted with the initial portfolio and confident strong performance will support additional, future innovation.''
Lauren Metcalfe, Head of Exclusive Brands at Iceland Foods added: "We are delighted to announce our partnership with The Hershey Company and our plans to bring incredible quality and innovative products to the frozen desserts and ambient bakery categories under the Hershey's and Reese's brands. The distinctive flavour profiles of Hershey's and Reese's are incredibly popular with our customers and we are thrilled to be part of their ambitious UK growth plans. This new partnership further cements Iceland's position as the UK's number one destination for Exclusive Food Ranges."
Daniel Avener, CEO MDR Brand Management commented: ''We are thrilled to bring this partnership to life and to deliver high-quality, innovative and delicious desserts. Iceland is a key destination for frozen products, especially around the holiday season. This programme will strategically help to sustain Hershey's and Reese's rapid growth, as we continue to develop adjacent products across the UK & Europe''.
HERSHEY'S and COOKIES 'N' CREME and REESE'S trademarks and trade dress are used under license.
About The Hershey Company
The Hershey Company is headquartered in Hershey, Pa., and is an industry-leading snacks company known for bringing goodness to the world through its iconic brands, remarkable people and enduring commitment to help children succeed. Hershey has approximately 17,000 employees around the world who work every day to deliver delicious, quality products. The company has more than 90 brands around the world that drive more than $8.1 billion in annual revenues, including such iconic brand names as Hershey's, Reese's, Kit Kat®, Jolly Rancher, Ice Breakers, SkinnyPop, and Pirate's Booty.
For more than 125 years, Hershey has been committed to operating fairly, ethically and sustainably.  Hershey founder, Milton Hershey, created the Milton Hershey School in 1909 and since then the company has focused on helping children succeed.
To learn more visit www.thehersheycompany.com.
About Iceland Foods
Iceland is the UK's leading frozen food specialist and one of Britain's fastest-growing and most innovative food retailers. Founded in 1970 by Sir Malcolm Walker the business operates from more than 1000 stores across three channels; Iceland, The Food Warehouse and Iceland Online. www.iceland.co.uk
About MDR Brand Management
MDR Brand Management is an award-winning brand management business that helps to protect and build commercial value for brands across the world. Opened in September 2018, it is the first brand management business to be launched by a leading law firm in the UK, Mishcon de Reya. MDR Brand Management also provides mentoring services to aspiring British luxury companies through Walpole's Brands of Tomorrow programme.