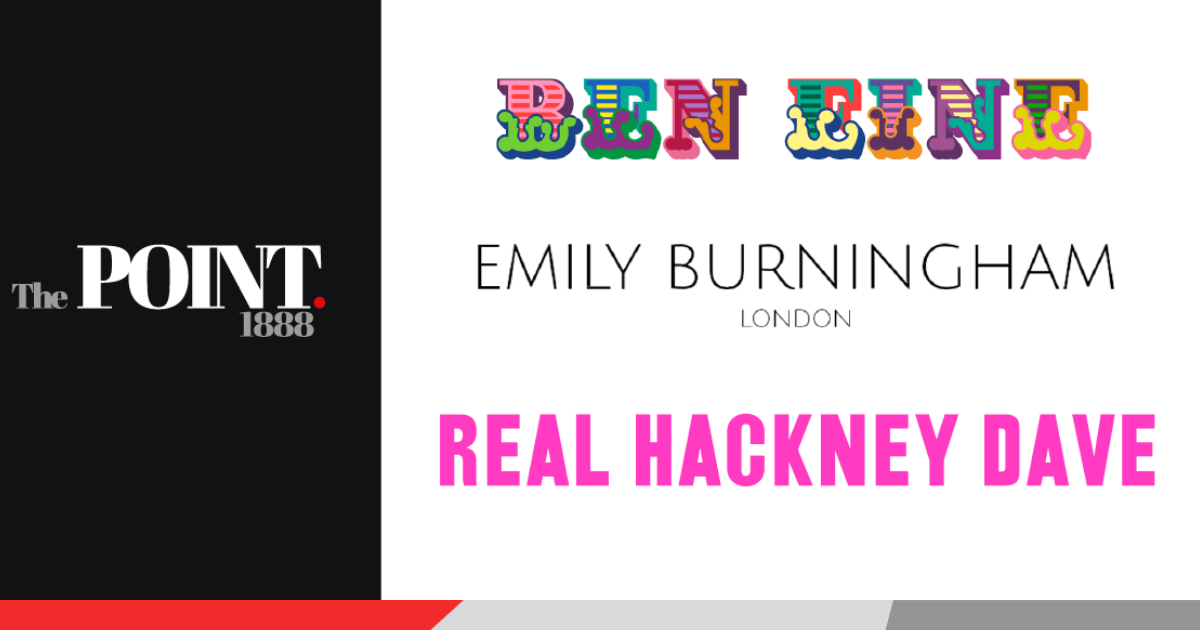 The Point.1888 Signs Three New World-Famous Artists & Designsers
The Point.1888 is starting 2022 with some new colour, pattern, and impact thanks to the signing of three renowned artists: Ben Eine; Emily Burningham; and Real Hackney Dave as new clients.
They will be joining The Point.1888's existing book of artists and designers which includes leading British interior design brand MissPrint and award-winning artists & designers Rachel Ellen, Jimbobart and I Like Birds as they continue to meet the growing demands from consumers for products which express their personalities and inject colour and life into their homes.
Known for his iconic use of type, Ben Eine is a world famous grafitti artist, whose work can be found on the streets of London, LA, Mexico City, Paris, Tokyo, Dublin, and Stockholm. He has collaborated with Banksy and his work was once given to Obama as a gift from the British Prime Minister.
Dave Buonaguidi, AKA Real Hackney Dave, is a London based artist known for making work that creates a reaction by combining the visual and verbal language of advertising and propaganda with unique imagery and materials of found objects and ephemera. He is best known for printing his bold trademark pink typography onto vintage maps and photographs and even makes art out of decommissioned hand grenades and 1000lb bombs. 
London-based print designer Emily Burningham has a passion for pattern and colour and has featured in Liberty, House & Garden and Ideal Home, among others. Her sophisticated designs explore the relationship between distinct eras of art and design.
Both Ben and Emily have previously benefited from brand licensing activity having worked with Paul Smith and Louis Vuitton; and Liberty, Waterstones and Paperchase respectively.
During the lockdowns of 2020 and 2021, The Point.1888's artist and designer clients saw soaring interest in their designs and a multitude of deals including placement on Fy for MissPrint; Thermos for Rachel Ellen, and a homeware deal for Jimbobart. They also signed new sub agent deals for I Like Birds in Japan, as well as sub agents in Iberia & US for Jimbobart.
Thanks to the current gloomy time of year and the lingering effects of yet another covid variant, The Point.1888 is seeing a heightened demand for vibrant, colourful design styles such as street art, oriental inspired and English country garden, all of which can be met by its new clients.
Janine Richmond, Head of Product & Brand at The Point.1888, commented, "Artists have been an important focus for The Point.1888 for many years, not least because of their ability to respond quickly to new consumer desires and trends. For example, MissPrint's bold colour-ways and nod to the biophilic trend was of great appeal to consumers wishing to bring nature indoors. Thanks to our talented team of specialists and our keen eye on retail trends, we've been able to bring our clients great success over the past few years and we're confident we can build long term, sustainable partnerships with Ben Eine, Real Hackney Dave and Emily Burningham too."
Although early days, conversations with first phase partners for the artists are underway.
About The Point 1888.
The Point.1888 is the next generation of brand licensing. Matching brands with retailers and manufacturers to create powerful new products, The Point.1888 helps its clients boost revenue, brand awareness, consumer engagement and brand love.
It also donates 11% of its profits each year to charities that have an emotional connection to each collaboration.
Borne from Joseph Miller & Sons Ltd, The Point.1888 is a fifth-generation family company with 130 years' experience in bringing products to market.
It believes that making more money and getting closer to customers is easy when you have the right partner. You go out of your comfort zone, create something new and work with businesses you never thought you would. And the results can be incredible. That's The Point(.1888) of brand licensing.
About Ben Eine:
Born in London, Ben Eine is one of the most successful letterform artists in the world and is regarded as a pioneer in the exploration of contemporary typography art. Originally a graffiti writer, Eine started his career over 30 years ago, leaving his first tag all over London before developing his distinct typographic style.
His work is now held in the permanent collections of the V&A Museum London, The Museum of Modern Art Los Angeles, San Francisco's Museum of Contemporary Art, Berlin's Urban Nation Street Art Museum, Los Angeles 'Beyond The Streets' and The Dean Collection as well as the private collection of Louis Vuitton and numerous other commercial institutions.
About Emily Burningham:
Emily Burningham is known for sophisticated print designs that explore the relationship between distinctly different eras of art and design. Her unmistakable signature collection references time-honoured wood-block printing, a technique traditionally used as a method of printing on textiles and paper.
Every piece in the Emily Burningham collection is designed and developed in its London studio. It is committed to producing high quality collections in premium materials and to achieve this it only partners with UK manufacturers whose craftsmen ensure that everything it produces is made to the highest possible standard
About Real Hackney Dave:
Real Hackney Dave is a Hackney-based artist who combines the visual and verbal language of advertising and propaganda with unique imagery and materials of found objects and ephemera. He employs a reactive approach to his art, using screen print and his bold typographic approach to push the boundaries of creativity and respond to cultural subjects and events in almost real time, as if a publisher going to print. Through his considered juxtaposition of known and unknown, he hopes to incite an emotional connection or reaction with the viewer.
Before becoming an artist, Dave worked in advertising for over 35 years, founding several creative agencies including St. Luke's, 4Creative and Karmarama.