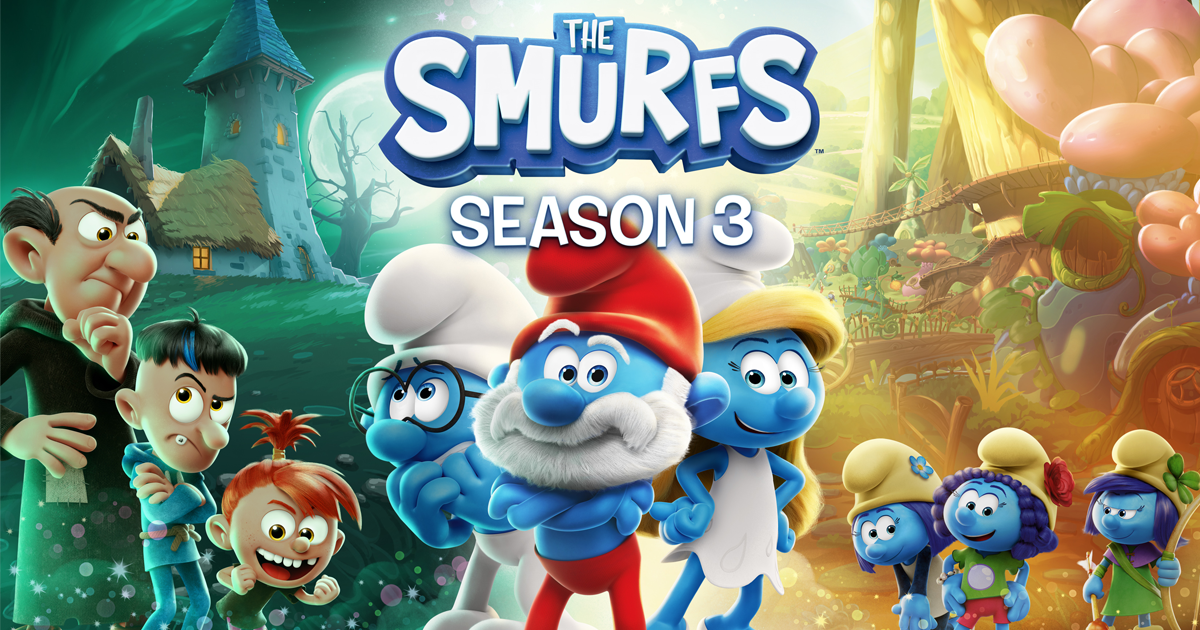 The Smurfs are turning 65 Y.O. and are celebrating with new announcements for more Smurf-fun to come!
Brussels, Belgium – October 18, 2023 – IMPS, the global distributors of The Smurfs CG-animated series, together with co-producers Peyo Productions, Ellipse Animation, KiKA, Ketnet, RTBF, and with TF1, have announced that a third season of the global hit series The Smurfs is in production. Season 3 of The Smurfs will be broadcasted globally by Nickelodeon and on local Free-to-Air beginning next year.
In this new Season, the chaos and hilarity of our beloved blue troublemakers takes up where it left off, and with new characters and elements bringing even more fun to the mix. Not only will we rediscover the original 100 Smurfs, but we will also meet new Smurfs girls, each with her own specific trait and unforgettable personality. These new heroes will provide a burst of comedic energy as they will complicate daily life for Papa Smurf and Willow, while confusing and disrupting Gargamel's evil plans.
There will also be new villains, posing additional threats to the Smurfs. Naturally, Gargamel will still reign as king villain, but he will be joined by his niece and nephew, Dwayne, and Rowena, who are often dropped off at his hovel to spend the weekend. These two pre-teens are nothing but trouble for the Smurfs—and for Gargamel, too.
Then there's Voltaire, a young dragon who lives in a cave. Practically all the Smurfs walk on tippy toes around Voltaire, afraid of his "bark" and his ice-cold breath that can freeze you solid. One Smurf, however, Lily, thinks he is the sweetest beast in the land.
Finally, in this third Season, we will discover for the first time on TV: The SMURF GIRLS' VILLAGE, a magical and colorful place, hidden in the forest and filled with Flower bulb-shaped houses.
These new elements will enrich the unique universe of Peyo's Smurfs with novel adventures and brand-new comedic situations. Smurf your seatbelts and get ready for the ride!
IMPS is also happy to announce that Giochi Preziosi is the new Master Toy partner for non-English speaking territories. The famous toys production company from Italy is creating a brand-new Smurfs toy line that will hit the European market in 2024.
As already announced, Florida-based company Jazwares is The Smurfs' Master Toys for English speaking territories.
And last but not least, Peyo's little blue heroes will have a special 65th birthday celebration with fans in their home-country this upcoming weekend (21-22 October) at FACTS, the Belgian Comic Con.
The Smurf have appeared for the first time in an adventure of Johan and Peewit – The Smurfs and the Magic Flute – published in the Belgian comics magazine Spirou on October 23, 1958.
From then and over the years, Peyo built an entire fantasy world, filled with blue cuteness, mushroom houses, good universal values, and a unique Smurfs' language. The mix of nature and magics really brought something new into children's entertainment at the time. The long-lasting comic books, the television success and an iconic merchandising program turned the Smurfs into a worldwide pop-culture phenomenon, creating strong links of smurfiness with generations of kids.
A new Smurfs movie produced and distributed by Paramount Pictures/Nickelodeon Animation and starring Rihanna as Smurfette has been recently announced with a February 2025 theatrical release.
"I'm very happy to be able to continue my father's work with yet another fantastic new season of the Smurfs TV Series and the upcoming release of a new toy line for kids to play and create their own stories"! said Véronique Culliford, president & founder of Peyo Productions and I.M.P.S (Distribution Company), and Peyo's daughter.
"We're delighted that the creative magic of the Ellipse Animation & Peyo Productions teams will be brought to screens in this brand-new season. The stories of our favorite characters are endless, and we can't wait for children to discover these new Smurfing adventures!" added Caroline Duvochel for Ellipse Animation.