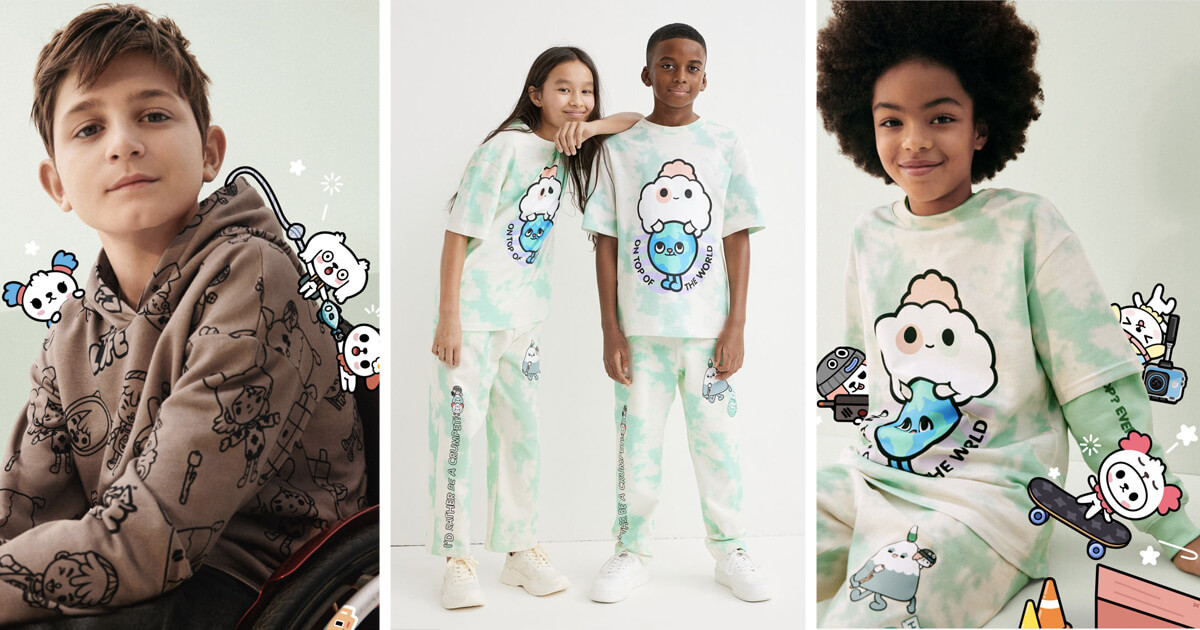 Toca Boca™ and H&M Latest Collaboration Puts Textile Waste Back into Play this Spring
March 21, 2022 – Toca Boca, the award-winning Swedish game development studio, has launched a new playful, gender-neutral fashion collection for kids together with global fashion brand H&M. It is made using innovative processes by Circular Systems that allow true recycling of colored textile waste streams, putting them back in play for more fashion fun. The collection is available worldwide, both physically on hm.com and as digital outfits in the Toca Life World app.
"Toca Boca games focus on self-expression and fostering creativity with open-ended play that is free from limitations and rules," says Max Heirbaut, Senior Manager, Franchise Development at Toca Boca. "The new Toca Life x H&M collection allows kids to do just that, but through their personal style, packed with stylish silhouettes, patches and fun accessories inspiring kids to create combinations that may surprise us by mixing, matching, and customizing their own unique looks. The collection is launched both digitally and physically, giving the players the opportunity to twin with their character in Toca Life World, so they can feel the most like themselves both on and off screen."
"Following the continued success of our digital franchise, we're actively building the Toca Life brand into a product universe that encourages creativity and self-expression with kids globally," Mathilda Engman, General Manager of Toca Life at Toca Boca continues. "We want to bring new products to life that allow existing players and new fans to showcase their love for Toca Life and its characters beyond the game. Together with H&M, a leading fashion player and truly international brand with global presence, we bring to life an understated cool yet playful collection that enables kids everywhere to be whoever they want to be."
"We're teaming up again with our friends at Toca Boca and are absolutely thrilled with this collaboration. All styles in the collection are made using recycled materials developed with Texloop™ColorCycle™ technology by Circular Systems, an innovative process that allows true recycling of colored textile waste streams, putting them back in play for more fashion fun. The collection also aims to spark creativity with Toca Boca's lovely, quirky characters and fun messages. The designs blend streetwear influences, roomy, gender-neutral styles with activewear details in soft neutrals and pop accent colors. Altogether, it's an amazing collection we'll all love!" says Sofia Löfstedt, Head of Design Kidswear at H&M.
Toca Life World, with its 47+ million active users, is one of the leading games for kids globally and in December 2021 was named Best iPhone App of the Year by Apple. The Toca Life x H&M collection was released as free digital gifts in Toca Life World during an H&M Gift Event, taking place in the games' Post Office. The physical collection is available at HM.com.
About Toca Boca:
Toca Boca creates digital toys and other playful products for kids around the world. Since our first product launch in 2011, we have released 40+ apps that have been downloaded more than 444 million times in 238 markets, making us the No. 1 mobile-first kids brand in the App Store. Our products focus on sparking kids' imaginations and creating opportunities for open-ended play.
With offices in San Francisco and Stockholm, Toca Boca is owned by Spin Master, a leading global children's entertainment company that creates exceptional play experiences through a diverse portfolio of innovative toys, entertainment franchises and digital games.