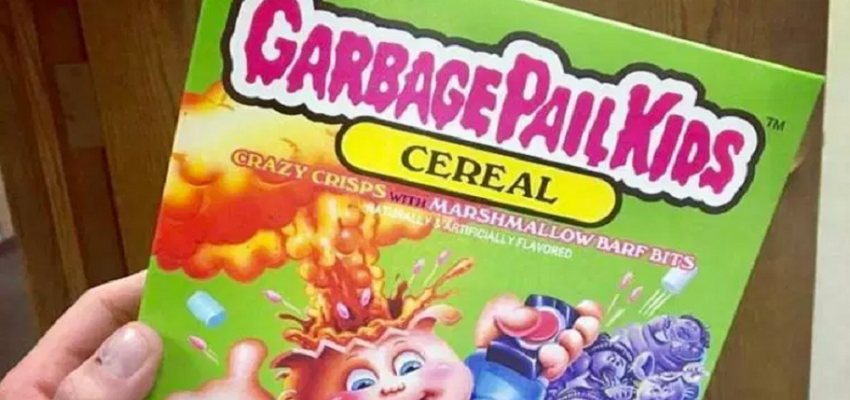 Topps Revives Licensing Program for Garbage Pail Kids
Topps, seeking to cash in on the wave of consumer nostalgia for 1980s brands, is reviving a broad licensing program for Garbage Pail Kids, starting with a cereal and energy drink DTR at Trans World Entertainment's FYE chain and extending into mobile games for the first time.
FYE launched sales of the "barf bits" cereal packaged with two trading cards on May 13 along with Adam Bomb energy drinks and chocolate bars. Joe Simko, the illustrator behind the original Garbage Pail Kids, created the designs on the packages as well those in the windows of FYE stores.
Jago Studios also is slated to release the "GPK: The Game" trading card battling mobile title this month for Apple iOS-based phones, following tests in the Philippines and Australia, says Topps' Ira Friedman. Other licensed products include t-shirts (Ripple Junction), Geeki Tiki mugs (Beeline Creative), backpacks (Sprayground) and diecast cars (Greenlight Collectibles).
"Clearly what is part of the reemergence of many of these [1980s] brands is that people that were young back then are adults now and have children they want to introduce to the property," says Friedman.
Topps started the revival last fall with the launch of co-branded t-shirts at Spencer Gifts depicting WWE wrestlers John Cena, Sean Rollins, Becky Lynch and others as Garbage Pail Kids. Funko also has released Adam Bomb and Clark Can't Pop! Figures.
While plans for a mobile game are moving forward, those for a film remain on hold. Michael Eisner's Tornante Co., which purchased Topps in 2007, aired plans for a potential film in 2013, but dropped them a year later. The previous Garbage Pail Kids film was released in 1987. Garbage Pail Kids has a roster of about 2,000 characters; Topps typically releases a new card series each year.
Contact:
Topps, Ira Friedman, VP Global Licensing, 212-376-0596, ifriedman@topps.com