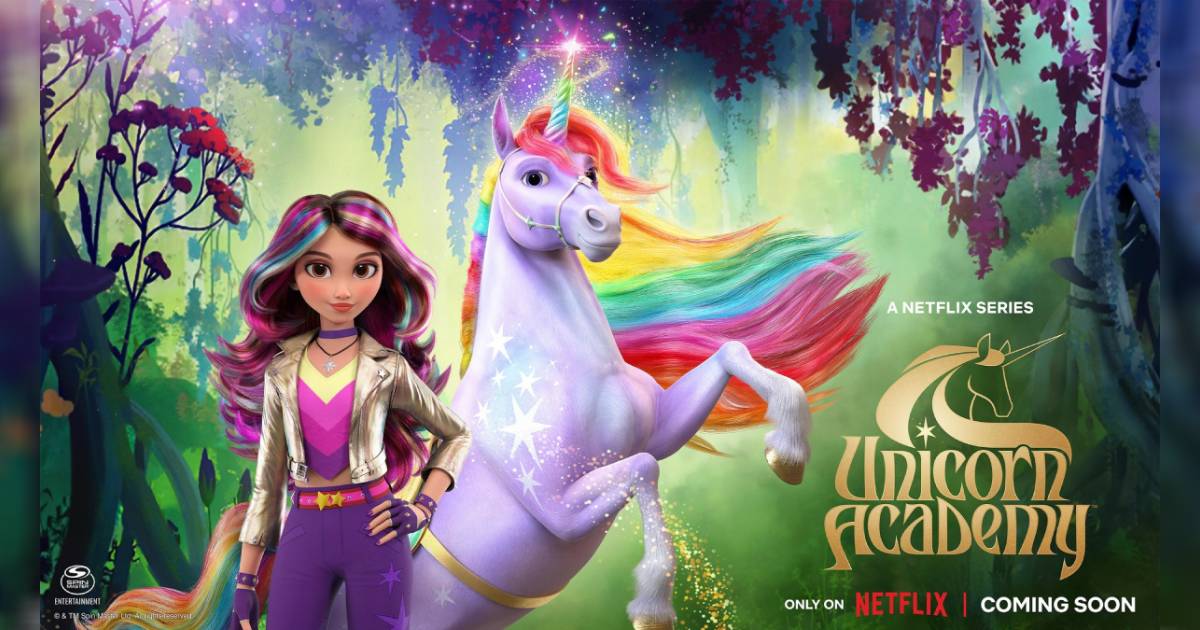 Toy Companies Press Play on New Content
As content featuring owned IP grows in importance, small- and medium-size toy companies are developing strategies to broaden the reach of their brands.
Bringing content creation in-house has become increasingly important as consumers expect more than just the toy itself, including content and licensing goods. This much was clear as companies at The Toy Association's Play Date event last week not only unveiled new products, but also, in many cases, plans for content to go with them.
Industry giants Hasbro (Transformers: Rise of the Beast) and Mattel (Barbie) continue to lead in toy-inspired content, but those releases will be joined by the likes of Spin Master's Unicorn Academy, which will debut as a series and 72-minute film on Netflix in November before adding toys and licensed products in 2024. In total, Spin Master expects to produce 250 minutes of Unicorn-related short- and long-form content through 2025. It also is readying, with Nickelodeon, a new Paw Patrol film (The Mighty Movie) and a spinoff (Rubble & Crew), the first toys from which have already launched at Walmart.
WowWee is relaunching its Fingerlings line—which was first introduced in 2017—and working with Concrete Studios on a film that will be available in spring 2024. WowWee is also developing animated content, largely for social media, for its new Dog-E robotic dog.  And it is readying a life-size Monopoly outside game, building on the Monopoly life-size location based entertainment that has opened in London.
And Just Play created a separate entertainment division last year to focus on its own IPs, hiring former Pocket.Watch executive Stone Newman as its new Chief Content Officer.
"It's just another touchpoint, but if we are going to own the shelf at retail, we need to make sure we have someone owning the big screen and TV," said Sydney Wiseman, VP for Brand Development and Creative at WowWee.
The creation of content is part of a strategy that sees toys serve as the foundation for a "holistic consumer experience" in which even well-established brands need to branch into new categories, Mattel CEO Ynon Kreiz said.
"Our DNA has changed in that we now think of a toy offering as something that builds on the high level of emotional connection that fans have with brands and we are looking to create more touchpoints and drive meaningful business outside the toy aisle," Kreiz said. Kreiz said Mattel is working to scale its IP portfolio, which includes power brands like Barbie, Hot Wheels, and Fisher Price.
Along those lines, Mattel introduced its first Barbie products for preschool children, expanded Fisher Price's Little People to include an NFL Super Bowl championship line, and broadened its assortment of plush and building sets.
Yet not all toymakers are convinced of the need for content to accompany toys, due partly to their licensing of well-known brands. Playmates Toys, for example, introduced two-packs pairing Teenage Mutant Ninja Turtles figures with Stranger Things and Street Fighter collectibles. The latter coincides with publisher IDW's plans to release a Street Fighter-TMNT comic book series in May.
"For us, producing content would be a costly venture and I am not sure we would get much of a return on it," said Pat Linden, VP of Marketing at Playmates, which also has licenses for Star Trek, Miraculous Ladybug, and Toho's Godzilla vs. Kong.
Indeed, many of the small- and medium-sized companies rely on third-party studios to produce content rather than form their own divisions. Those decisions come as toy companies seek to lower costs in the face of inflation and excess retail inventory that isn't expected to clear until late in the second quarter. At the same time, consumers are looking for lower prices.
WowWee, for example, originally planned to price the new Fingerlings at $19.99 this but ultimately launched the line at the same $14.99 as 2017. And Basic Fun, which is readying a Littlest Pet Shop line with Hasbro for the fall, will charge the same price that Hasbro did 19 years ago—$3.99 for a single figure and $7.99 for a two-pack, due largely to its ability to lower production costs.
"The world has changed and people are very price-conscious," Wiseman said. "It's expensive to make this and we are taking less margin."