Toy Industry Approaches 2021 With Caution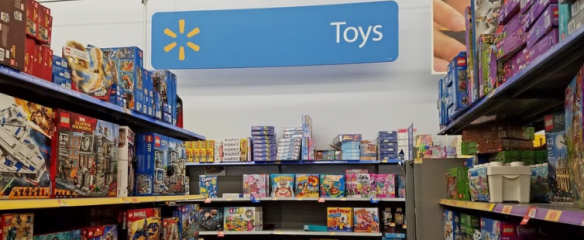 Toy manufacturers and retailers, who normally would be hitting the global trade show circuit – Hong Kong, London, Nuremberg, New York — are approaching 2021 cautiously, with a focus on well-known brands and products.
New brands and properties may be particularly challenged this year, as retailers tighten their merchandise mixes to focus on properties and products with a quantifiable track record to try to avoid the peaks and valleys that were hallmarks of 2020.
Units down, but dollars hold
U.S. toy sales increased in the mid-20% range in October and November spurred by promotions, including Amazon Prime Day, but declined in the mid-single percentage range in December, says Stephanie Wissink, research analyst at Jefferies & Co. Unit sales were down in the "core" holiday period, but dollar volume held, as consumers bought higher ticket goods, says Wissink. She expects that when all the numbers are in, 2020 toy sales will have increased by a mid-single digit percentage.
The larger average ticket was partly tied to stronger sales of higher-priced goods. Mattel's Barbie Dreamhouse ($150) and Bonkers Toys' Ryan's World treasure chest ($80) were strong sellers. Dreamhouse sales peaked at the height of pandemic in April-May, experienced a lull in late summer and were strong again in October, says Wissink.
Pressure on impulse items
On the downside, there was a sharp decline in sales of low-priced impulse items such as blind bags – the kinds of things that rely on actual visits to stores (as opposed to online business). That decrease was tempered by stepped-up use of sidekick displays, deployed in as many high-traffic areas as possible to put them in the path of "purpose-driven" shoppers – those who came to stores to make specific purchases and were unlikely to browse, says Gerrick Johnson, a director at BMO Capital Markets.
The lessons of 2020 aren't on lost retail buyers as they set plans for this year. For example, while Bonkers had a broad range of Ryan's World licensed products in 2020, including 21 SKUs at Target, it will likely have a narrower assortment this year, largely at the behest of retailers and with a greater focus on top-sellers like the treasure chest product, says Bonkers' Deborah Stalling Stumm. It expects to launch additional influencer-licensed products this year.
"Retailers will be relatively conservative this year in sticking with things they know have sold well and will be more careful this year about adding new items they haven't seen before," says Basic Fun CEO Jay Foreman, whose firm's sales came in just a point and a half below its pre-COVID revenue forecast for 2020, as sales via mass merchants and Amazon offset declines in amusement parks and specialty retailers. "It will take into March-April before retailers get a feel for what the back half of the year is going to look like and what they need to back-order for the fourth quarter. Right now, it's a question of if you have children at home, how many more scooters, bounce houses and other products do you need?"
That same cautious tack is being taken by manufacturers as they seek to overcome last year's logistics challenges. With COVID cases again rising in China, suppliers are concerned about a rerun of last year. The worker vacation around Chinese New Year will be a week longer in 2021, with factories starting to close Feb. 1 and reopening Feb. 22. With a shorter runup to Easter (April 4) than a year ago (April 12), many toy suppliers will be carrying some 2020 inventory into the spring.
"If you don't already have your factory orders in, they aren't accepting additional ones to process and with Easter on April 4 it is going to be a push" to get product to retail floor… in advance of Easter," says Wissink.  "If you don't already have your order in with an advance, it is going to be a tough Q1."