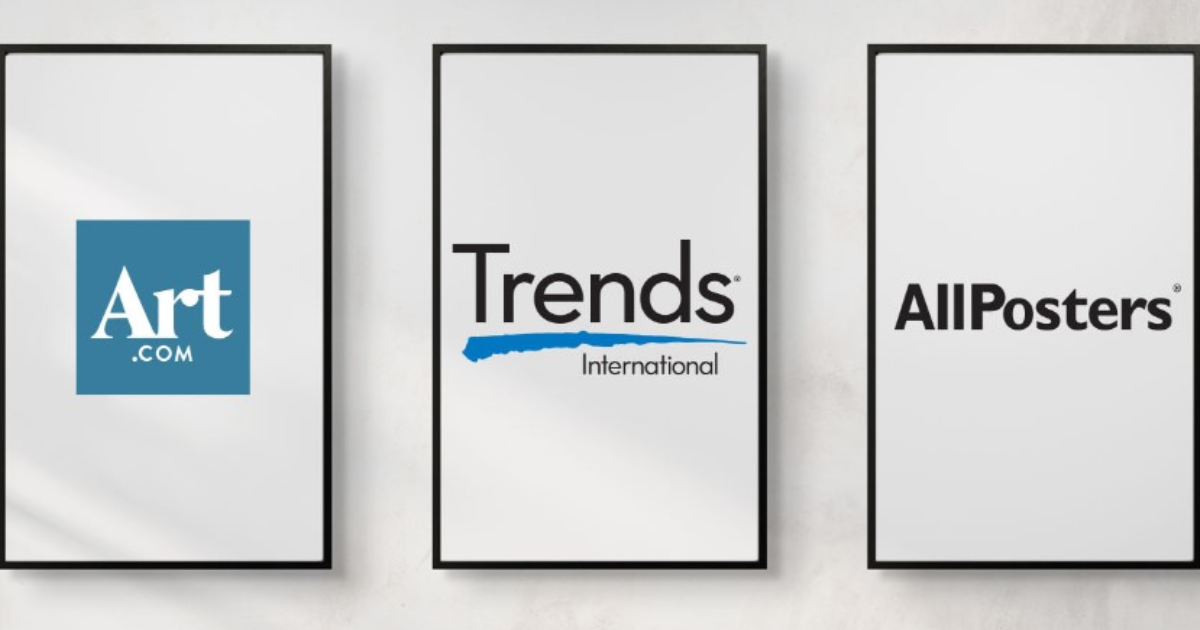 Trends International acquires Art.com and Allposters.com
Indianapolis, IN –  In life or business, finding two parties that perfectly complement each other in every way is rare. As uncommon as such a partnership may be, Trends International believes it has found just that with its latest strategic move. Trends is proud to announce it has acquired Art.com and Allposters.com.
Jeff Loeser, Senior Vice President of Licensing at Trends, proclaimed, "Art and AllPosters' expertise in several areas that are different but complimentary to Trends will enhance our ability to be a one stop décor solution for our licensed partners. We want to be able to offer them retail, online marketplace, and direct-to-consumer options on a collective suite of materials." Bruce Morrison, CEO, added, "AllPosters has been selling Trends posters since its inception, and we believe the combined entity will create deeper value for both sides, while enabling a great home for authentic content."
The acquisition of Art.com and its sister site, Allposters.com, has closed and includes the IP, library, tradename, and U.S. base of operations near Columbus, OH, including the staff and management.
Trends, headquartered in Indianapolis, has long been known for its licensed products, including posters, calendars, and stickers. Its offerings are nearly ubiquitous at over 10,000 brick-and-mortar retail locations across the U.S., Canada, and Mexico. Trends also has developed a strong marketplace presence on several leading eCommerce sites, including print-on-demand and fulfillment facilities in the U.S. and Canada. Renowned for its deep licensing library and ability to get items to market quickly, Trends has firmly established itself in the world of fast-to-market, fun consumer goods.
Art.com and Allposters.com, both founded in 1998, are two of the original direct-to-consumer shopping sites and the world's largest online retailer in the art and décor category. Art's diverse content library contains over 2 million images available for purchase as posters, prints, or other substrates with a nearly endless list of options for mounting and framing the art just the way the guest wants for a unique, personalized experience.
About Trends
Trends International, LLC (United States)/Trends International Publishing Corp. (Canada) is North America's leading publisher and manufacturer of licensed posters, calendars, and sticker products. Established in 1987 by founder Phil St Jean, Trends began its steady growth based on the recognized need for an integral partnership between licensor, retailer, and licensee. Visit Trends International and follow @intltrends.