When an IP is Good Enough to Eat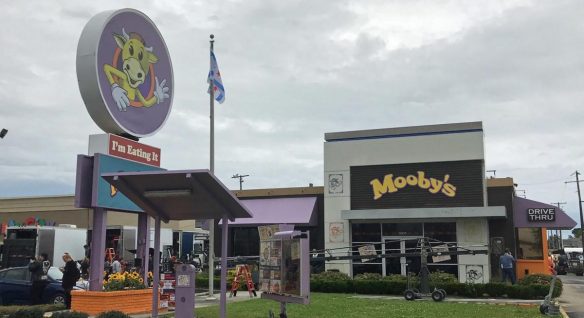 The key to creating an authentic popup experience is in the details – translating a property's essence to a physical location in a way that cements the relationship between fan and brand. The more organic the connection, the better.
Take Mooby's — the fictional restaurant in director Kevin Smith's Clerks II, Dogma and Jay and Silent Bob films – that has sprung to life in Los Angeles via licensee Saved by the Max (which has executed short-term popups built on TV series such as "Saved By The Bell" and "Breaking Bad". The single unit in West Hollywood, is planned as only the first of several Mooby's outlets, says Stuart Pollock of Segal Licensing.
Popping up
When Mooby's popped up for a mid-April fundraising run in West Hollywood for pickups of advance orders – it opened full-time as a restaurant in mid-June —  there was a line outside largely driven by social media; the restaurant did four times the customer volume it expected for the first day, says Pollock. Food revenue is supplemented by a merchandise range, including Smith-autographed items.
Of course, the pandemic has thrown a monkey wrench into experiential licensing of all sorts. Within the past couple of weeks Mooby has added licensee Goldbelly, which provides an online mealkit/delivery service for restaurants across the U.S.
Scouting new opportunities
Whatever the revenue it produces, the Goldbelly relationship serves another purpose, says Pollock. "We have a good model from a restaurant perspective and we now know that even in the worst-case scenario we can be successful," says Pollock. "So now we can take it on the road post-COVID; and with Goldbelly we will be able to gauge in which parts of the country there is the most demand" for the Mooby's concept.
Meanwhile, Entergage is the licensee behind the year-old Garfield Eats – a mostly takeout eatery in Toronto whose menu is built around the character's longstanding love for pizza and pasta. (Pizzas are Garfield-shaped.) CEO Nathen Mazri says merchandise accounts for 15-20% of the restaurant's revenue, but with nearly double the margins of the food.
"Have we been hurt by the pandemic? Absolutely, but merchandise has helped," says Mazri, who also operates a Garfield Eats in Dubai. "I thought people would come for the pizza and try the merchandise. It turns out that fans are coming for the Garfield merchandise first and then they discover we have food."
In addition to Garfield Eats, Mazri says Entergage is near an agreement with WarnerMedia for a Scooby Eats concept that would focus first on grocery items (packaged burgers and hot dogs), then restaurants.