Uncertainty Over Chinese Tariffs Complicates Planning for U.S. Licensing Community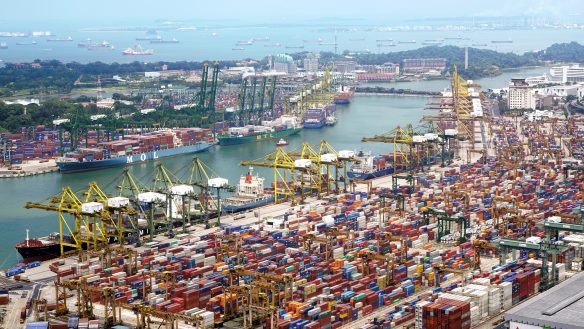 With the looming threat of 25% tariffs on virtually all goods imported into the U.S. from China, licensees, licensors and retailers are scrambling to set strategy to deal with the resulting cost increases and, ultimately, the likelihood of retail price jumps.
The potential impact of the threatened tariffs are at the center of seven days of hearings being conducted starting today by the Office of the U.S. Trade Representative to get public comment. The hearings will be followed by a one-week period for submission of written comments, after which President Trump can direct the office to impose the new tariffs.
The challenge for companies is made more difficult by the fact that the political climate, global economic conditions and other factors could change in an instant, adding a huge element of uncertainty to whatever plans a company might put into place. So businesses have to consider agility as a factor in whatever tactics and strategies they adopt.
Options for licensees might be taken from a list that includes moving production to countries outside China – an action that could take a year or more to fully implement – sharing the cost of the tariffs with suppliers, increasing retail prices and seeking concessions from brand owners on royalty rates and minimum guarantees.
The tariffs have drawn opposition from broad coalitions of business groups, including the U.S. Chamber of Commerce and the National Retail Federation. In a letter to President Trump on June 13, tariff opponents, including Walmart, Target and Costco, said the proposed tariffs would raise costs to a family of four by an average of $2,000 a year.
A Wide Range of Goods
The President has said he's prepared to place the tariffs on another $320 billion worth of Chinese goods if a planned meeting with President Xi Jinping of China didn't happen during the G-20 meeting in Japan that gets underway next week. The next round of tariffs would result in duties on virtually all Chinese imports, following an earlier increase in the levy on May 1 on a range of products including luggage, backpacks, baseball gloves, bamboo furniture, chandeliers, sailboats and motorboats. The impact is being felt most acutely in apparel and footwear where 69% and 42%, respectively, of goods sold in the U.S. are imported from China.
New tariffs would be in addition to any duties already imposed on Chinese-imported goods. For example, apparel that sells for $100 at retail has $20 in duties and would be subject to the additional 25% tariff, Oxford Industries CFO Scott Grassmeyer said, whose company sells apparel under the Tommy Bahama and Lily Pulitzer brands. That would leave another $5 of cost to be offset, potentially by shifting production to Vietnam or Thailand – Oxford sources 54% of its goods from China – negotiating price reductions from factories or imposing "selective" price increases, Grassmeyer said.
Challenges of Shifting Supply Chain
But shifting manufacturing to a new country can be fraught with challenges. For example, Boston America, which develops licensed candy tins under the Bob Ross and other brands, currently has the entire product produced in China, says CEO Matt Kavet. But in working with its Chinese supplier, Boston America could move production of the tins to Vietnam and the dextrose candy to Malaysia.
"These are not things that we could do tomorrow; it would be slow roll" to establish new manufacturing facilities given that new tooling that would need to be purchased and installed, says Kavet. "China is so dialed in with U.S. protocol. Switching to Vietnam would be going back to where China was 15 years ago as far as quality control, and that would concern me."
In the case of toys, production of action figures could move to Vietnam, while assembly of larger pull toys, which carry a higher cost, might shift back to the U.S., says Wicked Cool Toys Co-President Jeremy Padawer.
If the increase in tariffs in May is any guide, the potential cost increases could be shared across a variety of fronts. In the case the toy industry, the added cost attached to tariffs imposed in May were, in some cases, split in thirds across the OEM supplier, brand vendor and passed to the retailer in the form of higher MSRPs, says financial analyst Stephanie Wissink, who follows the industry for Jefferies Group. Publicly traded toymakers are expected to discuss potential price increases in releasing Q2 earnings next month, with Hasbro and Funko having the "ability to digest price changes," Wissink said. In contrast, Mattel and Jakks Pacific, which sell more products at opening price points, "could see more resistance to widespread price lifts," Wissink said. Licensed and content-tied properties with "high brand affinity" tend to be "less sensitive" to price changes, she adds.
Negotiating 'Fluidly'
It will require some hard conversations. "There will be no 'one size fits all' here, and we want to make sure we are creating that dialogue with our partners to find the solution that satisfies everyone," says Mattel's Janet Hsu. "In the case of royalties and minimum guarantees, we are approaching everything very fluidly."
Licensors concede that some changes will have to be made if tariffs are applied for more than a short period,  and linger into next year. In some cases, licensees may seek a reduction in the amount they commit to marketing funds and the like. Some might seek contingency clauses that would reduce royalty rates or minimum guarantees if tariffs are imposed.
"We may have to make some shifts with our [licensing] partners, but no one truly knows right now," says Sony Pictures Consumer Products EVP Jamie Stevens. "It could be that we have to look at doing business in a different way. We are not giving anything away because we have strong IP, but we have to find ways to make everyone successful, whether in the deal terms, [deal] structures, or how we go to market."
Says Cartoon Network Enterprises' Peter Yoder. "We haven't had any licensees request any royalty rate reductions yet. I think part of that might because some are increasingly using multiple facilities across several countries as they become more mindful of things like" tariffs.
Effects Already Felt
One retailer told us consumer prices on some private label and DTR products that the chain sources itself in China have already been increased 5-10% to help offset the impact of the tariffs. Indeed, many large retailers have prepared for a potential tariff increase since last year, when 10% tariffs were first imposed, and have been working with suppliers and manufacturers on lowering costs. Shelf prices will likely rise if a 25% tariff takes effect, but big mass merchants will likely weather the impact better than smaller ones since they earn a larger percentage of their sales from groceries, which are less likely to come from China. Yet even with the 10% tariffs, prices on some goods like home products and bicycles were rising, Walmart executives have told investors. Retailers, like their vendors, also are working to move the supply chain outside China, but those changes take time.
Some suppliers concede they may have to absorb the cost this year and begin implementing price increases in 2020.
"We will likely eat the cost increase this year and have a less than profitable year, but come 2020 [if the tariffs are still in place] prices will have to increase," says Kavet, adding that Boston America is weighing introducing some premium-priced items as a hedge against rising costs.
Mobile phones and laptop PCs would be the biggest targets for the new round of tariffs, according to analysis by the Wall Street Journal. About $43 billion in mobile phones were imported into the U.S. last year, while laptops accounted for $37 billion. Other hard-hit categories would be children's bicycles and scooters ($11.9 billion imported) and videogame consoles ($5.4 billion). China is the source for about 98% of videogame consoles. It's also the source for the vast majority of laptops (94%), toys (88%) and tricycles (85%) and mobile phones (82%).
Contacts:
Boston America Corp., Matthew Kavet, 781-933-3535 x249, mkavet@bostonamerica.com
Jefferies Group, Stephanie Wissink, Managing Dir., 212-284-1713, swissink@jefferies.com
Mattel, Janet Hsu, Chief Franchise Management Officer, janet.hsu@mattel.com
Oxford Industries,  Scott Grassmeyer, CFO, 404-659-2424
Sony Pictures Consumer Products, Jamie Stevens, EVP Worldwide Consumer Products, 310-244-6269, Jamie.stevens@spe.sony.com
Turner Broadcasting, Peter Yoder, VP Cartoon Network Enterprises North America, 212-275-6535, peter.yoder@turner.com
Wicked Cool Toys, Jeremy Padawer, Co-President, 310-804-4354, jeremy@wickedcooltoys.com