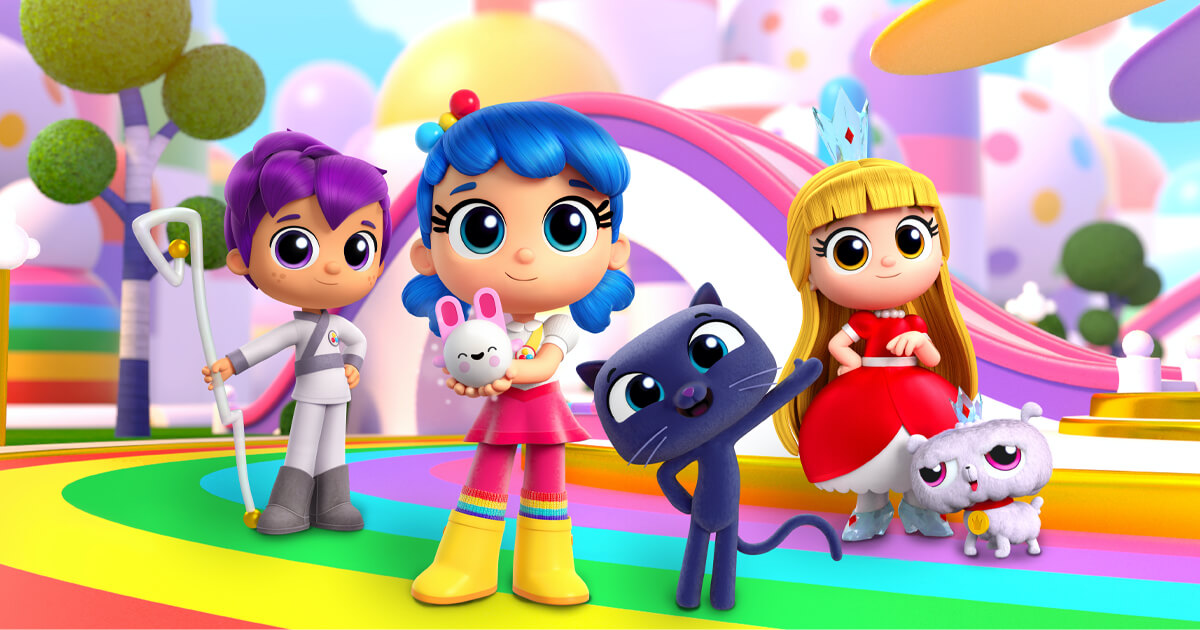 United Smile Set To Launch True And The Rainbow Kingdom Toys Globally
Full range of toys to hit retail across Europe, and at Target in Australia this Fall!
Guru Studio is pleased to announce today it has tapped United Smile as its exclusive master toy partner for its hit preschool series, True and the Rainbow Kingdom.
United Smile has partnered with leading distributors around the world to create a robust product line that features a collection of figures, play sets, vehicles, plush and musical dolls based on the popular animated series. The global distributors already on board include Bandai in Spain, Giochi Preciocci in Greece, Imports Dragon in Canada and the US, First Group in the Middle East with the support of Spacetoon, Toyrrific in Israel, Token Toys in Mexico, and Big Balloon in Australia with the support of Haven Licensing who will be launching the line exclusively at Target. Toys hit shelves starting this fall at select retailers.
United Smile is led by Josue Rosenzweig, former joint venture partner and executive at Hasbro and previously founder and CEO of Smart Christmas Solutions (SCS) and Toy Plus.
"Josue and his team have decades of experience in the toy industry and we're pleased to partner with a toy company as creative and strategic as United Smile." said Jonathan Abraham, VP of Sales and Business Development at Guru Studio. "As consumer buying habits continue to evolve, we're seeing fast-moving and adaptive companies gain the upper hand. In just a few short months United Smile has developed and tooled a really unique and robust product line that we're very excited to share with kids this fall."
"We are really proud of this strategic partnership with Guru Studio," said Josue Rosenzweig, CEO at United Smile. "With the support of Netflix, local TV channels, and the brand's growing success on YouTube, True and The Rainbow Kingdom has all the ingredients to become an evergreen property for retailers around the world."
The announcement marks the expansion of the brand's global growth strategy. With over four seasons currently streaming on Netflix worldwide, the series is now a top performer across linear networks including CBC Kids in Canada and Tiny Pop in the UK. The property is also the second highest rated series with girls on Gloob in Brazil, and is launching soon in Spain with Clan TV. On YouTube the series has reached over half a billion views!
A full line of story books (Chouette Publishing), activity books (Bendon) and costumes (Spirit Halloween) have already rolled out in North America with Licensing Street handling L&M in the United States, and FashionUK(Apparel), Roy Lowe (Socks), Warner Music Group (Music) coming on board with bRAND-WARD handling L&M in the UK.
True and the Rainbow Kingdom was also nominated for a 2020 Daytime Emmy Award for Outstanding Directing for a Preschool Animated Program.
About Guru Studio
Guru Studio is a creative-driven entertainment company renowned for creating, developing and producing internationally acclaimed and highly successful shows including its Emmy nominated Netflix Original series, True and the Rainbow Kingdom; PAW Patrol™ and Abby Hatcher produced in collaboration with Spin Master and Nick Jr.; Mattel's Ever After High; and its own two-time Emmy Award nominated preschool series Justin Time in association with Disney Junior. The company is currently producing original comedy-adventure series Big Bluewith the CBC, and its newest preschool series Pikwik Pack is currently airing on Disney Junior US. Guru Studio also contributed visual development on the Academy Award nominated animated feature The Breadwinner, which brought the rich 'story world' sequences to life. Led by President and Executive Creative Director Frank Falcone, Guru Studio is an industry leader in animated storytelling for kids of all ages. www.gurustudio.com
About United Smile
United Smile is a boutique toy company focused on supporting IP holders by providing expertise in the industry while generating long term partnerships. The company has strong relationships with toy factories that allows them to develop and manufacture high quality products. United Smile is proud to have a network of strong worldwide distributors that bring their toys to children on every continent.