USAopoly Launching Godzilla/Monopoly Game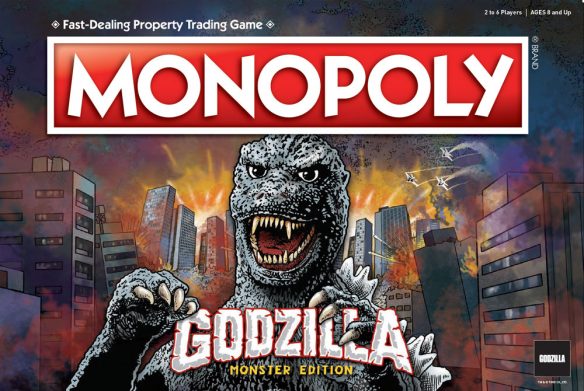 Carlsbad, CA — USAopoly (The Op) will launch a Godzilla/Monopoly game i($39) in the spring as part of  licensing agreements with Toho International and Hasbro. The game, for 2-6 players, features properties like Monster Island and Godzilla's Workshop and player tokens ( (Mothra, Godzilla and others).  It also is readying a Godzilla/Jenga title ($19) based on the block stacking game under licensing pacts with Toho and Pokonobe Asssociates, respectively.
From its debut on the big screen in 1954, there have been more than 30 Godzilla films made in Japan and the United States, and GODZILLA continues to stomp through popular culture today. In MONOPOLY®: Godzilla, players will vie to collect iconic kaiju in their familiar settings — such as RODAN on Monster Island (formerly known as Boardwalk) and MOTHRA on Infant Island (formerly known as Park Place) in order to reign supreme — and will pick one of six collectible movers such GODZILLA, MECHAGODZILLA and KING GHIDORAH to navigate the MONOPOLY® game board.
"Since the 1950's, GODZILLA has spawned a worldwide fan base," says John M. Davis, The Op's President and CEO. "Today, with our games, older fans can nostalgically relive childhood memories while introducing their families and younger generations to the world's most revered monster."
"Seeing what The Op has done to bring the world of GODZILLA into these classic games has been such an enjoyable experience" says Chris Mowry, Associate Brand Manager for Toho International, Inc. "The way they adapt the brand into these games to make them original and fresh is sure to please fans of all ages."