What Happened in Vegas: Taking a Look Back at What Happened and Was Talked About At Licensing Expo 2019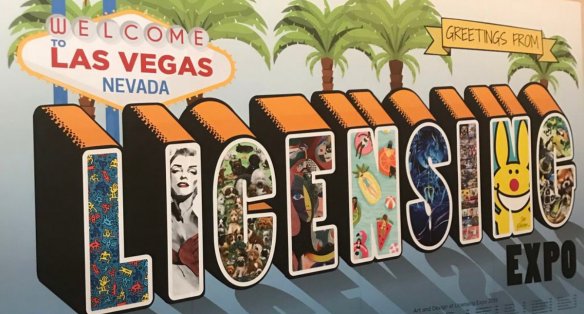 Licensing Expo 2019 is now in everyone's rearview mirrors, and it's time to take stock of what happened in Vegas, the effects of which will reverberate well into the future of this ever-changing licensing business.
Here are a few of the developments we noted:
Hemp and Cannabis Step Out — The growing interest in cannabis- and hemp-related products – mostly taking a health and wellness approach — was apparent, not just in the small "marketplace" assembled by PROHBTD, but also in a couple of other booths. Authentic Brands, which has several CBD-related agreements for its celebrity brands, as well as pacts with CBD products developer Green Growth Properties and CBD oil supplier Tilray, distributed CBD-based lip balm to showgoers. Kathy Ireland also showed some health and wellness products.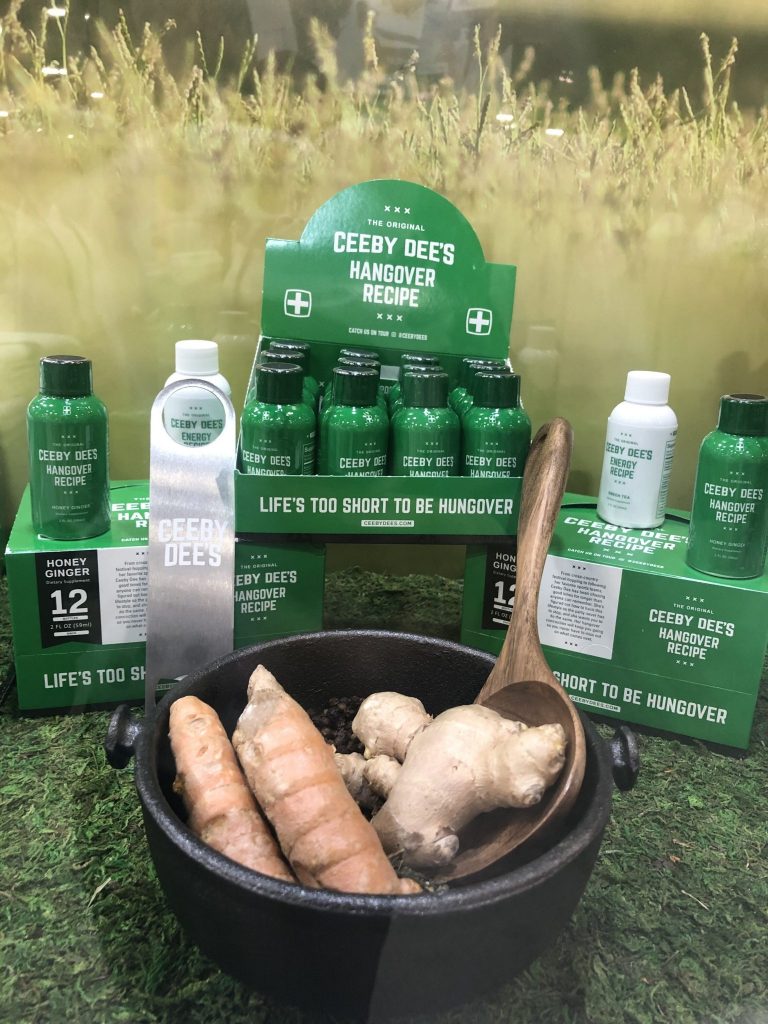 Entertainment companies also are in the mix. For example, Lionsgate is known to have been discussing ventures involving the brand of its Weeds series, among others.
Two other related notes: PROHBTD assembled a well-attended Licensing U session on cannabis and licensing (which included Allison Ames, CEO of Beanstalk, which now represents two of the company's own brands), and more than one showgoer talked of their intention to research the subject by visiting retailer Planet 13. It's legal there….
The eSports Conundrum – The licensing community is still trying to get its arms around the best way to leverage the exploding eSports community via licensed product. For the time being, it appears from our conversations at Licensing Expo, the category is best left to eCommerce, rather than brick-and-mortar retail, particularly given the target youthful audience and the fact the entire "sport" lives online.
The most visible effort to date (showcased at Licensing Expo) has been Activision Blizzard's program for overwatch League, which closely mirrors the centralized structure of a traditional U.S. sports league, and signed a big deal late last year with Fanatics.
Potential licensees who are viewing the space are trying to figure out whether it makes more sense to attach themselves to teams or to well-known players. Agency Brand Central showcased its representation of gaming management firm Loaded and its roster of "gaming influencers," who include Fortnite star Ninja, who has a handful of licensing deals already.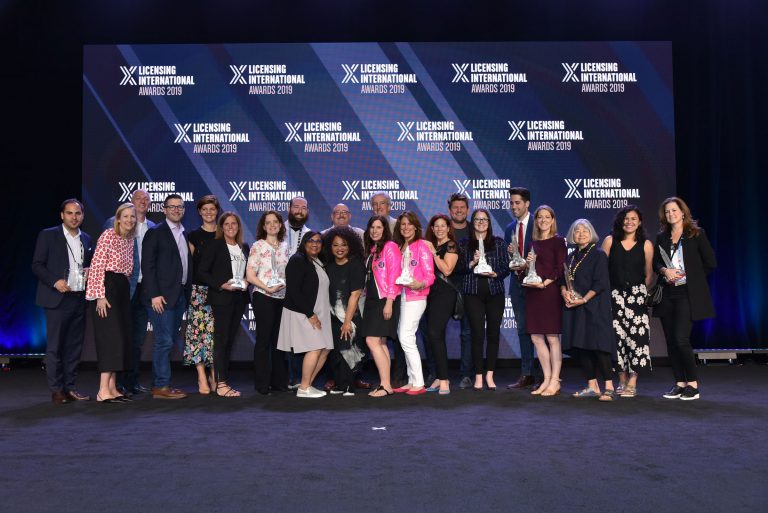 Speaking of Fortnite… — Fortnite and Harry Potter were the big winners at Licensing International's Annual Licensing Awards, with five honors taken home by publisher Epic Games and its licensees, and Warner Bros. Consumer Products and its licensees. For a full list of the winners, go to https://licensinginternational.org/news/2019-international-licensing-awards-winners-unveiled/.
Big congratulations at the Awards celebration also to the eight up-and-comers spotlighted as Rising Stars in the licensing business, as well as to newly inducted Hall of Famers Pam Lifford of Warner Bros. Consumer Products & Experiences and Michael Stone of Beanstalk.
Licensing U Comes to Licensing Expo – For the first time, the entire lineup of 25 Licensing U seminars and presentations was staged on the Expo floor in a specially constructed 300-seat Licensing U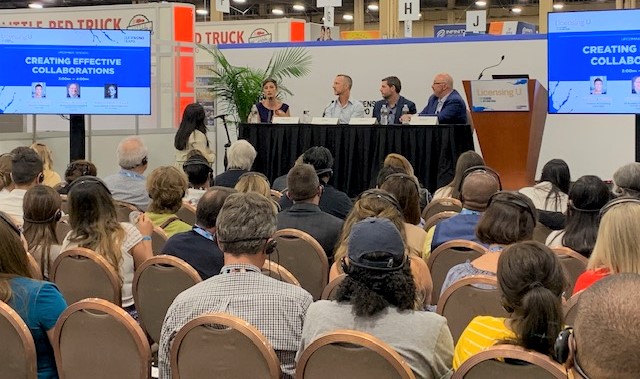 Theater. More than 50 executives from around the world touched on the ABCs (Amazon, Basics, Brexit, Cannabis, Collaborations) and so much more. The Licensing U Theater also hosted….
A Fascinating STORY – In a packed keynote presentation, Macy's Brand Experience Officer Rachel Shechtman offered an intriguing look at how she brought the philosophy of her single-store STORY retail location in Manhattan (which was reformulated and remerchandised several times a year) into Macy's. The challenge for all physical retailers, she said, is to think in terms of "experiences per square foot," rather than sales per square foot, giving consumers a reason to visit the store rather than rely on their keyboards to shop.
She also touted STORY's ability to act as a test tube for Macy's, suppliers and brand owners. "Testing and learning is important, because when you have 600 plus stores it takes a while, and it's expensive, and if it doesn't work it can be really expensive," Shechtman said.  "This gives Macy's an opportunity to try small businesses and new concepts, and see how they work as a sister to the [Macy's larger] system and taking those learning and make some decisions in four months, not eighteen months."
Tariffs in the Air — With the Trump administration threatening or actually imposing tariffs on goods from China, Mexico and elsewhere, the added costs and their impact on brand owners, manufacturers and retailers were a hot topic of conversation.
This has left licensees weighing a range of options from switching to suppliers in non-tariffed countries to seeking concessions from licensors on minimum guarantees and royalty rates in a bid to offset rising costs.
For the time being, licensees we spoke to say they'll likely absorb the added costs, but if the tariffs extend into the fall retail price increases are close to inevitable. For their part, licensors appeared willing to work with licensees on reducing costs tied to tariffs, but what form that would take was unclear given the constantly moving deadline for imposing the tariffs.
Don't Just Buy the Brand, Live the Brand – Location-based licensing – activity centers, hotels, theme parks, cafes, etc. — was at the top of many licensors' priorities as they sought expand their business beyond merchandise sales and attract consumers increasingly accustomed to not only buying brands, but experiencing them as well. Entertainment brands have been the biggest players, but corporate brands are increasing their activity, too.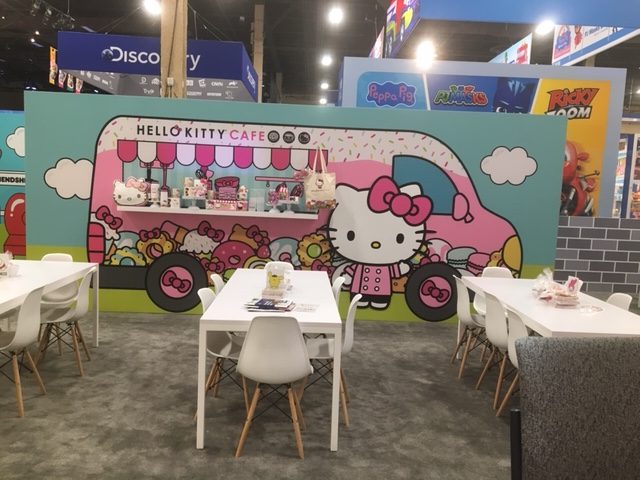 Meredith Corp., which gained the Southern Living magazine brand in buying Time Inc., plans to expand on the current roster of 21 boutique hotels, while also increasing the number of developments affiliated with the Coastal Living label. The Coca-Cola Co., which has four stores in the U.S., is planning to add more locations in international markets, while Sanrio, is opening a Hello Kitty Café at the MGM Grand Hotel in Las Vegas and nearing agreements for locations in Orlando, New Jersey and New York.
Meanwhile, Hasbro reached an agreement with Kingsmen which will open a Nerf-themed family entertainment center in Singapore later this year with a U.S. location due in 2020, and Mattel licensee IP2Entertainment plans to open a 25,000-sq.-ft. family entertainment in Toronto next year featuring Barbie, Hot Wheels and Mega Construx.
Old Becomes New Again — Licensors mined their IP vaults for nostalgia brands, some of which are being licensed for the first time.
Hasbro licensed Wicked Cool Toys to make Micro Machines, which peaked in popularity in the 1980s under Galoob Toys and is entering licensing for the first time. Hasbro plans to roll out new programs for Tinker Toys, Lincoln Logs and Pound Puppies as it delves into its 1,500 brands. Mattel likewise is readying plans for six films based on its IP starting in 2021 with Masters of the Universe, which is making a return to the big screen after a 32-year absence with plan for extensive licensing.
Crayola is refreshing Silly Putty, which it acquired in 1977, with licensed products to follow in 2020 across a range of categories including apparel as the brand marks its 70th anniversary.
This fits in with…
Safety in Evergreens – Several licensees were scouting the show specifically for well-established evergreen properties with proven track records and fan bases, rather than taking a chance on the potential new hot thing.
Of course, the definition of "evergreen" may be in the eye of the beholder. How many generations of fans need a property have to be considered multigenerational? Two? Three? For example, we were struck by the number of Licensing Award winners that involved Harry Potter. Does the number of millennials (now parents) who grew up with the books (first one was published in 1997) and films (2001) make the property an evergreen for the ages?