What Will Halloween Look Like?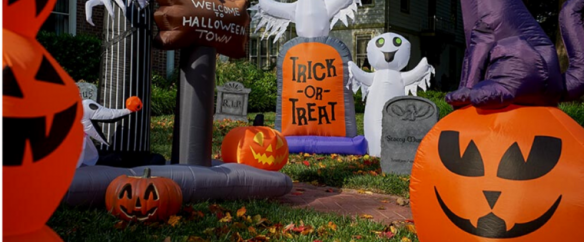 Will Halloween be trick or treat?
"Everyone is speculating how Halloween will be celebrated this year in light of COVID, since Halloween is such a social holiday," acknowledges Disguise's Tara Hefter. She points out that with the holiday falling on a Saturday, there typically would be "a lift in sales especially with décor and adult costumes knowing that people are throwing parties on a weekend." But that's far from a given this year.
To be sure, retailers are preparing to stock Halloween products. Mass retailers that were open during the pandemic like Walmart and Target have launched online Halloween shops and haven't reduced or cancelled orders placed last December, says Scott Morris, CEO of Morris Costumes, which supplies both mass market behemoths. But retailers that were shut by COVID have changed their orders to "some degree," says Morris.
Hefter agrees that retailers in general "did scale back on their orders," but believes licensed costumes will still perform well. "I believe generic Halloween costumes and Halloween décor will suffer, but think that licensed costume sales for kids will still remain relatively strong given that they can wear them post Halloween as dress up. "
Consumer Buying
A recent Gallup poll showed that only 27% of U.S. consumers plan to take their children out traditional door-to-door trick or treating this year. And while an increasing amount of Halloween business will shift online (as it has with virtually every category), brick-and-mortar is the wild card, given that in normal years, a big piece of the business is built on a last-minute rush to the store in the last ten days.
Halloween sales last year were $8.8 billion, down slightly from 2018, according to the National Retail Federation. With very few marquee movies to help drive the business, some believe retailers may have to rely more on classic characters to bolster sales.
Pop-Up Stores
One piece of "good" news: Space for seasonal popups won't cost much; Morris says rents are down 50% from year ago on 6-8-week leases, as landlords look to fill empty space.
Spencer Gifts' Spirit Halloween — despite a social media firestorm in mid-June to the contrary – plans to open 1,400 stores, the same as a year ago, the company said. And while it isn't clear whether Party City will return with its typical 250 short-lease Halloween City locations, it will have dedicated Halloween sections in its more than 850 namesake stores.
"The landlords would just like to fill the locations and put someone there, so if you ever were thinking about doing a temporary store, this could be the year to do it," says Morris.
Community Programs
To drum up business in stores that are expected to function under limited capacity and other restrictions, the National Costumers Association (NCA) and Halloween and Costume Association are considering promoting locally-based, socially-distanced Halloween parades through decorated neighborhoods, possibly including such touches as sponsored prizes and a trick or treat bag at the end, says Zangone Studios CEO Franco Pacini, whose company developed a community-based Halloween program.
But caution is the byword. In a recent survey, the NCA found that 63% of its members believe that COVID would prevent a "normal" Halloween, with rest being "slightly optimistic," says NCA Executive Director Ed Avis. Vendors more optimistic. A small number weren't worried about COVID-19's impact and 45% said they believed business would be "OK," says Avis.
"There will be a Halloween, and while we do believe we need to have the fresh goods that challenge is going to be you might have to rely on classic characters," says Morris. "But we are bullish and we think the Halloween season will be just fine."
Says Hefter: "Overall, I think parents will still purchase Halloween costumes for their kids to maintain as much normalcy as possible; however, how they celebrate it will be different.  Instead of parties and school functions, we will likely see people creating their own social distancing events or will simply celebrate at home in costume".