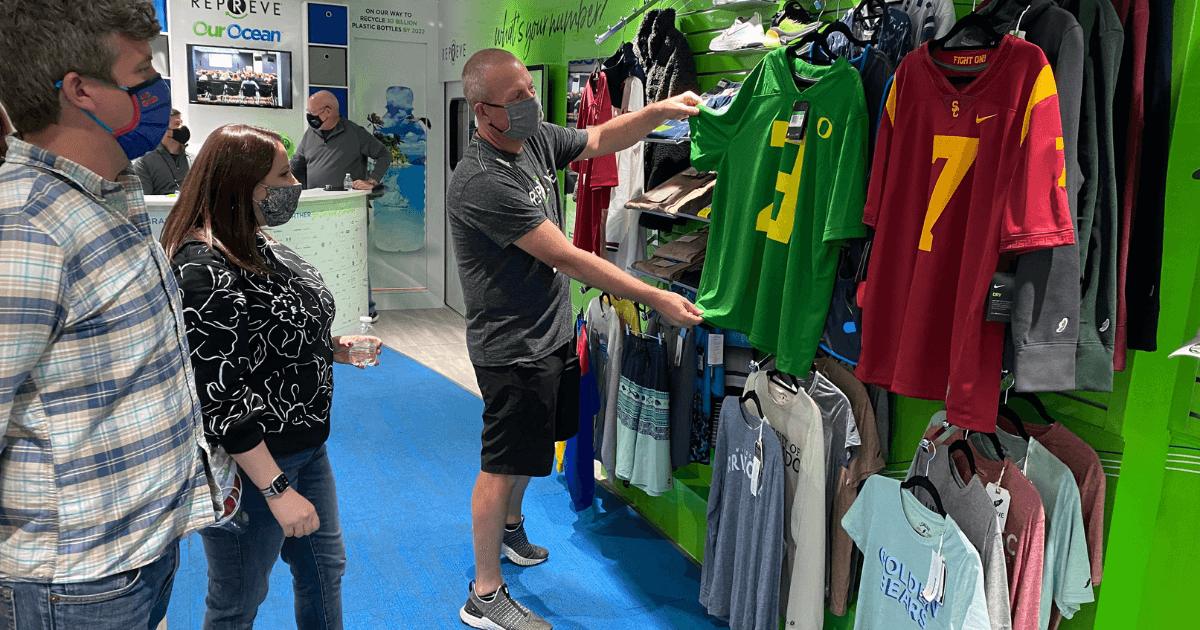 Will Consumers Pay the Price of Sustainability?
Despite often leading to higher retail prices, a focus on sustainable materials and manufacturing processes is increasingly what closes the deal for consumers.
This is especially true in apparel, where sustainable material labels like Lenzing's Tencel (wood pulp fibers), Unifi's Repreve (fibers made from recycled plastic bottles), and organic cotton are becoming as prominent as the brands that integrate them into their collections. In some cases—especially with luxury brands—the price premium can be 5%, but that's a long way from the as much as four-times price gap that once existed.
"In the past couple of years, you have seen consumers increasingly think about the brands they are buying," said Elyse Tosi, senior director of accounts and client success at EON, which creates digital identities for apparel that can be traced through the supply chain. "Now, consumers are demanding to know where their product was made, with which materials, and that the chain has fair and safe practices."
That demand, especially from Gen Z and Millennial consumers, is proving to be a lucrative business for suppliers that are increasingly employing some level of sustainability in their supply chains. For example, Smiley is launching an extensive Future Positive sustainability campaign in 2023 with up to 50 licensees. The campaign follows Smiley's 50th anniversary celebration this year, which saw the company launch shop-in-shops for products in 92 department stores in 16 countries, involving 66 global brands. In doing so, Smiley spotlighted about 1,000 companies that design and sustainably manufacture products, including 10% to 20% of its more than 420 licensees.
When it comes to partnering with the Tencel brand, brands must produce apparel containing a minimum of 30% pulp-based Lyocell, said Walter Bridgham, senior business development manager at Lenzing. To meet rising demand, Lenzing invested in opening a new pulp plant joint venture with wood panel producer Duratex in Minas Gerais, Brazil that is expected to be at full capacity by year-end as well as a new factory in Prachin Buri, Thailand that opened in March to produce Lyocell.
"Consumers are asking retailers to make the decisions for them and that is why retailers are putting into their own private brands more sustainable materials and recycled materials versus virgin," Bridgham said, pointing to the likes of Macy's, Bed Bath & Beyond, Williams-Sonoma and others. "The recycled materials brands help add trust to a supplier's claims. Consumers are relying on the well-known brands to put in front of them things they can recognize and trust."
That demand from consumers doesn't mean remaining competitive with standard materials doesn't come without other challenges, however.
Unifi produces its Repreve material from recycled plastic fibers made from polyester waste such as plastic bottles. Major bottle producers like the Coca-Cola Co. and PepsiCo, however, are starting to use recycled plastic for their own purposes. Unifi also faces rising materials costs, including bale bottle prices that reached "historic highs" this year, including a 24% jump in February alone, Unifi CEO Edmund Ingle said. The higher costs forced Unifi to impose price increases for Repreve, which Unifi aims to account for about half of its $1.1 billion revenue in 2025, Ingle said.
"Sustainability is a watchword with consumers right now, but that doesn't mean there won't be challenges in meeting these goals as we transition to recyclable material," said an executive at a collegiate licensee that uses Repreve material for apparel.