Will the Absence of the Patriots Actually Prime the Super Bowl Sales Pump?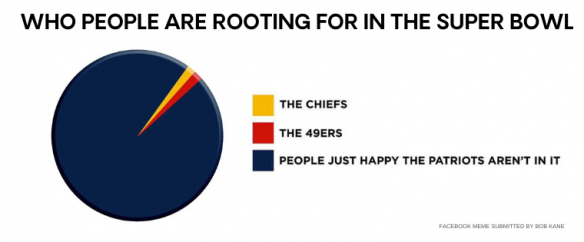 What if the Super Bowl took place, and Tom Brady and the New England Patriots didn't show up?  The NFL and all its Super Bowl licensees are about to find out. (As will all those companies – think sellers of chicken wings and big-screen TVs – who don't acquire an NFL license but piggyback on excitement surrounding "The Big Game.")
The mocking pie-chart at the top of this article may reflect some over-the-top snark, but it actually indicates a likely truth about the attitude of many Super Bowl licensees, which this year are banking on a sharp increase in revenue. Some are even forecasting a potential doubling of sales.
Why, you ask?
No offense, but there's simply a limit to how many Tom Brady jerseys and Patriots Super Bowl items the team's fans are going to buy year after year.
The San Francisco Forty Niners, on the other hand, last participated in 2013, a nice gap to stoke the desire for commemorative goods.
But it's their opponents, the Kansas City Chiefs, who may have some companies really excited. They haven't been there for half a century – that creates the kind of pent-up demand merchandise sellers dream about, even from one of the league's smaller markets.
Player Power
Another positive indicator for sales is that players from both teams are among the leading sales generators in the league. Chiefs quarterback Patrick Mahomes is likely to replace Brady atop the NFLPA's annual list of top-selling players when final figures are released in April; he led all NFL players in sales of licensed merchandise from March 1-Nov. 30. (Forty Niners QB Jimmy Garoppolo was 15th). Brady had topped the list in each of the past two seasons.
Other positive signs:
During the weekend of the conference championship games, Mahomes, Garoppolo and the Niners' George Kittle and Nick Bosa were the top-selling players in the league, Fanatics said.
Fanatics' combined sales of 49ers and Chiefs merchandise immediately after the conference championships set a record, surpassing the previous record set three years ago when the Philadelphia Eagles and Patriots won the right to move on to the Super Bowl.