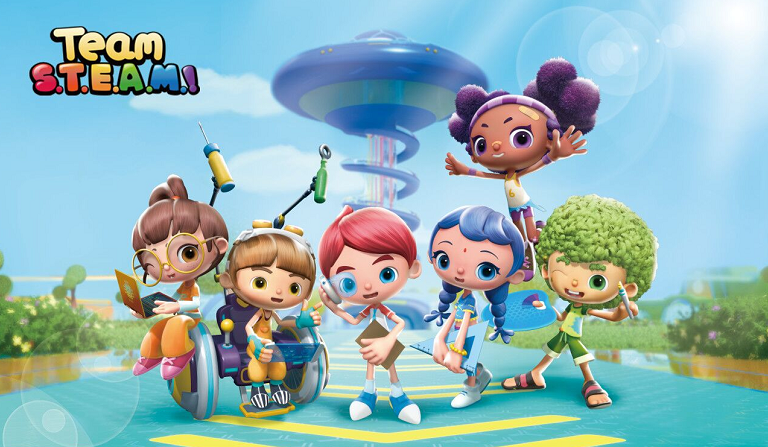 Winsing Animation to release 'Team S.T.E.A.M.!', first 3D 4K animated series in China this month
Winsing, a leading animation company in China has announced (at MIPJunior Online+) that they will be launching the full-length 3D 4K animated feature, Team S.T.E.A.M.!.
Winsing has been involved in 3D animation production, distribution, merchandising and licensing, toys development and distribution, cultural tourism (stage plays and indoor theme park) for decades, and has been developing the animated show for three-year production. Winsing will premiere Team S.T.E.A.M.! in China in October.
Team S.T.E.A.M.! is an upbeat series filled with high adventure, humour, and heart, which is made up of six amazing kids who overcome problems using STEAM curriculum such as science, technology, engineering, math, with athletics and the arts thrown in for good measure. Audiences across the globe will enjoy the diverse group of characters, who come from countries such as China, Ireland, Columbia, Jamaica, Korea, and India. Outstanding with its international content and concept, Team S.T.E.A.M.! was pitched by France MIPJunior 2019, as one of the five pitched animation projects and the only one amid Chinese projects.
Winsing Animation VP Echo Gu said, "We're excited for the release of Team S.T.E.A.M.! in China. In the future, Winsing will walk in step with the international animation market, enrich our IPs and provide more excellent content to the world."
Except for the educational and funny content, the USP of this series is its 4K definition. With the rapid development of 4K technology, Winsing Animation has planned to produce some 4K animated series from 2017 and finally created the first 4K animation, which paves the way for the whole industry of China. Moreover, it aims to bring a clearer visual experience to the users.