WME Signs to Represent YouTube Talent Anastasia Radzinskaia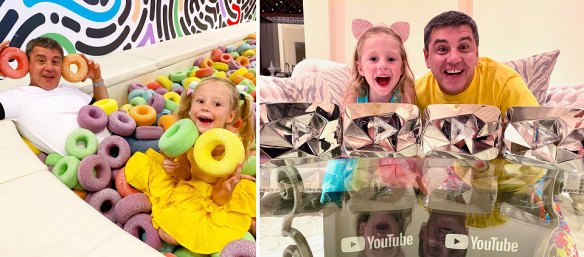 WME has signed to represent YouTube talent Anastasia Radzinskaia as the six-year-old enters licensing for the first tine.
Radzinskaia currently ranks third on Forbes' list of the highest-grossing YouTube channels with nearly $20 million in annual advertising revenue.  Anastasia (AKA Like Nastya and Stacy)  has  10 million subscriberfs and over 3.3 billion monthly views across her eightchannels. She adds 200,000 new subscribers to her channels daily.
Born in Russia, Anastasia was diagnosed with cerebral palsy. Her condition has thankfully improved considerably. Since then, she started vlogging with her dad, soon thereafter becoming a global phenomenon with fan bases in the US, Russia, Brazil, Germany, India, and many more major markets. She speaks English, Russian, Spanish and Mandarin, and produces local language content across her channels.
The duo vlogs everything from Anastasia taking care of her cat to helping her parents around the house to deciding what she's going to be when she grows up. The family is focused on creating entertaining content with learning lessons. Anastasia and her dad are on-camera talent, while both her mom and her dad write and produce the content for their channels.
Anastasia is managed by Eyal Baumel of Yoola. Her lawyers are Ellie Altshuler at Nixon Peabody and Mikhael E. Keifitz.
Contact:
Jo Robertson | IMG
Corporate Communications
T: +44 (0)208 233 6854 • M: +44 (0) 7392 088227 • Joanna.robertson@img.com
IMG • Building 6, Chiswick Park, 566 Chiswick High Road, London, W4 5HR