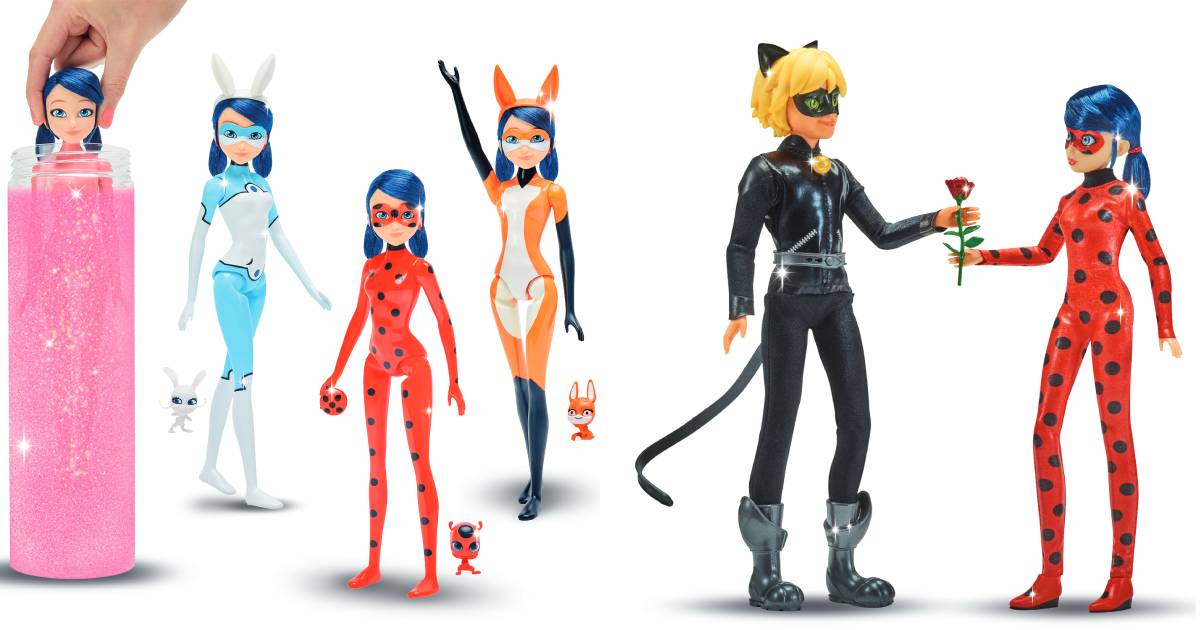 ZAG Heroez Miraculous™ Movie Dolls from Playmates and ZAG Available at Major Retailers in the U.S. in Fall 2023
Santa Monica, CA – March 6, 2023 – Miraculous Ladybug and Cat Noir, the globally popular heroes of ZAG Heroez Miraculous™ – Tales of Ladybug and Cat Noir animated TV series, make their film debut this year in the US$100+ million animated movie, Ladybug and Cat Noir: The Movie. To celebrate, the movie doll line from ZAG's global master toy partner, Playmates Toys, will be available at major retailers in fall 2023. The announcement was made today by Jeremy Zag, Founder and CEO, ZAG, and Georgia Manolas Walker, VP of Marketing, Girls Brands, Playmates.
Highlights of the range which will be available at Target and other major retailers nationwide include the 10.5" Miraculous Ladybug Movie Fashion Doll with a newly sculpted "ready for action" head and face, an exclusive movie version of her deluxe foil print suit, removable booties, and a new yoyo accessory based on the movie design; and the 11" Cat Noir Fashion Doll, dressed to save Paris, comes attired in his signature black suit, gunmetal grey boots, a removable belt, and his trusty staff.  Also available will be the Miraculous Ladybug & Cat Noir Movie 10.5″ Marinette Collector Fashion Doll dressed for the grand ball with an exclusive flowing gown of satin and tulle with iridescent capelets inspired by the delicate wings of the ladybug. Removable accessories include a special ladybug mask and Miraculous earrings. The three dolls all feature 15 points of articulation, ready for superhero action.
Also launching this Spring across the U.S. are the 10.5" Magic Heroez Transformation Dolls, featuring special super-suits with unique styles. The Marinette doll comes with a pink packet of magical powder, and a Miraculous tube to contain the water and the doll for her mysterious transformation into a fox, rabbit, or ladybug hero! Each Magic Heroez Transformation doll includes three different accessories— Kwami, a removable mask, and more. There are three dolls in the line to collect for Spring, and more to come!
The new dolls will be on display at the upcoming The Play Date in New York City on March 8, an event organized by the Toy Association and Adventure Media, where toy companies present their upcoming lines to media outlets and influencers across the U.S. In addition to the core fashion line, Playmates will be featuring the best-selling collectibles Kwami Surprise, updated this year to feature a kid's size Rings of Monarch, and a Miracle Box Carrying Case, available at all major retailers.
"The content rich Miraculous Universe continues to expand, and we can't wait for Ladybug and Cat Noir: The Movie to launch this year," commented Jeremy Zag, who directed the movie. "This origin story will shine a light on the Miraculous brand and create demand from fans for this exceptional new doll line developed in collaboration with our partner Playmates Toys."
"We've had so much fun developing the new Miraculous movie doll line, and I believe we've really captured the adventure, magic, girl power, and dazzle of Paris for this coming-of-age story that will delight our fans around the word," explains Walker. "And we are honored that the British Toy and Hobby Association recently named the Miraculous Magic Heroez Transformation Dolls in their top 25 hero dolls for 2023.  These mystery surprise dolls just launched at major retail partners in the U.S."
Miraculous is a global phenomenon reaching fans across all touchpoints from content to social media to consumer products, promotions, gaming, and live events. Five seasons of the TV series air in over 120 countries around the globe, often garnering #1 ratings. In the U.S., the second half of season five launches in April on Disney Channel and Disney+. Seasons one to three are also available to stream on Netflix. The upcoming movie takes viewers on a journey of discovery, revealing the beautiful origin story of how two normal teens—Marinette DuPain-Cheng and Adrien Agreste—embarked upon their superhero destinies.
ZAG's licensing and merchandising, gaming, promotions, and toy groups are helmed by Julian Jacob ZAG, EVP, Global Operations and Head of Consumer Products, which focus on developing products and experiences beyond the screen into brands that inspire the new generation to discover their true character.
About Miraculous™ – Tales of Ladybug & Cat Noir
Miraculous™ – Tales of Ladybug & Cat Noir continues to be everyone's favorite superhero story and is ranked by IMDB amongst the Top 10 Best Animated Shows in the last 20 years. Available in over 120 countries, season five of the series started to roll-out in fall 2022, to be followed by the highly anticipated $US100M+ animated feature supported by several yet unannounced cobranded partnerships with some of the most influential companies across the globe. With a core audience of 52% girls and 48% boys ages 6-12, and a massive fan base of young adult "Miraculers," (ages 15-25), Miraculous has become a digital planetary craze with over 33 billion views on YouTube (authorized and user-generated content); over 200 million downloads of the official app; and over 550 million+ plays on Roblox. Over 280 million products have been sold and retail sales have surpassed US$1B worldwide to date. Miraculous is the winner of 29 awards and was a finalist for Best Licensed Brand among perennial classics in the Licensing International Excellence Awards, 2022.
The 3D-CGI-animated superhero aspirational action-comedy series Miraculous™ – Tales of Ladybug & Cat Noir, created by ZAG and co-produced with Method Animation (Mediawan Kids & Family), follows the adventures of two seemingly typical teens with secret identities, Marinette, and Adrien, who magically transform into superheroes, Ladybug and Cat Noir. As secret superheroes, Ladybug and Cat Noir are partners in the action. But in the daytime, Marinette is just a normal girl, living a normal life. Cat Noir will do anything to support and impress Ladybug but does not know this is Marinette from his class. Marinette, the regular girl, in turn dreams of Adrien and simply gets little response. When evil threatens Paris, their beloved City of Lights, can they beat the unexpected villains?
About ZAG
ZAG is a global independent entertainment studio specializing in world-class storytelling across TV, film, and digital platforms. ZAG's foundation is rooted in compelling characters, limitless imagination, and masterful storytelling infused with original musical scores. The company is home to world-class entertainment properties under the ZAG HEROEZ label, including Miraculous™ – Tales of Ladybug & Cat Noir as well as Ghostforce (2021). ZAG is also currently in production on Melody, an animated feature to star Katy Perry; and recently signed a 10-movie deal with Cross Creek Pictures. Visionary director and composer Jeremy Zag founded the ZAG Kids and Family Entertainment Group in France in 2009, further expanding the company to the USA in 2012 with the Global Brand Franchise office in Santa Monica, California. ZAG now has offices in Paris, London, Montreal, Santa Monica, Miami, Mexico, Frankfurt, Tel Aviv, Frankfurt, Dubai, and Shenzhen. ZAG's Licensing Division, helmed by Julian Jacob ZAG, EVP, Global Operations and Head of Consumer Products, includes the licensing and merchandising, gaming, promotions, and toy groups, and focuses on developing products and experiences beyond the screen into brands that inspire the new generation to discover their true character. https://www.zag.com
About Playmates Toys
With a history of more than 50 years, Playmates Toys is among the most well-respected and innovative marketing and distribution companies in the global toy industry, with a proven record of creating imaginative products, developing, and managing profitable, long-term brand franchises. Key brands include Teenage Mutant Ninja Turtles, Star Trek, Miraculous Ladybug, Spy Ninjas, MonsterVerse, and more. From its offices in Hong Kong and California, Playmates designs, develops, markets, and distributes its products in over 80 countries worldwide. For more information, visit playmatestoys.com.