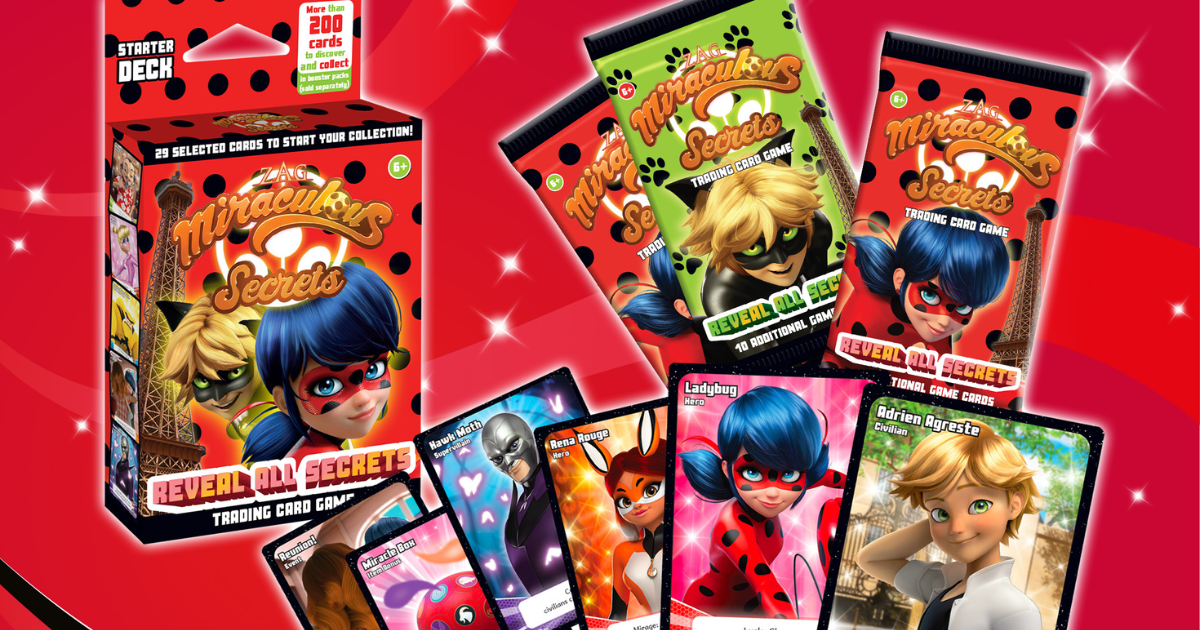 ZAG Play Brings First Miraculous Trading Card Game to the European Marketplace in Partnership with Epopia
Distributed by Amigo, " Miraculous Secrets" Launches in Germany and Austria, with Further European Launches this Spring
Santa Monica, CA — Award-winning global independent animation studio ZAG has launched its first trading card game for the billion-dollar Miraculous™ franchise at retail in Germany and Austria and will roll-out to other European countries in the coming months. The announcement was made today by Jeremy Zag, Founder and CEO, ZAG.
Miraculous Secrets, from the ZAG Play Toy Division, was developed in partnership with Epopia, the creator of the groundbreaking, multiple award-winning interactive platform that encourages children to read and write who first partnered with ZAG in April 2021, acquiring global licensing rights to ZAG's brands to create personalized and interactive storytelling.  Miraculous Secrets is distributed by Amigo, the well-established European game maker.
With the new Miraculous Secrets trading card collection, fans can discover their favorite characters, their multiple transformations and akumatizations, Kwamis, Miraculous, and weapons, and discover unpublished secrets from the animated TV series, Miraculous™ – Tales of Ladybug and Cat Noir. The cards feature exclusive collectible designs and thermo-heat technology, unique in the world of trading cards.
Miraculous Secrets features a ready-to-play starter deck with over 29 cards, and 10-pack booster sets consisting of more than 200 official cards including characters, events, bonus, and mystery cards. More than 70 cards will be released in the special rainbow foil design. Players will try to uncover the secrets of their opponents as they help the teen superheroes defeat the villains and defend their city of Paris. Characters can be strengthened with bonus cards such as kwamis or lucky charms, and numerous event cards ensure varied fights!
"Featuring the bold cinematic visuals from Miraculous, we anticipate strong demand from fans of all ages across Europe who will be eager to collect the rarest of cards and exchange them with friends to complete their Miraculous Secrets collection," commented Jeremy Zag. "All of us at ZAG are delighted to solidify our relationship with Epopia with the launch of this first Miraculous trading card game."
About Miraculous™ – Tales of Ladybug & Cat Noir
Miraculous™ – Tales of Ladybug & Cat Noir continues to be everyone's favorite superhero story and is ranked by IMDB amongst the Top 10 Best Animated Shows in the last 20 years. Available in over 120 countries, season five of the series started to roll-out this fall, to be followed by the highly anticipated $US100M+ animated feature supported by several yet unannounced cobranded partnerships with some of the most influential companies across the globe. With a core audience of 52% girls and 48% boys ages 6-12, and a massive fan base of young adult "Miraculers," (ages 15-25), Miraculous has become a digital planetary craze with over 32 billion views on YouTube (authorized and user-generated content); over 200 million downloads of the official app; and over 450 million+ plays on Roblox. Over 280 million products have been sold and retail sales have surpassed US$1B worldwide to date. Miraculous is the winner of 29 awards and was a finalist for Best Licensed Brand among perennial classics in the Licensing International Excellence Awards, 2022.
The 3D-CGI-animated superhero aspirational action-comedy series Miraculous™ – Tales of Ladybug & Cat Noir, created by ZAG and co-produced with Method Animation (Mediawan Kids & Family), follows the adventures of two seemingly typical teens with secret identities, Marinette, and Adrien, who magically transform into superheroes, Ladybug and Cat Noir. As secret superheroes, Ladybug and Cat Noir are partners in the action. But in the daytime, Marinette is just a normal girl, living a normal life. Cat Noir will do anything to support and impress Ladybug but does not know this is Marinette from his class. Marinette, the regular girl, in turn dreams of Adrien and simply gets little response. When evil threatens Paris, their beloved City of Lights, can they beat the unexpected villains?
About ZAG 
ZAG is a global independent entertainment studio specializing in world-class storytelling across TV, film, and digital platforms. ZAG's foundation is rooted in compelling characters, limitless imagination, and masterful storytelling infused with original musical scores. The company is home to world-class entertainment properties under the ZAG HEROEZ label, including Miraculous™ – Tales of Ladybug & Cat Noir as well as new titles Power Players (2019) and Ghostforce (2021). ZAG is also currently in production on Melody, an animated feature to star Katy Perry; and recently signed a 10-movie deal with Cross Creek Pictures. Visionary director and composer Jeremy Zag founded the ZAG Kids and Family Entertainment Group in France in 2009, further expanding the company to the USA in 2012 with the Global Brand Franchise office in Santa Monica, California. ZAG now has offices in Paris, London, Montreal, Santa Monica, Miami, Mexico, Frankfurt, Tel Aviv, Frankfurt, Dubai, and Shenzhen. The company's ZAG Play division focuses on developing engaging stories beyond the screen into brands that inspire the new generation to discover their true character.
About Epopia Games 
A team of dedicated writers, illustrators, designers, and storytellers specialized for more than eight years in tailored storytelling for children. More than 80,000 children worldwide have already experienced Epopia's collaborative adventures in which they are the heroes. They have won more than 12 international competitions for innovation and creativity. In 2022, they create the label Epopia Games in collaboration with ZAG and launch the first ever Miraculous trading card game.