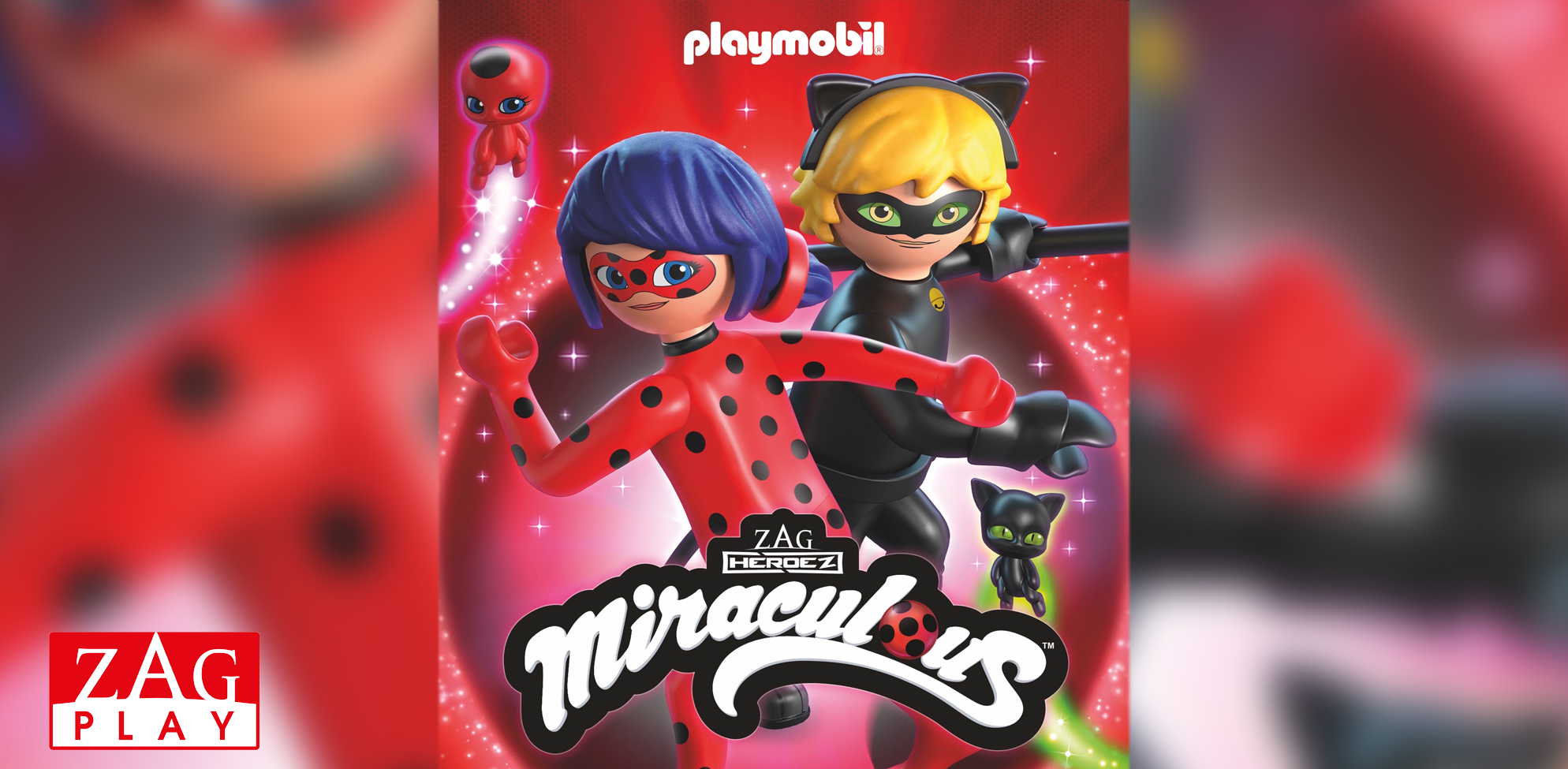 ZAG Play Partners with PLAYMOBIL® for Miraculous™ Global Toy Range to Debut in 2024
Santa Monica, CA – January 30, 2023 – Award-winning global animation studio ZAG and Horst Brandstätter Group have signed a global agreement to develop and distribute a diverse PLAYMOBIL® toy range for the beloved and multi-award winning Miraculous™ – Tales of Ladybug and Cat Noir franchise. The announcement was made today by Jeremy Zag, Founder and CEO, ZAG, and Sibylle Gondolf, Managing Director (Germany, Austria and Switzerland) at leading licensing agency, WildBrain CPLG, who represent the Miraculous brand in Germany, Austria and Switzerland, and brokered the deal for ZAG.
Planned for a 2024 launch, the PLAYMOBIL® range will feature superheroes Ladybug and Cat Noir alongside their team of heroes and villains. Popular scenes from the series will be presented in the PLAYMOBIL® aesthetic in a wide range of playsets and seasonal toys which will be distinguished from other toy offerings by PLAYMOBIL's iconic look and feel.
"PLAYMOBIL has become a brand synonymous with high-quality toys and a unique play principle with highly detailed figures and play worlds that stimulate imagination and creativity," commented Helena Perheentupa, SVP, ZAG Play Toy Division. "They are the perfect partner for ZAG to expand our current offerings for Miraculous fans around the globe with toys that promote curiosity and self-expression, and that will co-exist and complement our existing partner portfolio at retail."
Sibylle Gondolf, Managing Director for Germany, Austria, and Switzerland at WildBrain CPLG added, "PLAYMOBIL has been a trusted toy brand in many family households for decades. We are very proud and excited that through brokering this deal for ZAG that we can now bring Miraculous into the hands of kids all over the world. From our very first conversation, we could see the huge potential that PLAYMOBIL's unique playsets could offer to the world of Ladybug and Cat Noir to really bring it to life."
Miraculous is a global phenomenon reaching fans across all touchpoints from content to social media to consumer products, promotions, gaming, and live events. Five seasons of the TV series air in over 120 countries around the globe, often garnering #1 ratings; the adventure game Miraculous RP: Quests of Ladybug and Cat Noir scores the #1 spot for engagement in the branded games category on Roblox; and the highly anticipated US$100 million+ animated feature, Miraculous Ladybug and Cat Noir: The Movie, which launches this year, will draw in new audiences to a franchise that already has already made over US$1 billion at retail and has over 33 billion views on YouTube.
ZAG Play incorporates the activities of the licensing and merchandising, promotions, toy, and gaming groups at ZAG, headed by Julian Zag, EVP, Global Operations and Head of Consumer Products, to whom Perheentupa reports.
About Miraculous™ – Tales of Ladybug & Cat Noir
Miraculous™ – Tales of Ladybug & Cat Noir continues to be everyone's favorite superhero story and is ranked by IMDB amongst the Top 10 Best Animated Shows in the last 20 years. Available in over 120 countries, season five of the series started to roll-out in fall 2022, to be followed by the highly anticipated $US100M+ animated feature supported by several yet unannounced cobranded partnerships with some of the most influential companies across the globe. With a core audience of 52% girls and 48% boys ages 6-12, and a massive fan base of young adult "Miraculers," (ages 15-25), Miraculous has become a digital planetary craze with over 33 billion views on YouTube (authorized and user-generated content); over 200 million downloads of the official app; and over 500 million+ plays on Roblox. Over 280 million products have been sold and retail sales have surpassed US$1B worldwide to date. Miraculous is the winner of 29 awards and was a finalist for Best Licensed Brand among perennial classics in the Licensing International Excellence Awards, 2022.
The 3D-CGI-animated superhero aspirational action-comedy series Miraculous™ – Tales of Ladybug & Cat Noir, created by ZAG and co-produced with Method Animation (Mediawan Kids & Family), follows the adventures of two seemingly typical teens with secret identities, Marinette, and Adrien, who magically transform into superheroes, Ladybug and Cat Noir. As secret superheroes, Ladybug and Cat Noir are partners in the action. But in the daytime, Marinette is just a normal girl, living a normal life. Cat Noir will do anything to support and impress Ladybug but does not know this is Marinette from his class. Marinette, the regular girl, in turn dreams of Adrien and simply gets little response. When evil threatens Paris, their beloved City of Lights, can they beat the unexpected villains?
About ZAG
ZAG is a global independent entertainment studio specializing in world-class storytelling across TV, film, and digital platforms. ZAG's foundation is rooted in compelling characters, limitless imagination, and masterful storytelling infused with original musical scores. The company is home to world-class entertainment properties under the ZAG HEROEZ label, including Miraculous™ – Tales of Ladybug & Cat Noir as well as Ghostforce (2021). ZAG is also currently in production on Melody, an animated feature to star Katy Perry; and recently signed a 10-movie deal with Cross Creek Pictures. Visionary director and composer Jeremy Zag founded the ZAG Kids and Family Entertainment Group in France in 2009, further expanding the company to the USA in 2012 with the Global Brand Franchise office in Santa Monica, California. ZAG now has offices in Paris, London, Montreal, Santa Monica, Miami, Mexico, Frankfurt, Tel Aviv, Frankfurt, Dubai, and Shenzhen. The company's ZAG Play division focuses on developing engaging stories beyond the screen into brands that inspire the new generation to discover their true character. https://www.zag.com
About Playmobil and Horst Brandstätter Group
With around 4,200 employees worldwide, the Horst Brandstätter Group is a global player. The international group comprises 33 companies. The well-known brands PLAYMOBIL and LECHUZA stand for quality and innovation, and thus offer consumers real added value. In the Inspiring Play Experience business area, the PLAYMOBIL® brand places 7.5 cm tall figures, animals, and a wide range of accessories at the center of a creative, multi-award-winning toy system. The imaginative role play with historical and modern themed worlds fascinates children and is appreciated by parents and educators alike. Since 1974, more than 3.8 billion PLAYMOBIL® figures have been manufactured. The 40 or so play themes are sold in around 100 countries worldwide.
About WildBrain CPLG
WildBrain CPLG is a world-leading entertainment, sport and brand licensing agency, with offices in the UK, Europe, India, the Middle East, the US and Asia. With over 45 years of experience in the licensing industry, WildBrain CPLG provides its clients with dedicated licensing and marketing professionals and fully integrated product development, legal and accounting services. WildBrain CPLG believes that collaboration is about clarity, openness and trust, and is widely known for its no-nonsense, straightforward approach. The agency's ASPIRE division is a leader in Corporate & Lifestyle brand representation and management. WildBrain CPLG is part of WildBrain Ltd., a global leader in kids' and family entertainment. Please contact us or visit the WildBrain CPLG website for more information: www.cplg.com.