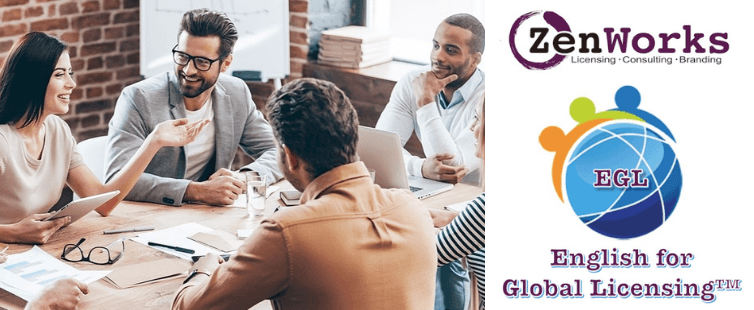 「第3回:英語でブランドライセンシングビジネスの基礎を学ぶ」講座のご案内 "Licensing 101 in English" for Japanese learners
「オンラインライセンシング英語講座を特別割引でご案内」
ZenWorks English for Global Licensing English Skills Course: The Basics of Licensing in English
〜〜 Discount available for Licensing International members 〜〜
日本および海外のライセンシング業界に向け、専門サービスを提供している、株式会社ZenWorksが、ライセンシング、コンテンツ、ブランディングおよび放送業界に特化したビジネス英語講座を開催します。
この講座は初中級者対象で、業界特有の専門用語や、よく使われる表現など、活きたライセンスビジネスの英語とライセンスビジネスの基礎知識を同時に学べる日本で唯一の講座です。このコースは好評のため、3回目の開催となります。
ライセンシングインターナショナルのメンバーの方は、割引料金で受講することができます。
ZenWorks, Inc., a leading provider of professional services to the licensing industry in Japan and globally, will launch a business English course focused on the licensing, content, branding and broadcasting industries.
This course is the only one of its kind in Japan, and is designed for beginner to intermediate level learners, and will provide them with the opportunity to learn both practical licensing business English and basic licensing business knowledge at the same time, including industry-specific terminology and commonly used expressions. The course is being offered for the third time due to its popularity.
Members of Licensing International are eligible for a discounted rate. Please visit the course page for further details in English
【オンライン個別の説明会】
日時:平日10:00-20:00
場所:オンラインのみ(Zoom)
参加申し込み:<info@zenworks.jp> メールでお申し込みください。
【講座詳細】
講座名:EGL #15 "The Basics of Licensing in English" 「英語でライセンシングビジネスの基礎」
概要:日本語でライセンシングのことを理解していても、、、英語ではいかがでしょうか?
本講座は、初中級者を対象としているため、英語と日本語を参加者のレベルに応じて、織り交ぜながら進めていきます。
講座内容:
• Brand licensing business basics
ブランドライセンシングビジネスの基礎的な仕組み
• Key terminology
主な専門用語
• Comprehension of industry roles
業界内の各役割
• Knowledge of the various types of IP
プロパティーの種類
• Awareness of IP legal basics IP
関連の法的な基礎
• License contract key areas
ライセンス契約の主な部分
開講:2021年4月21日(水)より19:00~20:30 (全7回セッション x 90分)
受講料: ライセンシングインターナショナルメンバー :¥34,200(税別)  一般:¥38,000(税別)
募集人数: 8名(開講実施人数 4名以上) 申込締切: 2021年4月12日(月)
講座詳細および参加申し込み:https://www.zenworks.jp/licensing_english_upcoming.html/#egl15
*ライセンシングインターナショナルメンバーの方は、その旨をご記入ください。メンバー価格を適用させていただきます。
お問い合わせ: 株式会社ZenWorks info@zenworks.jp.