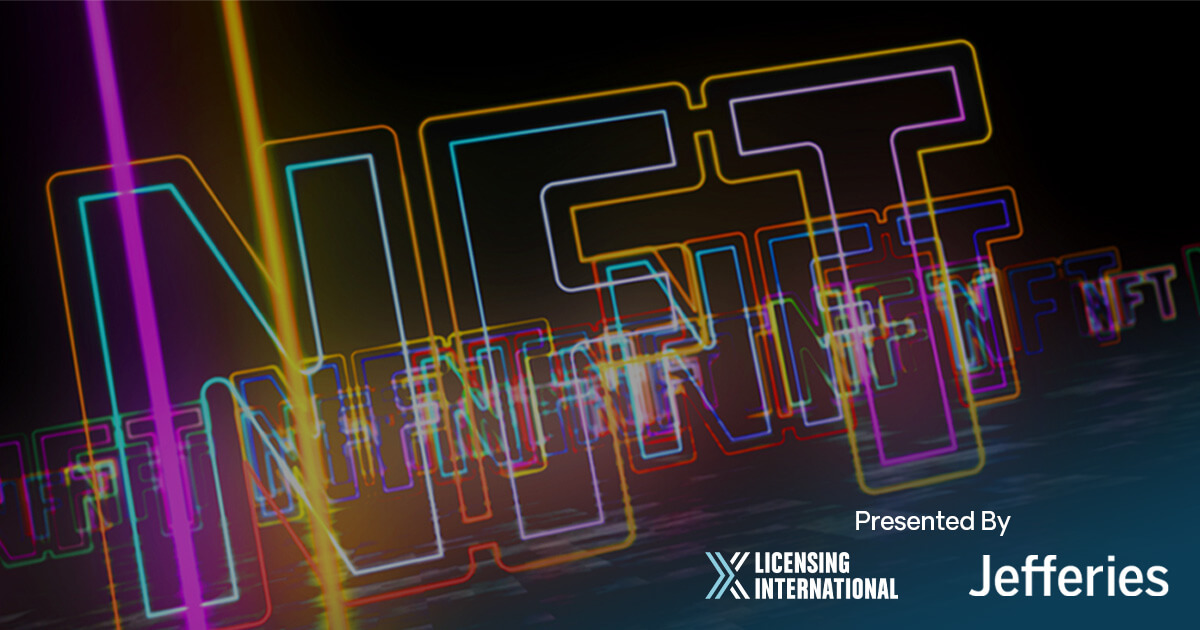 NFTs & Digital Collectibles Summit
Event Time
12:00 pm - 4:00 pm EDT
9:00 am - 1:00 pm PDT
The business of NFTs (non-fungible tokens) has burst into view, with such eye-catching examples as Lebron's $200K video clip, Jack Dorsey's $2.9M tweet and Beeple's $69M digital art sold at Christies. Join Licensing International & Jefferies for a series of panels and speakers that will help to define the market and discuss the host of definitional, rights, logistical, infrastructure and other issues surrounding NFTs, particularly in the entertainment, fan culture, and sports industries.
Agenda (all times EDT)
12:00pm – Micro-Keynote: Defining NFT/Digital Collectibles Lingo
Hosted by Steph Wissink (Jefferies)
12:30pm – Panel 1: Interpretation of NFT & Digital Rights
Hear from brand owners, agents, and compliance experts on how rights are defined in NFT and digital collectibles marketplaces. What are the rules around standardization, likeness, manipulation, artistry, interpretation? How are contracts drafted to ensure adequate protections across static, dynamic, video, clips, etc.? Who's exposed vs. protected – consumer, seller, owner?
Moderator: Maura Regan (President, Licensing International)
Panelists: Pamela Deese (Partner, Arent Fox), Trevor George (CEO, Trevco), Josh Goodstadt (EVP Licensing, National Basketball Players Association), Susan Kornfield (Attorney, Bodman Law) 
1:15pm – Data Snapshot: Results of Recent NFT Survey with Morning Consult's Alex Silverman
Hosted by Steph Wissink (Jefferies)
1:30pm – Panel 2: The NFT & Digital Arcade
Numerous NFT and digital primary & secondary marketplaces have emerged. How are they similar to other marketplaces & how are they different? Who's accountable to authentication? How do auctions happen? Are there secondary market downstream rights avail to brand owners?
Moderator: Bill Burke (SVP Marketing Strategy & Communications, Licensing International)
Panelists: Zach Bruch (Co-CEO, RECUR), Gary Ma (COO, Epik), David Yu (CEO, Ecomi)
2:15pm – Break
2:30pm – Panel 3: The NFT & Digital Display Case
What options exist for buyers to display their NFT and digital collectibles in both digital and physical experiences? Taking cues from other entertainment forms (music, movies), consumers can access digital asset libraries through subscriptions? What hardware and software technologies are enabling digital collectible owners to "display" their goods?
Moderator: Marty Brochstein (SVP Industry Relations & Information, Licensing International)
Panelists: Patrick Ashworth (CEO, Vizzio Art), Dan Crothers (COO, VeVe), Tyler Lewison (VP Licensing, Champion), Preston Woo (Chief Strategy Officer, Tafi)
3:15pm – Company Snapshot: MUDS/Topps with CEO Michael Brandstaedter
Hosted by Steph Wissink (Jefferies)
3:30pm – Panel 4: The Financial Opportunities & Ecosystem in NFTs & Digital Collectibles
Hear from Jefferies analysts on how investors can participate in the growing value ecosystem across NFTs and Digital Collectibles.
Analysts: Brent Thill (Internet), Andrew Uerkwicz (Media & Gaming), Steph Wissink (Consumer)
Registration
The FREE summit is presented by Licensing International and Jefferies. Registration is hosted by Jefferies via the link below. When completing the registration form, please select LICENSING INTERNATIONAL from the "Jefferies Contact" dropdown menu.