2008 Hall of Fame Inductee
Nancy Bailey, Nancy Bailey & Associates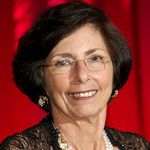 Nancy Bailey's name and reputation have been synonymous with the building and success of corporate trademark licensing, and she is a leader in this segment of the industry. In 1982 she launched her own licensing agency, Nancy Bailey & Associates, focusing exclusively on licensing corporate trademarks with Burger King as her first client. The company represented some of the industry's first corporate licensors including Baskin-Robbins, Pillsbury, Pizza Hut and 7Up.
Nancy has enjoyed an exceptional success record in her work as corporate licensing agent because she starts with guiding the client through brand equity strategy work. Client programs range from licensing programs based on well-known corporate character icons from The Pillsbury Doughboy, Cracker Jack, Mr. Peanut and Morris the Cat, to major brand extension programs based on well-known brand equities such as Cover Girl, Crayola, Coppertone, Hawaiian Punch, Mr. Clean, Pennzoil, Reynolds, Tide, and Vicks. Nancy leveraged the unique brand equity into categories closely related to the brand itself so that the licensed products appeared seamless to consumers.
This strategy has been recognized as an asset to retailers as a way to extend the power of a well-known brand to other appropriate products, and to clients as an effective way to grow the brand.